Austin Brit-rockers STEREO IS A LIE perform "What We Do" outside Thunderbird Coffee-PLUS bonus jam sesh vid! [VOYEUR MUSIC VIDEO]
Our "Voyeur Video" series is a lot like porn for music lovers. Shot in one take at locations around the city, the videos are intimate, stripped down and raw–nothing like traditional live performances. Enjoy!
So many times in life we have dreams-but for some reason we never reach them. Most of the time it's because we don't take the first step to turn those dreams into reality. We don't realize that the future is now, and that if we do the shit we keep talking about, it will eventually happen. On the surface, that's the theme of today's Voyeur Music Video, "What We Do" by STEREO IS A LIE.
We first heard "What We Do" last year when Glynn Wedgewood, lead singer of the Austin Brit-rock band STEREO IS A LIE, gave us a sneak listen. At the time, the band had spent 7 months in and out of the recording studio with producer Chris Cline. Here's what I said then:
To me, they're more closely related to the 90′s alternative British pop scene, kinda like if Damon Albarn from Blur grew a pair, or if Noel Gallagher from Oasis stopped whining AND grew two pairs…Chris [Cline] has done a great job at reigning in stage rockers Trail of Dead, so it will be interesting to see how well he can translate STEREO IS A LIE's stage show in the studio.
This week, the band revealed the fruits of their labor with the official release of their self-titled album STEREO IS A LIE

. And now, after listening to the complete album, I'll tell you it's a solid release. Much of the wall of sound that occurs live has been reigned in, allowing each of the distinct layers to weave in and out in a way that just isn't possible in a live show.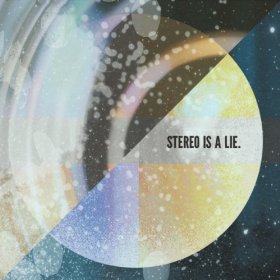 Hearing each element makes me completely fall in love with all of the instruments in this aural soup. Davy's solid, steady drums are like the chicken stock. Simple and necessary, they create the base, setting the foundation and moving the songs forward.
Glynn's guitar and vox are the meat, giving the ear something to chew on. Marcus's bass is the potatoes. Thickening, they make the soup heartier. And Justin's keys add a hint of chords and ambient noises, kinda like that spice that brings an extra layer of taste you can't quite identify: It's totally understated while in the mix, but to remove it would ruin the full flavor of the soup.
Oh, and Danny's guitar is kinda like lemon zest. The showiest of the bunch, his stylings blast the whole dish into the stratosphere.
Mixing also brings out Glynn's vocals, spotlighting his upbeat lyrics. Well, upbeat may be an overstatement. There's something hopeful, kinda like that realistic friend in zombie movies who manages to keep a level head as the world starts to turn to shit; instead of allowing you to wallow in your misery and die, he offers his hand and says, "we'll get out of here." Not bright and sunshiney, but reassuring.
That's exactly the tone in today's Voyeur Music Video.  Shot at Thunderbird Coffee on the East Side, the band played a scaled down version of their upbeat track "What We Do." Scaled down for STEREO IS A LIE doesn't mean acoustic. It means fewer pedals, a smaller drum kit and lower volume levels. Loved watching them interact. One of my favorite parts of the video is when a car drives by blaring its horn right as Glynn says, "leave this all behind!"
STEREO IS A LIE - "What We Do"
When we started the Voyeur Video series, the idea was to create spontaneous and raw performances that capture the thrill of discovery-kind of like an outsider stumbling into the magical world of music. After we shut off the cameras for the first video shoot, the guys started playing a new song. Always wanting to capture the unexpected, I turned the camera back on and started filming. The result is a moody ride through a dark sonic ocean. And even though it sounds put together and rehearsed, it's actually the band effing around. It's also testament to how well they've gelled over the last year.
I can't stop listening to it, so I had to post it. This ish is so exclusive, the band doesn't even know it's going up. Hope they don't get pissed

STEREO IS A LIE Jamming Out
You can catch STEREO IS A LIE at their official album release party THIS SATURDAY at the Ghost Room. Joining the Brit rockers on stage is The Strange Attractors and The Astronaut Suit. You def don't want to miss this trip to outer space.
EXPERIENCE: STEREO IS A LIE album release party (02.12.2011); The Ghost Room (304 W 4th, 78701); 8.30-11.30P; $5 Facebook Event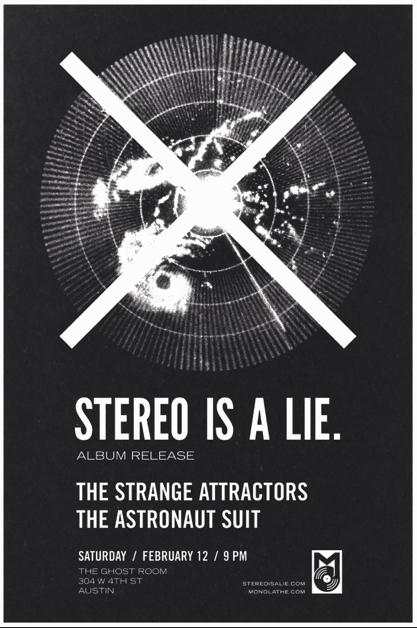 .
Find something Austin-related that you want to share? Photos, screen shots, articles, news? Email us at [email protected].
Want more RoA? Be our friend on Facebook. Add our RSS feed! [what's that?]. Start your morning with Republic of Austin in your InBox. Or read us 24-7 on Twitter!
Related posts:
Related posts brought to you by Yet Another Related Posts Plugin.