Austin samba musician Anne Simoni takes Austin's 2011 Carnaval Brasileiro down the rabbit hole. [VIDEO and PICS]
For me, there are only a few times a year when Old Austin rears it's patchouli soaked head and transports us to a time when Austin was a little more free spirited. The ultimate expression of this is Eeyore's Birthday. And a close second is Carnaval Brasileiro. In its 34th year, Carnaval Brasileiro is an epic dance party/costume modeled after the world's largest party, Rio's Carnival. A true celebration of exuberant life, in one night, you'll see  more sequins, feathers and side boob than anywhere this north of Sao Paolo, without having to worry about potential kidnappings or  muggings. In fact, the only thing you'll have to worry about at Austin's Carnaval Brasileiro is whether or not it's too cold to cover your junk with just a loincloth.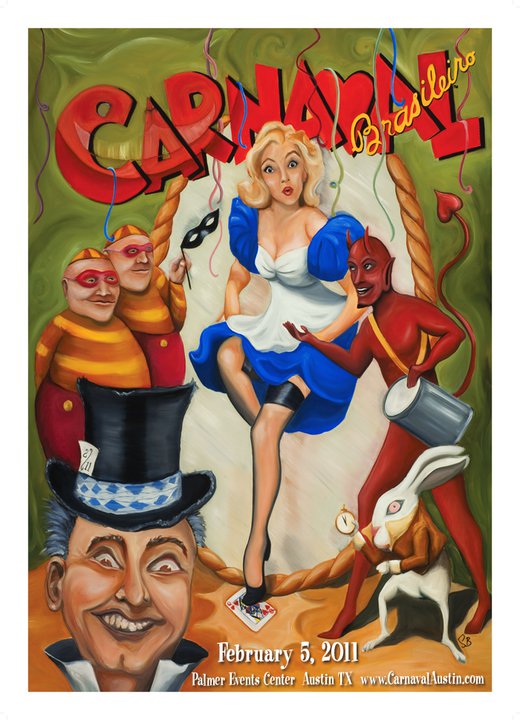 This year's theme is Alice in Wonderland. And for the first time EVER, there will be a Samba Enredo, or Samba Theme Song, just like in Brazil! Written by Brazil-born Anne Simoni for Acadêmicos da Ópera (The Austin Samba School), the song is called "Alice in Austinland." Check it out:
WATCH:

Austin Carnival Brasileiro 2011′s Samba Enredo — "Alice in Austinland"

Not sure how many cities have a Samba song written for them, but I think it's pretty awesome. And after hearing the English translation, I love it even more. It's like our little city is all growed up.
Alice in Austinland (English Translation)
Tired of doing nothing Alice follows the rabbit enthusiastically Falling in his abyss And finding her enchanted land With its nights full of energy, Austin is her fantasy It is warmth in her dawn With the key of paradise Alice follows wiping her tears She puts a new smile on her face And, with the talking flowers, she drowns her sorrows And so she goes … Goes arm in arm with the Cheshire cat Through Zilker Park, she carries her dream The King of Hearts enters this card game Between notes and clefs, there is no cheating She drank the mad tea, grew and became strong She clashed with the Queen of Hearts, was threatened with death She danced samba with the mad hatter, and lost her boots In a samba plot very Brazilian, Alice awoke to the sound of the pandeiro [percussion instrument]
Earlier this week, we caught up with Anne Simoni, the singer/songwriter behind "Alice in Austinland." The award-winning musician moved to Austin last year after falling in love with the city during SXSW. In the 3-minute video, she talks about the inspiration behind the track (hint: it's Austin) and tells us a little more about Carnaval Brasieiro. LISTEN: Check out Anne's most recent album, Minas Terra. Fans of Brazilian music will love it. Very chill, it reminds me of an updated Astrud Gilberto. And it's perfect for your next cocktail party or game night! And don't miss out on Carnaval Brasileiro TONIGHT! It's one of the most dance-tastic, crazy-a parties of the year! It's got all the fun of Mardi Gras, but without all the aggressive, pre-pubescent testosterone that seems to dominate Dirty 6th.
LOOK:

Check out some pics of last year's Carnival Brasileiro (via the Facebooks):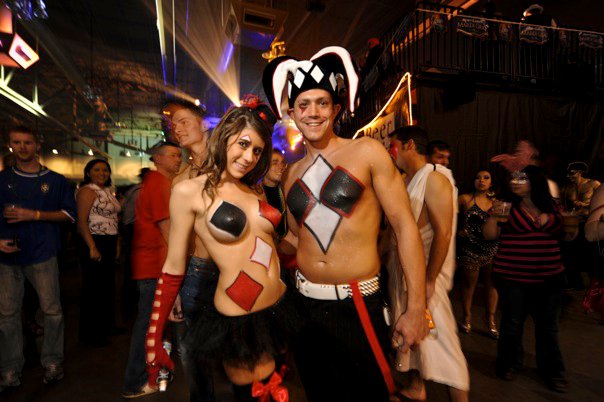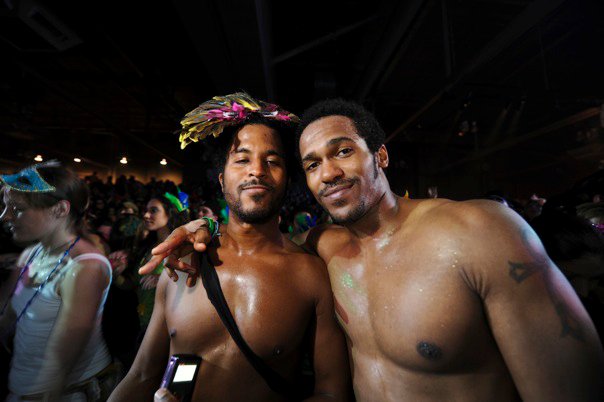 EXPERIENCE: Carnival Brasileiro (02.05.2011); Palmer Events Center (900 Barton Springs Rd, 78704); Doors at 8P; $35 online, $40 at the door.  Facebook
Related posts:
Related posts brought to you by Yet Another Related Posts Plugin.