5 reasons why Knuckle Rumbler Presents tonight is the biggest local music event so far this year.
We're super-hyped to be joining Austin Town Hall and Red River Noise as sponsors at tonight's Knuckle Rumbler Presents party at the Ghost Room. The first in a new monthly concert series, the KR crew is bringing four of our favorite up-and-coming Austin garage/psych/surf bands. It's gonna be a heap of local lovin. And since the weather starts warming up tonight, there are no excuses.
But if you need more reasons, here are our top 5 reasons you don't want to miss tonight's party:
5. Warm and fuzzy (noise distortion)
Eets feets drops layers of fuzzy sound that will warm your soul. With lots of distortion and reverb, you'll feel like you're spinning into a tsunami of sound that crashes down before you can get up on your surfboard.
4. More fun than a barrel of fire.
Super garagey, gritty and gray, Rayon Beach sounds like The Kinks took acid and got trapped under the bridge on the riverwalk by 7th and Red River. As joyous as a barrel fire to a homeless dude.
3. FREE BOOZE!!
The first 100 through the door receive a free drink, courtesy of Waterloo Ice House. Birds Barbershop will be on hand hosting a photo booth (don't worry, there will be plenty of gaudy wigs and hairspray to go around) and future Knuckle Rumbler tickets will be raffled off throughout the night.
2. 70% chance of hooking up!!
To me, with their lyric-driven, sexy rollin blues pop, the Daze are kinda like if Jimi Hendrix hooked up with Janis Joplin in Port A, had hella sex and decided to make a Texas surf album. Their tracks make me want to roll out to the lake in a 1974 Ford Bronco with a 6-er of those old Miller pop-top cans and get so wasted that I don't notice the blistering sunburn peeling off my raw skin-and did I have a drunken makeout sesh with a hot coed?
1. Contort Yourself!
Shapes Have Fangs kinda blow my mind. With roots firmly established in the strychnine sounds of The Sonics, these guys can really rock out. Imagine Wavves minus the weed but with the sexiness of France's La Femme and you get a sound that will have you contorting yourself all night long. Plus, if people with fangs are super hip, shapes with fangs have got to be more hardcore.
EXPERIENCE:

Knuckle Rumbler presents…

(02.10.2011); The Ghost Room (304 W 4th St, 78701); Doors at 9P; $5 Facebook Event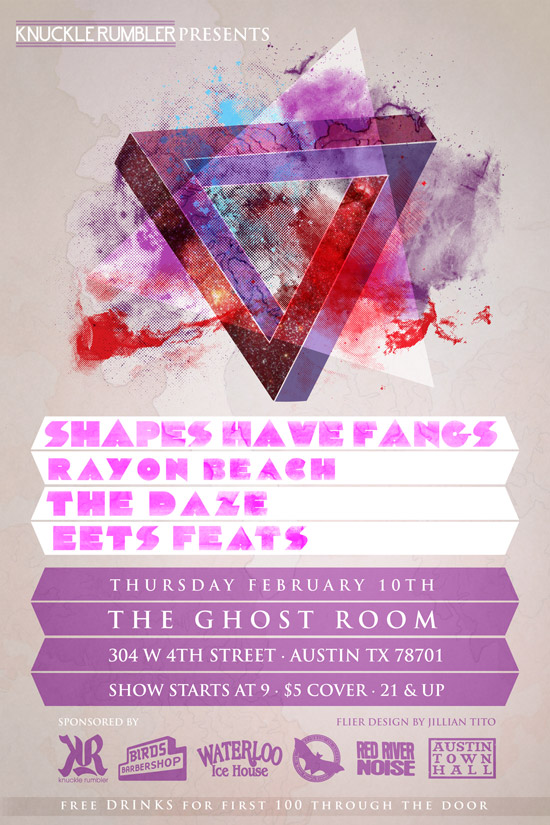 .
Find something Austin-related that you want to share? Photos, screen shots, articles, news? Email us at [email protected].
Want more RoA? Be our friend on Facebook. Add our RSS feed! [what's that?]. Start your morning with Republic of Austin in your InBox. Or read us 24-7 on Twitter!
Related posts:
Related posts brought to you by Yet Another Related Posts Plugin.