Austinites Fun Fun Fun Fest 2010 Picks: Jill Sorrels and Aaron Berkowitz from Knuckle Rumbler
Fun Fun Fun Fest is like Austin's little secret music festival. Everything is bigger in Texas, so a "little" music festival still means it needs a roadmap and a hand guide.  With 3 days and 4 stages, Fun Fun Fun Fest 2010 may be the funningest festival ever–especially if you like electronic, indie, hip-hop, metal and comedy.  And since the festival includes more emerging artists than you can shake a stick at, it can be overwhelming. That's why we've asked some of our favorite peeps in Austin to help interpret the line-up by sharing their Fun Fun Fun Fest 2010 Picks!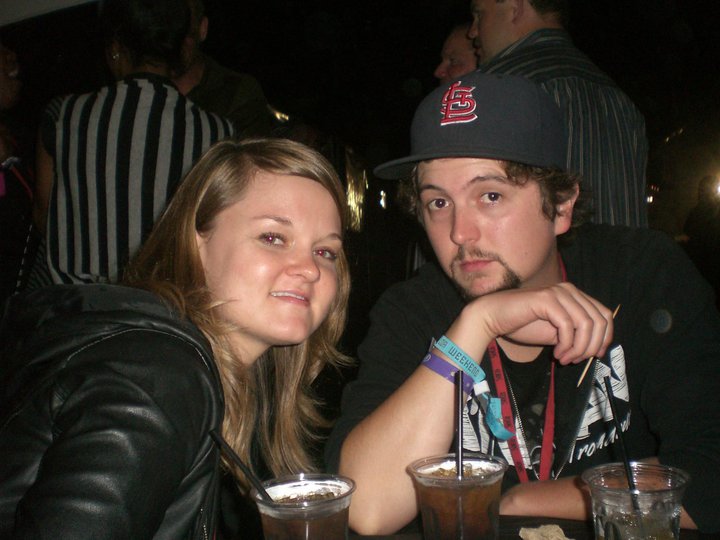 Like a bad case of crabs that you just can't get rid of, our favorite party team, Jill Sorrels and Aaron Berkowitz from Knuckle Rumbler, are back to give their festival picks…again. With parties that span the gamut from hip-hop to indie to electro and dance, these guys know how to have fun. To quote  an intro I wrote last year:
kinda like if your friend had a house party with a bomb sound system, invited all your friends, booked the dopest DJs and some kick-a bands, and then blew out your eardrums
If you are into dancing, hip-hopping, bouncing or any other derivative of shakin your ascot, then you'll love their picks.
Knuckle Rumbler's Fun Fun Fun Fest 2010 Picks
Friday:
Jill: Magnifico: queen cover band - so much fun and the lead singer really pulls it off
Aaron: Magnifico: Purple leotard on a bearded man don't get much better.
Jill: weird al yankovic: cuz he looks like someone I work with
Aaron: Chris Hardwick: I miss Singled Out on MTV
Saturday:
Jill: Live Stunt show by jacob cale of 'what the hell' - do I really have a choice with a title like that
Aaron: League of Extrodinaire Gz - assuming they all show up and are on time they have one of the more promising hip hop groups on ATX
Jill: The Antlers: cuz I saw them on a commercial and am a product of marketing
Jill: anarchy champion wrestling: is good with hotdogs and beer
Aaron: I may enter this wrastlin' thingy
Jill: slick rick!
Aaron: Slick Rick with my gold plated eye patch
Jill: ariel pinks haunted graffiti
Jill: dominique young unique: she played our party with Rhapsody during SXSW and is going to be a big EFFING deal this year and next
Aaron: DYU cuz she shake shake dat assss
Jill: delorean: cuz I miss the beach
Aaron: Monotonix - I'm going for the three peat. Crowd surfed at Monolith Fest and Emo's last time they came. They are brethren
Aaron: Big Freedia - If you haven't noticed it KR is a huge bounce supporter
Aaron: GWAR - I guess Insane Clown Posse wasn't available
Jill: rjd2
Aaron: RJD2 / Bad Religion
Sunday:
Aaron: Eagle Claw - BIG UPS TO BART!!
Jill: jean grae
Aaron: Jean Grae - she once called me out in front of an entire crowd in Bloomington IN. I fell in love right there.
Jill: cults: they may be the new sleigh bells or ting tings
Aaron: Cults
Jill: pharaoh monche: simon says so
Aaron: Monche - Get the f*ck up
Aaron: P.O.S. - its not FFF without some emo rap
Jill: the bronx
Jill: high on fire
Aaron: High on Fire - I hope they go acapella…
Jill: yelle: she was absolutely amazing at her show at the Mohawk 2 years ago, really looking forward to her energy again
Jill: A-Trak! Been waiting a while for this one
Aaron: A-Trak - Morgan Freeman
Jill: mastadon: trex
Since last Fun Fun Fun Fest, these guys have gone from once-a-month parties to multiple parties a week. During Fun Fun Fun Fest 2010, they're gonna be bringing the Bizzoounce to the Scoot Inn. We here there will be a BIG (*wink*) special guest. SO EGG-SIDED!!
Check it: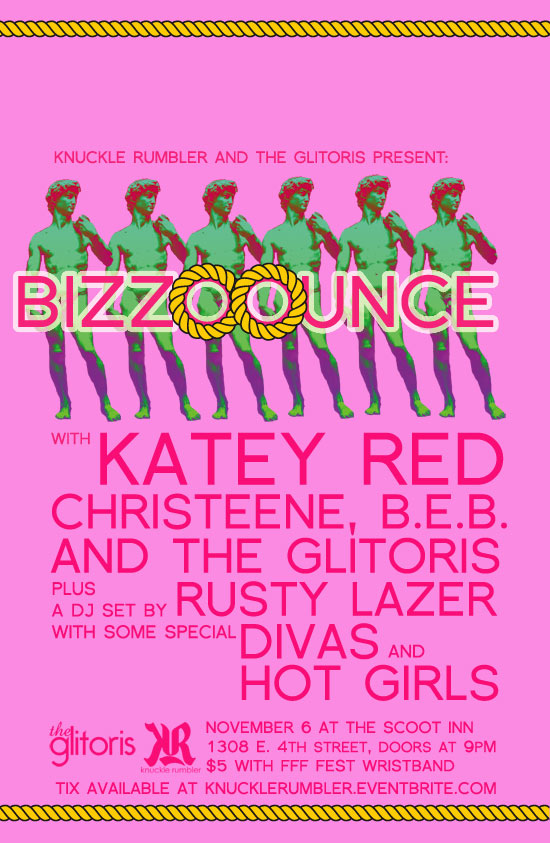 EXPERIENCE: "Bizzoounce"

(Saturday, 11.06.10); The Scoot Inn (1308 E. 4th St, 78702); 9P-8P; $5 w/ FFF Fest wristband, $10 w/o, $8 pre-sale online  Facebook Event
.
Want more RoA? Be our friend on Facebook. Add our RSS feed! [what's that?]. Start your morning with Republic of Austin in your InBox. Or read us 24-7 on Twitter!
Related posts:
Related posts brought to you by Yet Another Related Posts Plugin.