What can a tour of Texas teach a Newbie Texan about Austin?
Marie and I have lived in Texas for just over six months. Over that time, we've never left Austin. I think when we moved here, a part of the both of us was in love with the idea of southwestern romanticism: the gritty cowboy and the Southern Belle, wholesome homestyle food, old ladies wearing sundresses and big goofy hats who give you free lemonade or something.
I don't know exactly what that image of Texas was to us-but it was a very different thing than Austin. Austin broke all of our preconceptions, and almost entirely for the better. I wouldn't consider us Texans yet, of course, but I wouldn't consider us complete strangers anymore, either. We're somewhere in between, like a Junior Varsity Texan.
This Thanksgiving, in an effort to learn a little more about Texas, Marie and I decided to do something other than eat turkey and stuffing. Since our families are both still back up north, and because we are poor, allergic to airport body scanners and lots of people in small spaces, we opted out of returning home for the Thanksgiving and chose a 3-day, 18-hour round trip around Texas. The trip, of course, did not cover the whole state — that would have taken a week or more. Instead, we choose to explore the nothing found in the Wild West. You know, 60 miles stretches of mountains or brush with tiny little one stoplight towns in between. Although the trip was short, we learned a little bit more of what it was that made us move here, why Texans are so different, and why we love Austin.
Four things we learned on our trip to West Texas:
1. Austin has a creative culture that lots of small towns want to emulate.
In every little nook and cranny village that we passed through, there was a palpable sense of creation-a living thing that doesn't exist in small towns up north or maybe anywhere else. Texans are builders by-and-by, and their creations are their babies. And virtually every person with an artistic thumb we spoke with an artistic thumb raved about Austin's beauty and its art.
When we first moved to Austin, people would say "Austin has the artists, but Dallas and Houston have the art." Nonsense! Nearly everyday, I see something in Austin that inspires me to create, to work harder at it, to get better at my craft. In every small town in Texas there is a starving artist who aspires to someday have their work in a place like the Blanton, or a downtown Austin gallery. These are things we shouldn't take for granted, that I never knew how to appreciate until I moved here.
2. Austin is a city of the world.
Austin is a city of seemingly endless kinds of people. For example, in Austin when people ask us where we are from, and Marie responds "Ohio" and I respond "New York," the replies we get are inevitably that the other person is from Chicago, California, Japan Mexico or anywhere else around the world. When asked this question in West Texas, the response was a brief silence and then "…You're Yankees!" Now there's nothing wrong with that, but it reminded me how awesome it is to have the opportunity to experience so many different cultural influences right here in one spot.
3. It can get humid-and that's a good thing.
One of the things we missed about the Northeast was the beautiful autumns. But autumn has arrived here in Austin, just a few months later. Finally, I can go out and roll in the leaves and smell the crisp smell that you can only get during the fall. With rolling hills into mountains, the reds and purples in the distance, West Texas is beautiful, sure, but it's also tremendously brown up close and personal. While Austin's greenness may be brief, its distinct seasons are something that are probably not taken for granted.
4. Take Pride in Your Kindness, Austin
West Texas is filled with tremendously nice people. People that turned around on the road to ask if we needed help when we were lost. People that let us cut in food lines because their order was especially long. People that opened and held doors for you. But it is also a desolate place. At one point during our trip we were thirty minutes from civilization when the "low tire pressure" light came on, and I immediately went into a panic about getting a flat tire in the middle of nowhere. It was possible, I thought, to get a flat tire and die from loneliness before anyone passed to help us. Austin has a similar level of niceness, but we are also nearly a million strong-and that counts for a lot. I think this is sometimes overlooked, but when you compare congeniality here to other cities, we're all surprisingly pleasant people.
—
My job here at Republic of Austin is usually to write about history. I've most often tried to approach it delicately because I never want to imply that I can teach a Texan something about Texas that they haven't learned or cared to know. It's intended to be much more of a conversation and a learning experience for myself. On the road trip, I learned a lot about this state and a lot about why we decided to move to Austin and whether or not that was the right choice. I came to terms with a lot of my concerns about the ideologies of Austin as city — about buying local, being green, and so on.
I love this city. Austin is Texas. But it's also Not Texas. And having both those things going for it is exactly what makes it a great place to live.
BONUS: One other thing we learned? Big, long road trips really tucker out your puppies.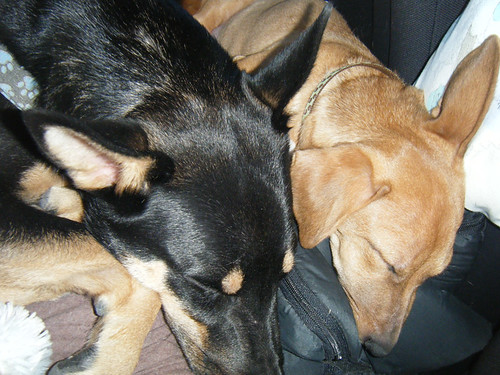 Related posts:
Related posts brought to you by Yet Another Related Posts Plugin.