A doggie scavenger hunt? Sarah K Wolf talks about Scamps and Scoundrels!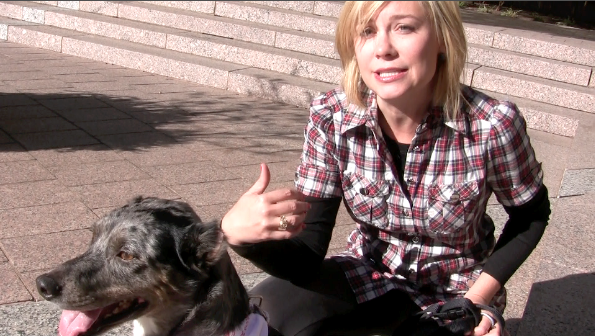 Every time I walk by the Austin Pets Alive trailer off South Congress, I get all warm and fuzzy inside. And while I wish I could adopt a puppy, I don't think it should be subjected to living in a small space. Still, I'm glad someone is there to save all the animals from getting killed at the pound.
This weekend at Scamps and Scoundrels: An Urban Dog Challenge, you can have fun AND help save innocent puppies from being slaughtered. A scavenger hunt for dogs and friends, you're certain to have a howl of a good time. Plus, proceeds go to Austin Pets Alive!
We caught up with organizer Sarah K. Wolf and her dog, Rufus, earlier this week. In the super short video, below, Sarah talks about the fun adventures you and your pooch can have this weekend.
Related posts:
Academy Award-nominated Austinite Susan Tyrrell talks about sex, art and gangsta rap. Chris talks to academy award nominated actress Susan Tyrrell about...
Geoff Earle from Austin dance act Fresh Millions talks about the Austin electronic scene. Interview with Austin electro-dance band Fresh Millions....
Related posts brought to you by Yet Another Related Posts Plugin.