Austinites Fun Fun Fun Fest 2010 Picks: Natchet Taylor organizer of Texas Punk Rock Fest Disaster Fest.
Fun Fun Fun Fest is like Austin's little secret music festival. Everything is bigger in Texas, so a "little" music festival still means it needs a roadmap and a hand guide.  With 3 days and 4 stages, Fun Fun Fun Fest 2010 may be the funningest festival ever–especially if you like electronic, indie, hip-hop, metal and comedy.  And since the festival includes more emerging artists than you can shake a stick at, it can be overwhelming. That's why we've asked some of our favorite peeps in Austin to help interpret the line-up by sharing their Fun Fun Fun Fest 2010 Picks!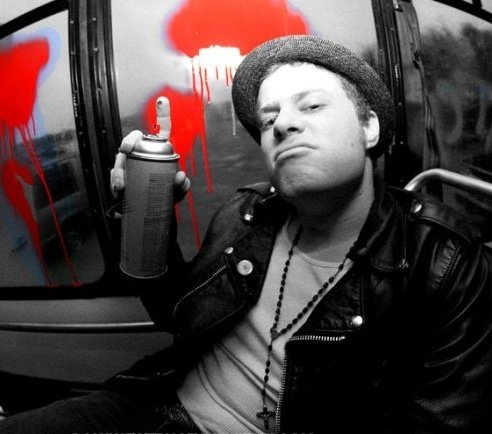 Gurgling up from the ground like oil gurgling is Austin's strong black-as-your-soul underground punk scene. In fact, Central Texas has gotten large enough to support Disaster Fest, a 3-day festival celebrating "habanero-hot rock-&-punk from the Lone Star State." The dude in charge of organizing all that madness is my soul brother, Natchet Taylor.
Natchet has been trolling around the Austin/San Antonio punk and rock scene since he was yay big. In fact, his current band, New Disaster, is a super group formed by members of prominent Texas Rock and Punk bands. For me, New Disaster combines the best of LA's Sunset Strip in the late 80′s with the best of 70′s British Punk.
If you came to rock out, check out Natchet's picks.
Natchet Taylor's Fun Fun Fun Fest 2010 Picks
Friday, November 5th:
Magnifico: Way to start off a festival: a raucous Queen tribute band. Count me in.
Weird Al Yankovic: 80′s Flashback Alert. The white and nerdy satiric singer and star of the ultra-funny movie UHF hits the stage. I remember sitting around, watching MTV and laughing at his outrageous videos… "Smells Like Nirvana", my favorite.
Saturday, November 6th:
The Briggs: Anthemic punk rockers from California, The Briggs are a must see. Fist pumping, sing-along, punk glory. I love this band.
Valient Thorr: This band is HEAVY. I first saw them live at Emo's and they tore the place apart. Beards, hair, thundering drums, and concrete filled guitars: this is going to be a hard rocking show. I dare you not to move your hips to this.
The Casualties: This is going to be a rowdy show with an insane pit. Jorge's stage energy is crazy. Get yourself ready for this straight up punk assault.
The Dwarves: The Dwarves are one of those bands that are hard to categorize and that's what makes them so cool. Is it possible to blend punk and psychobilly-thrash with a beat you can dance to? Let's find out at the Black Stage on Saturday.
The Vandals: Yeah! The Vandals. This brings me back to punk rock high school times. The Vandals are infectious and fun. Aw yeah.
GWAR: C'mon. Blood-spraying, demonic, sci-fi, thrash, fluid-spewing, shenanigannery onstage? There is always a time for this.
Bad Religion: This punk band has always been somewhere in the soundtrack of my life… whether I liked it or not. This is a definite highlight.
Sunday November 7th:
Margot and the Nuclear So and So's: I was pretty intrigued when I first heard this band. I first heard them on local radio KUT and couldn't shake how much the vocals resonated with me. Their sound was HUGE! I am excited to see if they can bring that fullness and passion to their live show.
JT Haberstaat and the Altercation Punk Comedy Tour: JT and Crew have a funny stand-up routine going. JT also runs a local yet international punk rock record label here in Austin, TX. Definitely worth checking out.
The Bronx: I love The Bronx! Straight-up rock and roll, in your face, the way it ought to be. The Bronx is one of those bands that just rumbles the ground underneath you. This set will be epic.
Suicidal Tendencies: Roll your amps out on a skateboard and the bill of your trucker hat up, Suicidal Tendencies is here! I cannot wait to catch this set. Another 80′s flashback. It's thrash punk time. Now gimme a Pepsi and I'll see you in the pit!
Decendents: Another flashback for me. These guys recently jumped on the Fun Fun Fun bill and I can't wait to see 'em.
Mastodon: Heavy as lead. Dark as my soul.
.
Want more RoA? Be our friend on Facebook. Add our RSS feed! [what's that?]. Start your morning with Republic of Austin in your InBox. Or read us 24-7 on Twitter!
Related posts:
Related posts brought to you by Yet Another Related Posts Plugin.