Austin chanteuse Erin Ivey performs "Chocolate" outside of the Ghost Room. [VOYEUR MUSIC VIDEO]
Our "Voyeur Video" series is a lot like porn for music lovers. Shot in one take at locations around the city, the videos are intimate, stripped down and raw–nothing like traditional live performances. Enjoy!
.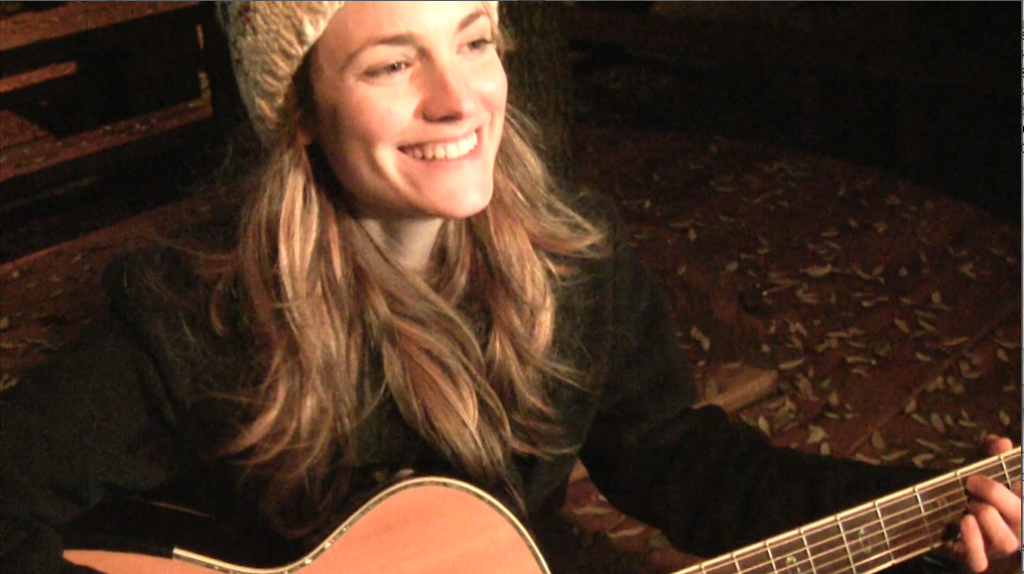 There's something about sharing a space with a group of creative people that can bring out the best in us. In fact, one of the things I missed most while freelancing was the collaboration that happens in a healthy office environment. Sometimes all it takes is one stimulating discussion or a bit of feedback to take a good idea and blow it out into something amazing.
Although she doesn't work in an office space, Austin chanteuse Erin Ivey understands what I'm talking about. The inspiration for her upcoming album Broken Gold sparked last year after hosting Musical Kaleidoscope, an event where she shared the stage with multiple singers, two bands, a tap dancer, a trumpet player, a slam poet, aerial dancers, a cellist and a mbira player. Feeling invigorated after the event, Erin reached out to top artists from a variety of musical genres. The idea: Create an album that would encapsulate the same energy of artistic collaboration she experienced that night.
A year and a half later, she's poised to release her most solid album yet.
Erin's voice has a playfulness that feels innocent and joyful-kinda like when you were a kid eating cotton candy at a carnival on a sunny Easter day: lots of pastels, sugar and sun. But instead of pushing the sweetness to the level of pop-princess tummy ache, Erin chooses to be more than just an afternoon snack. In fact, the soulful, almost gospel-like organ combined with an old-school funk bass is like ham hock simmering in some neo-soul baked beats. And she speaks French, too!
Seriously, I think the new album will surprise a lot of people. Like hot cocoa on a winter's night, it makes me smile and warms my soul. Maybe it's fitting that today's Voyeur Music Video is a stripped down version of the track "Chocolate."
We filmed the video in the biergarden behind Ghost Room. The band inside was a little louder than I'd hoped-but it ended up being perfect. At times, the funk beats floating through the air weave perfectly with Erin's voice and the guitar. She even seems to adjust her tempo to match the low kick drum. Cold, crisp night with a little wind blowing the leaves-it was such a beautiful experience. In fact, watch Erin get a little choked up at the end.
When mixing the sound for this video, I decided to leave a hint of the background music so that  y'all could get a feel for the situation and appreciate the moment, too!
Erin Ivey - "Chocolate"
Erin's album doesn't come out until next February, but if you pre-order it in the next two days, you'll get invited to a private listening party NEXT WEEK. You'll get to enjoy drinks, dessert, and stories from behind the scenes-and take home the new record before its release.
.
Find something Austin-related that you want to share? Photos, screen shots, articles, news? Email us at [email protected].
Want more RoA? Be our friend on Facebook. Add our RSS feed! [what's that?]. Start your morning with Republic of Austin in your InBox. Or read us 24-7 on Twitter!
Related posts:
Related posts brought to you by Yet Another Related Posts Plugin.