Zeale Rapz kicks it freestyle behind the Seaholm Power Plant [VOYEUR MUSIC VIDEO]
Our "Voyeur Video" series is a lot like porn for music lovers. Shot in one take at locations around the city, the videos are intimate and not like traditional live performances. Enjoy!
I'm telling y'all, Austin's electronic scene is blowing up. And one of the biggest stars right now is Zeale Rapz. Part hip-hop, part 90′s techno, Zeale's got the sound to throw it down. With a style that pushes the boundaries of hop-hop, he may be Austin's Kanye West. Oh yeah, maybe that's why he was one of the finalists for last year's Roaries!
When you hear a Zeale track, there's nothing that sounds like Southern rap. His beats are more Daft Punk than Lil Wayne-music you'd expect to hear bumpin out of a spaceship and not a 64 Caddy. And his flow is just as futuristic. Playful and witty, he could almost be the male equivalent of Nicki Minaj. In fact, I'd love to hear them cut a track together.
LISTEN: Zeale Rapz - "Go (featuring Yadira Brown)"
Earlier this week, we caught up with Zeale to catch a little freeflow on video. Shot behind the Seaholm Power Plant at night, Zeale drops 2 minutes of spontaneous RAPture. On a side note: We got interrupted a couple of times (train and me falling), which meant Zeale had to start again. As a writer, watching him spontaneously spit something different each time was truly amazing. Check it:
A Freestyle from Zeale Rapz

Tonight, Zeale is droppin a new mix tape. Come out and get down with Zeale, Hollywood Holt, neiliyo and Table Manners Crew. It's gonna be a good time.
EXPERIENCE:

"Zeale's 'DISASTERKRFT' Release"

(Thursday, 10.28.10); The Parish (214 E 6th St, 78701); 8P-2A; $10 (online sale), $12 at the door, $20 (incl mixtape purchase), 18+ Facebook Event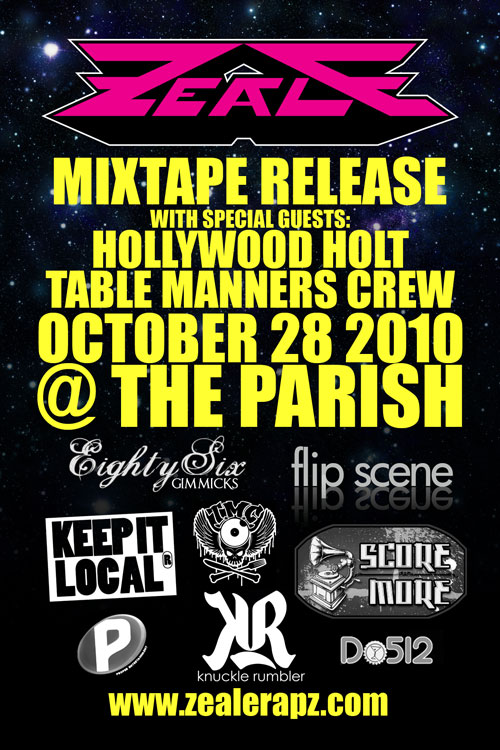 .
Want more RoA? Be our friend on Facebook. Add our RSS feed! [what's that?]. Start your morning with Republic of Austin in your InBox. Or read us 24-7 on Twitter!
Related posts:
Related posts brought to you by Yet Another Related Posts Plugin.