We're celebrating The 2011 Roaries with a FREE party at the Ghost Room! Check this line-up!
Super-duper psyched about the Roaries Music Awards Party this Thursday. Seven amazing musical acts playing 25-minute sets. And it's free! What more can you ask for? Check it:
Thursday, February 17th at The Ghost Room
304 W 4th St
Doors at 6P. Show starts at 7P.
Facebook Event

Performances by:
The Black and White Years, STEREO IS A LIE, One Hundred Flowers, Tje Austin, CHRISTEENE, Tara Craig and BK & Mr. E

This is a FREE Show

You nominated them. You voted for them. Now come out and cheer for your favorite Austin musicians as we reveal the winners of the 2011 Roaries Music Awards. With special performances from SEVEN of the nominees, we'll celebrate what Austin music is all about.

Be sure to vote for your favorite artists. Voting ends THURSDAY at 5PM. See the full list of nominees here.

Guest presenters: Laurie Gallardo/KUT's Texas Music Matters; Adi Anand/Mind of Adi; Ian Morales/Red River Noise; Tolly Moseley/Austin Eavesdropper; Tyler Groover/Two Groove; Richard Gonzalez/Ultra8201; Chris Apollo Lynn/Republic of Austin.

Special thanks to White Siren Music and The Ghost Room

Press or goodie bag inquiry? Email [email protected].
Come out and celebrate Austin's diverse music scene with some of my favorite musicians!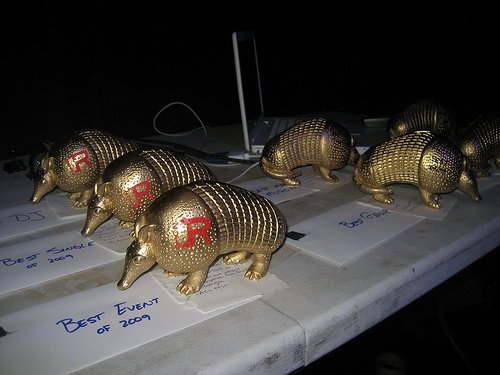 Related posts:
Related posts brought to you by Yet Another Related Posts Plugin.