Austin Restaurant Week Review: Fine dining at Austin classic Green Pastures
Since we're all pretty much broke, Austin Restaurant Week is one of our favorite events of the year. For 8 days spread out over 2 weeks (September 19th – 22nd and 26th – 29th), top restaurants throughout the city offer pre-fixe menus with prices ranging from $25 to $35 for a full dinner. Proceeds also go to one of our favorite non-profits, the Sustainable Food Center. For a full list of participating restaurants and menus, check here. Oh, and don't forget to make rezos, because many of these places fill up fast.
Hold up, stop reading and call Green Pastures NOW for reservations during next week's restaurant week. Trust me on this.
Ok, you off the phone?
Like finding a lost $20 bill in your pocket while doing laundry, Green Pastures during Austin's Restaurant Week is one of those little forgotten surprises that makes your heart burst with joy. Not that it's easy to forget the stately Victorian home, the peacocks strolling the grounds or the food, but if you're living mostly check-to-check, the $30+ per entree might cause a case of instant amnesia. During Restaurant Week, however, this fine dining experience is open to the people. And let me tell you, it's amazing.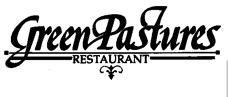 Tucked in the heart of Bouldin Creek, Green Pastures is truly a unique experience. When you drive onto the ground-grounds, not parking lot!-the fully-restored, two-story Victorian home instantly transports you back in time. Built in 1894, the house was one of the first houses south of the river. In fact, the owners slowly sold off their land to create what is now the Bouldin Creek neighborhood.
In 1946, after being purchased by new owners, the downstairs of the home was converted into a restaurant, leaving upstairs for the family residency. 64 years later, the restaurant is still in business, owned and operated by the same family-but instead of grandma in the kitchen, Chef Charles Bloemsma mans the helm, serving up a sophisticated (somewhat Southern) take on French food.
Chef Bloemsma's food has all the austerity of the house combined with the grace and elegance of the peacocks that have roamed the grounds for decades. But it's not stuffy. As you'll see in the photos, the presentation is thoroughly modern and his food combinations match the spirit of the times. Plus you're eating in a room in a house with real silver cutlery. Simply put, he knows his surroundings.
The appetizer was really 3 appetizers served during one course. It was a bit of a surprise, kinda like finding three little presents at Christmas instead of one big one-and I loved it. Unwrapping each package was like taking a little flavor trip. At one point, I couldn't think about anything but the avocado soup with goat cheese. I literally stopped talking mid-sentence to let the full experience wash over me. The creamy fresh avocado with the tangy goat cheese transported me to a Paul Gauguin painting. The poached egg had a delicate crispy shell with a fluffy inside. And the fig-balsamic reduction on the stromboli turned tasted like some sort of savory dessert.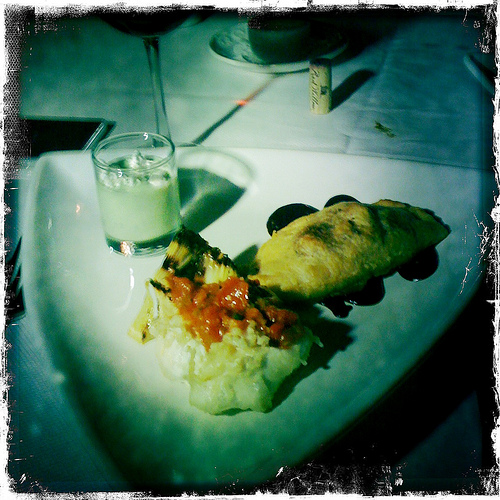 The entree was a filet mignon that totally melted in my mouth. This bad boy usually costs $37. It paired perfectly with special Restaurant Week wine, a Sangiovese that was the taste equivalent of the most amazing fireworks ever-it totally set everything off.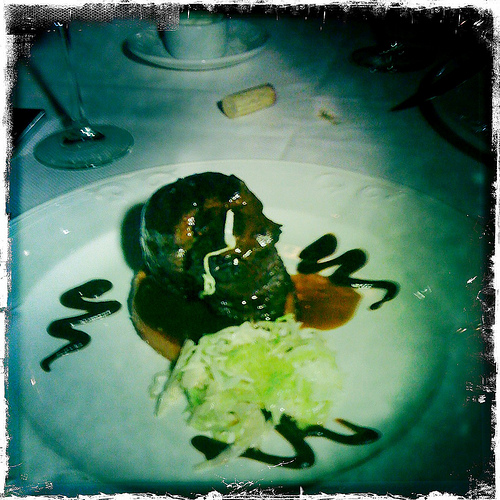 Port is like the exclamation point to an amazing dinner…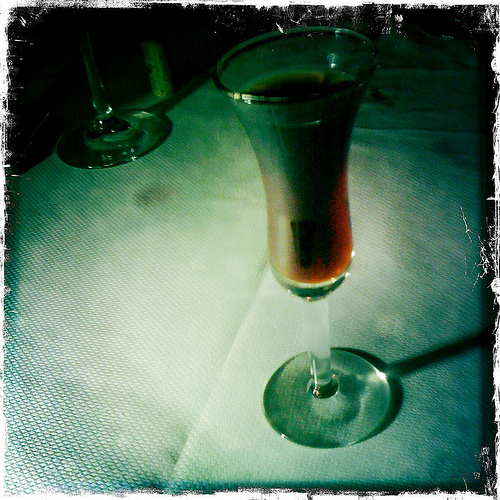 And if the dessert is amazing, than it's that much better. This pecan-rolled ice cream scoop with homemade fudge sauce hit we with all the wonder of my 6-year old self.
During dessert, Chef Bloemsma chatted us up. He told us that they go out of their way during Restaurant Weel to create the full Green Pastures experience for everyone. Based on the meal I had, it's totally true. Apparently, they've also got an amazing Sunday Brunch ($35 includes a slew of specialty drinks) and an affordable lunch.
Rating: A+++
SO treat yourself. Dress up (you'll want to!). And make those reservations NOW. Seriously, I waited until the last minute last year and ended up getting left with zilch. Oh yeah, and if you go in the evening, look up in the trees and you might find the peacocks roosting!
What do you think of Green Pastures?
Did you try the pre-fixe menu ?
.
Want more RoA? Be our friend on Facebook. Add our RSS feed! [what's that?]. Start your morning with Republic of Austin in your InBox. Or read us 24-7 on Twitter!
Related posts:
Related posts brought to you by Yet Another Related Posts Plugin.