Did Austin's Ranch 616 inspire Lady Gaga's meat suit?
Big news this week from the top 40 AND war on meat front: Lady Gaga wore a dress made of REAL meat to the VMA's this past Sunday. She's also featured on the cover of Vogue Homme Japan wearing the same meat suit. Check it:
A lot of people are saying that Lady Gaga stole the idea from America's Next Top Model's Meat Fashion Shoot episode. But what if Lady Gaga's meat-obsessed wardrobe selection was inspired by her visit to Austin's Ranch 616?
Check out this pic of a pic hung proudly over the bar: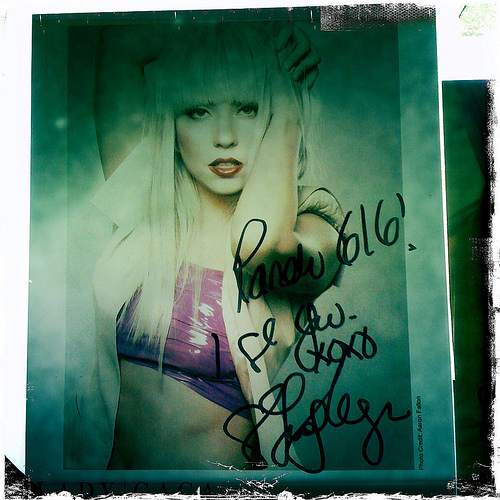 Based on her clothes/outfit, I'm guessing this was from Lady Gaga's last visit to Austin in May of 2009, before she was big.
Does anyone know what she ate at her visit to the kitschy West 6th restaurant?  If it was meat-on-meat action that she was looking for, she may have dug her monster claws into the Frito Pie Burger-yup, that's a Frito Pie poured onto one of their already massive burgers. It's kind of a hot mess, just like Lady Gaga.
Earlier this summer, we spotted folks in Austin wearing meat-inspired clothes. In fact, those PETA Protesters on 6th St. earlier this summer might actually be considered early adopters of this controversial trend.
Did Lady Gaga steal the meat bikini idea from PETA?
Kinda wondering if hip marketers will steal this idea for packaging the meat bikini: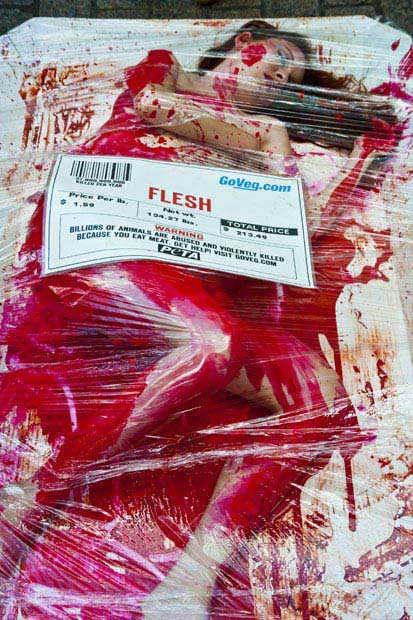 Are you allowed to wear meat bikinis after Labor Day?
How do you think meat bikinis will go over in 3rd World or vegetarian countries?
Will Ranch 616 inspire a Frito Pie Bikini?
Is meat still murder if you wear it as clothes?
Is Lady Gaga going to hell?
.
Find something Austin related that you want to share? Photos, screen shots, articles, news? Email us at [email protected].
Want more RoA? Be our friend on Facebook. Add our RSS feed! [what's that?]. Start your morning with Republic of Austin in your InBox. Or read us 24-7 on Twitter!
Related posts:
Related posts brought to you by Yet Another Related Posts Plugin.