TREND WATCH: Are styrofoam trays, plastic wrap and fake blood the MOST SHOCKING Austin look of summer 2010? [PICTURES]
With weather in the 90′s, summer is def in full swing. As Linsey mentioned last week, it's starting to get too hot to wear clothes. And while Linsey may think that swim wear is the way to go, I think she missed a summertime fashion trend that's seems to be sweeping through Austin: styrofoam trays, plastic wrap and fake blood.
Have you seen these photos? This is apparently the new look the cool kids are rocking down on 6th St.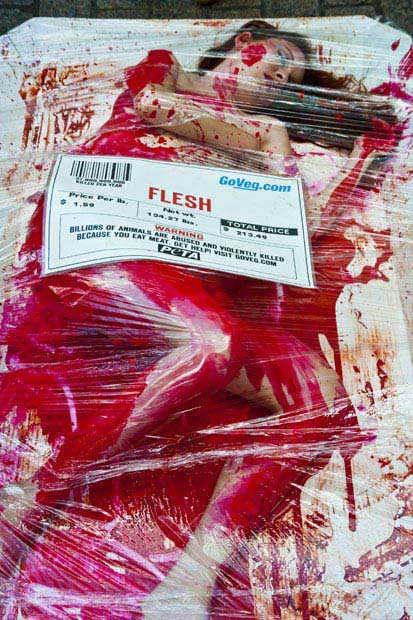 Wonder if she's trying to 'shock us' by showing so much skin.  The tee with 'FLESH' printed on it is kinda hot. It tells us EXACTLY what we're looking at, PLUS it shows a lot of side boob. Worried that it might inspire men to treat women as 'pieces of meat.'
Is PETA the latest hot designer?
Do you think she got the fake blood at Hot Topic?
Is this tween fad spawned by Twilight?
Or maybe this intrepid fashionista is inspired by Lady Gaga?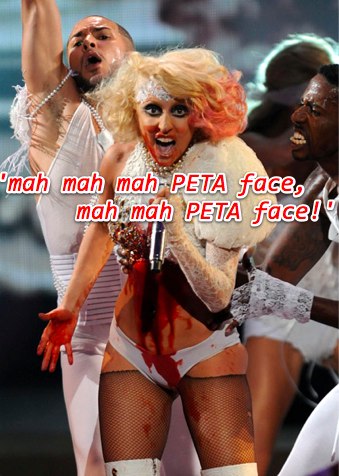 Is Lady Gaga 'destroying' the moral fabric (Saran Wrap?) of today's youth?
Which is more 'hip': clear or colored plastic wrap?
Do you save money/the environment by making your fake blood at home?
Are you with 'Team Edward' or 'Team Jacob'?
Is this season's True Blood the 'sickest ever'?
.
Find something Austin related that you've got to share? Photos, screen shots, articles, news? Email us at [email protected].
Like what you see? Be our friend on Facebook. Add our RSS feed! [what's that?]. Start your morning with Republic of Austin in your InBox. Or read us 24-7 on Twitter!
Related posts:
Related posts brought to you by Yet Another Related Posts Plugin.