TREND WATCH: Are art cars losing ground to the hoarder car in the fight to keep Austin weird?
Thankfully the Cathedral of Junk got a midnight stay of execution, otherwise my faith in the Keep Austin Weird movement would be seriously in question. And while the city seems to be cracking down on everything we hold sacred, the Art Car seems to be alive and well…or is it?
Although art cars can be extravagant sculptures, the bulk are just hooptees and beaters that have been spruced up by gluing objects to the exterior of the car. Normally, these objects follow a theme, like pieces of white porcelain, multicolored plastic toys, old radios, painted seashells, astroturf  or fish. In fact, art cars are such a big deal, that they have their own parade.
Take a look at these art cars:
But are art cars on the outs? If the growing trend in hoarder cars is any indication, then the answer is "yes."
Once a subculture, hoarding gained popularity in 2009 after the alternative lifestyle was exposed in A&E's hit reality show Hoarders. In fact, hoarding has become so mainstream that Amy Pohler's character on NBC's Parks and Recreation, Leslie Knope, is a hoarder. And now it seems the phenomenon has hit the streets in the form of the hoarder car.
The first known hoarder car was spotted in February on the UT campus by Linda over at Curious Notions. Check these photos she took to document the experience: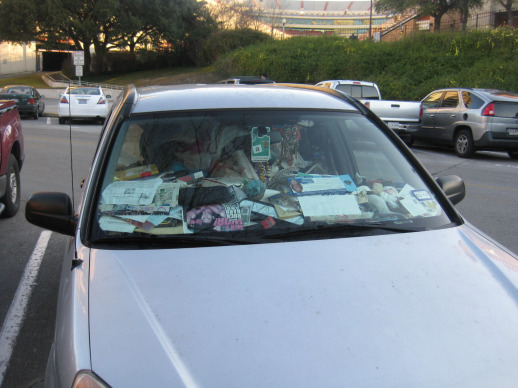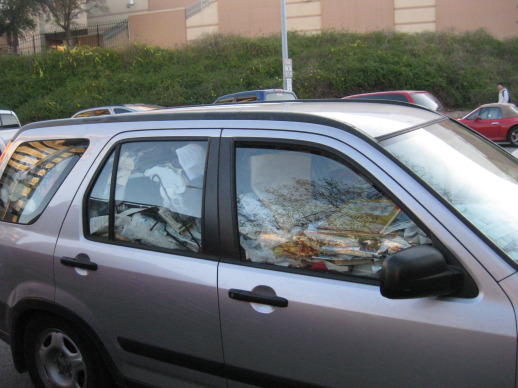 And check out this picture a reader sent to us [via imgur]: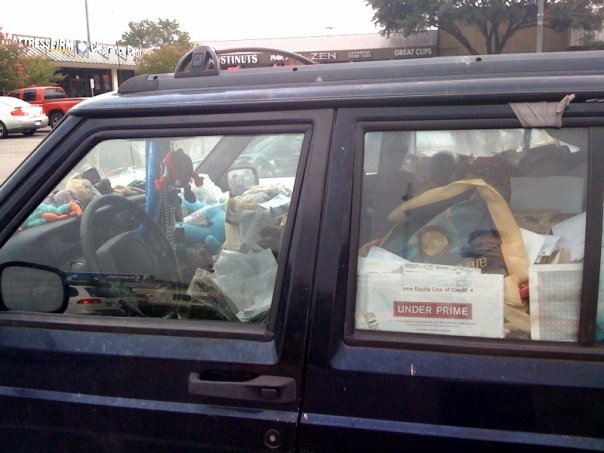 The Zen and Mattress Firm in the background indicate that the car was spotted off Anderson Lane.
Will hoarder cars stay  relegated to North Austin and the UT campus area, saving the art car for hippie heavy South Austin?
Do you think the hoarder car is actually part of an Illuminati plot to diffuse the art car's dominance in Austin?
Have you ever glued objects to your car in an effort to make it 'fancy'?
Which works better on automobiles: Krazy Glue or hot glue?
Do you plan on converting your automobile to a hoarder car so you can 'fit in' in 2k10?
Have you ever been on a long road trip and forgotten to clean out your car afterwards?
.
Find something Austin related that you've got to share? Photos, screen shots, articles, news? Email us at [email protected].
Like what you see? Be our friend on Facebook. Add our RSS feed! [what's that?]. Start your morning with Republic of Austin in your InBox. Or read us 24-7 on Twitter!
No related posts.
Related posts brought to you by Yet Another Related Posts Plugin.