Austin Restaurant Week Fall 2010 Review: Mediterranean restaurant FINO
Since we're all pretty much broke, Austin Restaurant Week is one of our favorite events of the year. For 8 days spread out over 2 weeks (September 19th – 22nd and 26th – 29th), top restaurants throughout the city offer pre-fixe menus with prices ranging from $25 to $35 for a full dinner. Proceeds also go to one of our favorite non-profits, the Sustainable Food Center. For a full list of participating restaurants and menus, check here. Oh, and don't forget to make rezos, because many of these places fill up fast.
Honesty alert: I don't get to the campus area that much. Actually, let me rephrase that: I prefer to spend as little time by UT campus as possible. I will occasionally brave the herds of the young and (mostly) dumb to hang out with the good folks over at KUT or chillax with my 18-year old cousin. But RARELY do I eat around campus. That's probably why I've never been to mediterranean restaurant FINO.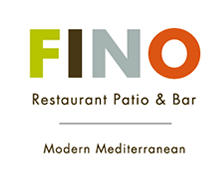 Nestled on the edge of West Campus, fino sits atop a sort of classy strip mall at 29th and San Gabriel. Back in my teens, I used to go to another restaurant that was in the same location. In fact, one of my favorite memories of my grandmother is in that spot: She was cautioning me on the witchy wiles of older women who prey on young, attractive men-today we call them cougars.
But the times have changed, and 10 years later, I find myself eating at a the same location with a new name, accompanied by a not-so-witchy but very much enchanting (not so much) older woman: the amazing Laurie Gallardo from KUT and Texas Music Matters. Knowing the storm had caused the hordes of the young to scurry into their dorms and dens, we decided to check out FINO for Austin Restaurant Week.
What we found at fino was perfect for a rainy night.
The chef brought us an amuse bouche with a traditional (Spanish) tortilla, garlic aioli and roasted peppers.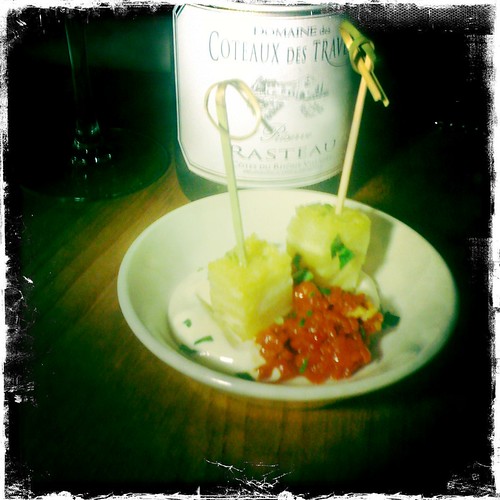 Something about the rain made me lean towards the Chorizo Albodingas. It wasn't spicy like Mexican chorizo. And the truffle oil was amazing. WIth the cream, it kinda tasted like butterscotch.
Normally I would have chosen the veggie option, but I was feelin like a carnivore last night. This is the Pan Roasted Loch Duart Salmon. The outer skin was perfectly crispy. Its saltiness complimented the slow-simmered roasted red peppers.
I love a good Semifreddo. Fino's was smooth, and I'm a sucker for hazelnut. The sea salt sprinkled on top transformed the chocolate and coffee flavors into something truly decadent.
And this is Laurie's "food orgasm" face:
Here's a quick guide to the pre-fixe menu. Since Laurie and I were in the exact same food mood, we ordered the same dishes. I'm gonna bet that the other dishes were equally amazing.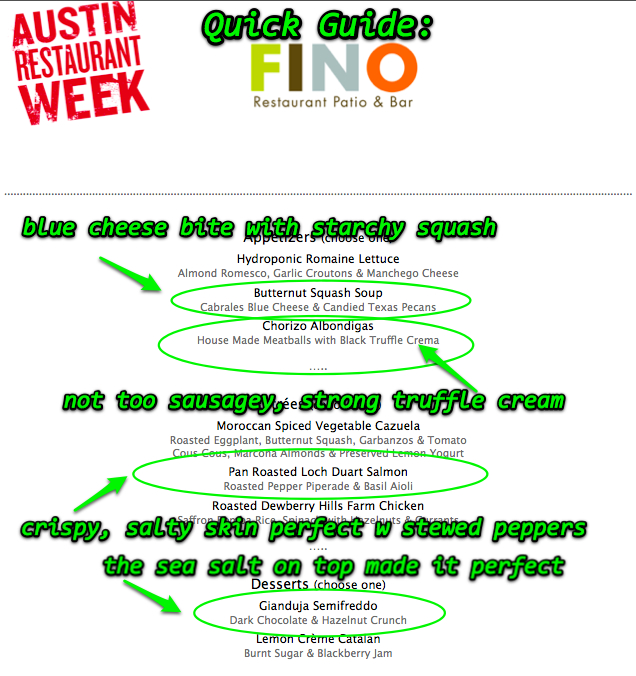 The service was impeccable. The price was worth it. Definitely gets an A!
What do you think of FINO?
Did you try the pre-fixe menu ?
.
Want more RoA? Be our friend on Facebook. Add our RSS feed! [what's that?]. Start your morning with Republic of Austin in your InBox. Or read us 24-7 on Twitter!
Related posts:
Related posts brought to you by Yet Another Related Posts Plugin.