Austin Food Trailers Odd Duck + Gourdough's + a bottle of wine + sunset = SoLa heaven [REVIEW]
Tuesday night, the RoA writers got together for our regular team meeting/family dinner. Although Odd Duck Farm to Trailer off South Lamar has been running for a few months now, we hadn't had a chance to give it a try. Since the Flip was not in my backpack, we had to ditch the video and take it old school. Armed with our Hipstamatic cameras plus pen and paper, you can see the semi-raw highlights of our experience!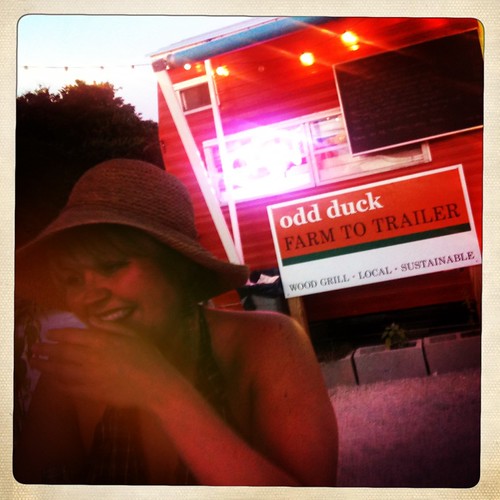 Odd Duck Farm to Trailer is located off South Lamar at Lamar Square, just south of Highball and kinda diagonal from Maudie's.  Like any other trailer park, the majority of the seating is outdoors. And ladies, get this: They've got REAL restrooms, running water and all!
One of the best features of this trailer park is the ability to bring your own beer and wine. Inspired from her trip to Europe, Rachel brought a set of REAL glass wine glasses.  And let me tell you: Drinking wine with friends plus the mid-summers breeze and sunset was a little slice of heaven.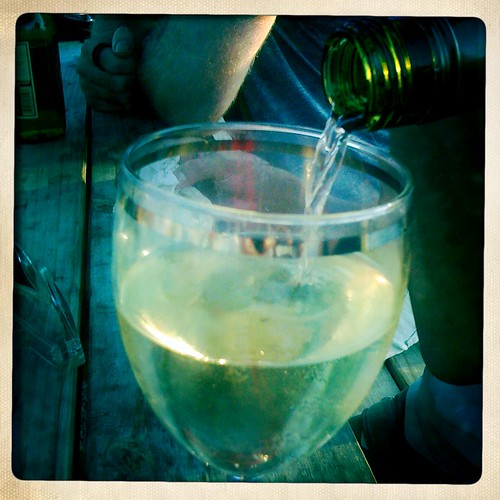 With a menu changing daily (check site for dailies), Odd Duck's concept is based on buying locally-sourced fruits, veggies and meats. Because all the dishes are small plates, it's great for sharing-which is exactly what we did between the 7 of us.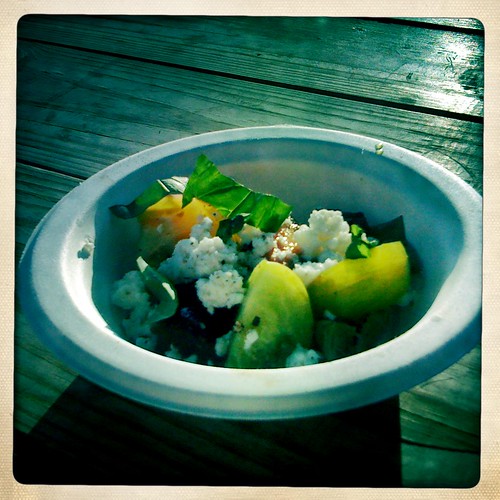 The above salad was an interesting twist on the classic caprese salad included crazy-colored heirloom tomatoes, basil, goat cheese and grilled watermelon. Thoughts:
RoA style blogger Linsey: "Everyone should grill their watermelon."
The shredded pork shoulder with roasted sweet corn sandwich was pretty effing amazing.
Here were our thoughts:
Me: "OMG! Saltiness of pork with the sweet corn is a great contrast AND THEN the black pepper kicks in and makes it complete."
Personal finance reporter Rachel: "Sweetness with the pork combined with the corn fresh grilled off the cob is mmmmm."
Sliders are either hit or miss. Traditionally, these guys can be so little that the burgers are a little dry. odd duck's sliders where borderline amazing. Instead of beef, they chose to use a cut of pork belly. And if you know pork belly, you know that if it's cooked right, it's better than bacon: Crunchy on one side and creamy on the other.
Rachel said: "Charcoaled perfection. I love the smokey taste-and it smells like a campfire!"
We sampled a lot of other dishes, but as the sun set and the wine flowed, we felt more like enjoying and less like waiting for pictures. Here are a couple of other notable dishes:
Zucchini bread with peaches, goat cheese and cucumbers. Rachel said: "Like dessert: nice sweetness with the peaches."
Quail leg. Linsey said: "Melts in your mouth. Juicy, it's just the right amount of salt."
After chowing at odd duck, we hit up Gourdough's, the gourmet doughnut trailer located in the same park. We skipped the crazy doughnuts like the Mother Clucker (Fried Chicken Strips and Honey Butter) or Porkey's (Canadian Bacon, Cream Cheese and Jalapeño jelly), and went for the sweet concoctions.
We ordered FOUR-and just so you don't make them same mistake we did: THE DOUGHNUTS ARE MASSIVE. They're like each the size of a bowl and covered with more topping than a $10 banana split!
The four we got were the Razzle Dazzle (raspberry filling with fudge icing), Sara's Joy (coconut flavored filling with fresh coconut and fudge icing), Black Out (Brownie Batter, Fudge Icing and chocolate covered brownie bites) and Funky Monkey (grilled bananas and cream cheese icing with brown sugar).
On the first bite, everyone's eyes glazed over-and I think I heard our green blogger, Ari, moan. Here's what she had to say about the Funky Monkey: "Toasty on the outside. Smoov on the inside. Just the right amount of crispy skin complimented with creamy dough."
They were all amazing. I agree with Ari, the Funky Monkey was orgasmic. The Black Out was chocolate overload. Both sent my sugar addiction to full throttle!
Gourdough's is open till 3AM on the weekend, so I could potentially being that a late night lake season/swimsuit diet killer. But the noms, man, the noms are sooo good! Plus, it's a great alternative to the coffee house/dessert date.
DEETS ABOUT ODD DUCK FARM TO TRAILER:
WHERE: 1219 South Lamar at Lamar Square
WHEN: 5-10P daily
PRICES: Small plate run from $3-$6. For two people, you can probably order 3-4 plates.
OVERALL: A+ (Really loved the atmosphere; food was great; BYOB rocks; price is good; PLUS LOCALLY SOURCED FOOD!!!)
DEETS ABOUT GOURDOUGH'S:
WHERE: 1219 South Lamar at Lamar Square
WHEN: M,T: 11A-MID; W, Th: 11A-1A; F: 11A-3A; Sa: 10A-3A; Sn: 10A-MID
PRICES: Doughnuts are all $3.50 each. Totally big enough to share!!
OVERALL: A+ (Really loved the atmosphere; never knew a doughnut love like this before; BYOB rocks; late hours; sugar fiend's biggest nightmare)
Have you been to Odd Duck? What did you think?
Is locally-sourced food gaining more ground, or do we have a long way to go before restaurants keep it sustainable?
Has anyone tried Gourdough's fried chicken doughnut?
.
Like what you see? Be our friend on Facebook. Add our RSS feed! [what's that?]. Start your morning with Republic of Austin in your InBox. Or read us 24-7 on Twitter!
Related posts:
Related posts brought to you by Yet Another Related Posts Plugin.