Getting wasted with Austin indie rockers the Bright Light Social Hour [REVIEW + LISTEN]
What do you think of this post?
Intrsting

(0)
Sux

(0)
Rawsome

(5)
LOL

(0)
H8

(0)
Useful

(0)
♥

(2)
Inspiring

(0)
WTF?

(0)
It's been a hell of a year for Austin indie rockers The Bright Light Social Hour. A year ago today, the band was duking it out with 1500 other bands to win the Sound and the Jury, a contest that landed them a spot playing last year's ACL fest. They also won the Austin Chronicle's 2010 Austin Music Award for Best Indie Band. This week, they continue crowdsurfing that momentum by dropping their first album, the self-titled Bright Light Social Hour.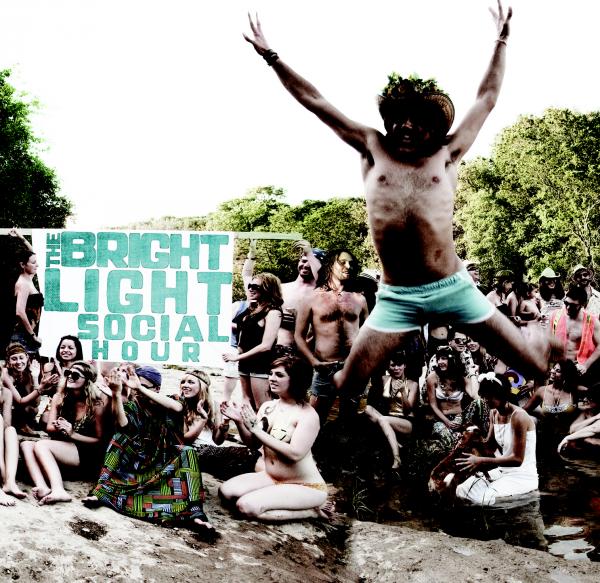 First off, if you've never seen the Bright Light Social Hour perform live, you're missing one of the most high energy shows this side of the Mississippi. Seriously, with the pounding drums and monster guitar licks, you can't help but jump around and pump your fist. And while other local bands have a hard time making the transition from performing to recording, these guys pull it off effortlessly. In fact, The Bright Light Social Hour experience translates so well on the album, that your head might actually explode from all the energy.
Here's a quick overview of the album.
The album starts off with dance funk track Shanty. With driving beats, playful keyboards and a long build, this song could easily be the classic rock version of a Daft Punk track. It sets the tone for the entire album, letting you it's gonna be a ride.
The second track, Bare Hands Bare Feet, is probably my favorite track on the album. Put the headphones on, and you might seriously feel yourself swaying in a sweaty crowd-some chick is crowdsurfing during the break. Fusing classic rock chants with power chords, this stadium anthem challenges the crowd to build the perfect city. Is it Austin?
In La Piedra De La Iguana, the guitars take a back seat to the keys and some Sublime-like smoked out ska beats. "We've watch it grow, let everyone know that our city is complete!"
With the Southern soul track, Detroit, the Bright Light Social Hour shows they are more than just high energy tracks. This song takes the band down to a sultry speed that only heart break can induce.
Back and Forth reminds me of a myriad classic disco rock tracks. Bouncy bass and jumping guitar licks mirror the lyrics "I'm twisting like a screw."
Rhubarb Jam gets fast and psychedelic, kinda like if a speed jam band blazed before practice. Maybe head banging for the stoner set?
Next week, you'll be able to purchase the album on the interwebs and at your local independent record store. For now, check out Bare Hands Bare Feet:
LISTEN: "Bare Hands Bare Feet" by the Bright Light Social Hour

Audio clip: Adobe Flash Player (version 9 or above) is required to play this audio clip. Download the latest version here. You also need to have JavaScript enabled in your browser.
At Republic of Austin, we make a lot of sacrifices in the name of blogging. If that means getting wasted with one of Austin's hottest bands, then, hell, we'll do it! That's why earlier this week we headed over to Thunderbird Coffee off Manor to hang out with The Bright Light Social Hour.
I learned a lot about the band during Happy Hour. Jack recently visited his brother in Turkey. AJ grows olives, grapes and blue agave on a farm outside the city. Joe loves techno. And Curtis, well, this dude most have been a philosophy major, because he can debate everything from International Politics to the metaphysical nature of the Universe.
As we continued to get progressively more intoximacated, the conversation got more erratic. Somehow, we jumped from growing wine in Texas-Mustang Grapes are acidic-to the weird revelation that Jack's penis is "nothing to make fun of, but nothing to write home about."
All that was fit to print is included in the 5-minute video. You'll learn a little more about their recording experience, find out each band members favorite track, and watch as we knock down a tower of empty (used) beer glasses.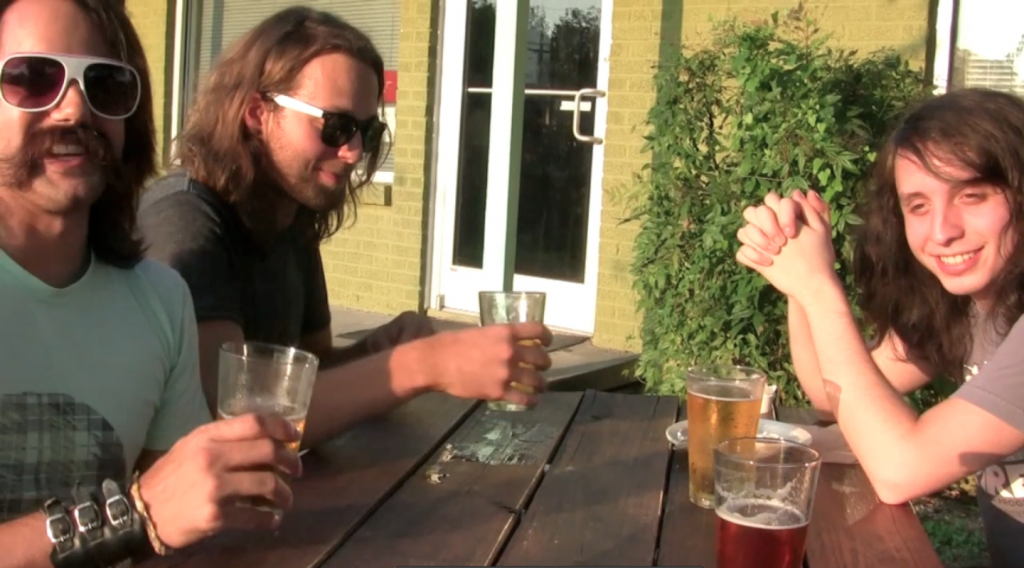 You can get the full experience LIVE this Friday at the Bright Light Social Hour Release party at Antone's. There will also be performances from Brass Bed and The Frontier Brothers.
[Keep up with our daily event picks on
our Facebook page
]
EXPERIENCE: "Bright Light Social Hour Release" (FRIDAY, 09.17.10); Antone's (213 W 5th, 78701); 9P-2A; $12

Facebook Event
.
Want more RoA? Be our friend on Facebook. Add our RSS feed! [what's that?]. Start your morning with Republic of Austin in your InBox. Or read us 24-7 on Twitter!
Related posts:
Related posts brought to you by Yet Another Related Posts Plugin.
Leave a Reply