Dance into September with TWO new tracks from Austin electronic musicians.
Two shining examples of Austin's growing electro/dance scene recently hit my Inbox. Both of them are nice end-of-summer tracks that will have you scooting your boots into September.
Butcher Bear and Charlie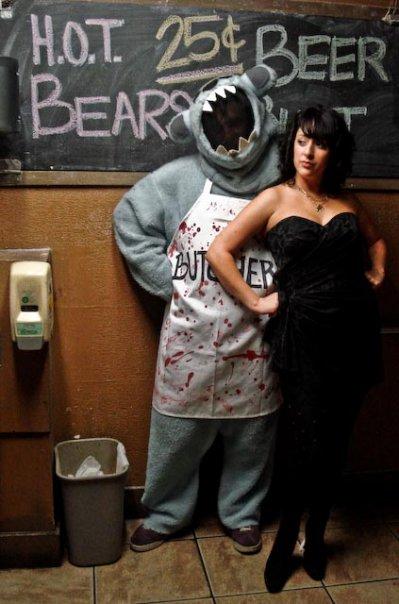 There's truly something magical about Butcher Bear and Charlie. I mean, come on, Butcher Bear is a fuzzy (usually brightly-colored) teddy bear furry with sharp monster teeth and Charlie is a beautiful female human with a great set of pipes. And while the bulk of their music might be considered experimental by some folks, their new single, 'Chopsticks' is a catchy electro-pop gem that appeals to even the most poppiest of sensibilities. That might be why, as of 5 minutes ago, it overtook Best Coast, Wavves and Foals as the number 1 track of my summer according to iTunes-and it came out less than two weeks ago.
Something about Chopsticks reminds me of the xx minus all the cotton candy fluff.  Where the xx have kinda minimal, monotonous vocals, Butcher Bear's gritty vox contrasts Charlie's sweet in a chocolate-covered bacon sort of way that is more Fun House than Tunnel of Love. With lines like "It's my time to have fun…"  and "Get back from where the heart is most protected and tucked away" dropped over a piano hook, jaunty synths and an upbeat tempo, you can't help but sing along.
The pop-style duets work for BB & C-and they pull it off without losing their edge or sounding cheesey. I'd love to hear them drop  a version of Berlin's "Sex (I'm a)." It's one of my all-time favorite song, and although I'm not usually into covers, I think they could def rock it out.
Give it a listen. You can also download the track for free. And check them out at Fun Fun Fun Fest in November!
Butcher Bear and Charlie - "Chopsticks"
Zayra:
Club kids rejoice: Austin now has our own dance pop princess, and her name is Zayra. Her current single, "VIP," is #7 on the Billboard Dance Charts. Heavy on sirens and autotune,  it was remixed by "it" producer David Audé, who also has remixes of Katy Perry, Rihanna and Lady Gaga out right now.
Although thematically VIP seems more closely tied to Kes$ha (she name-checks Mick Jagger and 'everyone' knows who she is), I'm gonna align her with the Lady Gaga camp. Not only does she have a grueling club tour schedule (like pre-Fame Monster Gaga), but as you'll see in the video below, she's kinda theatrical.
In the video, Zayra plays some sort of dancing Aeon Flux-type character that walks around Austin. There's another sexy cyber female spy walking around Austin, too. They meet up and then dance in the garage by Pure. It's interesting to see the alleys (one behind Kiss and Fly, one on the East Side by Cafe Mundi, on the trail under the MOPAC bridge ) of Austin used to create a big city feel.
What else can you identify in her trek around town?
Zayra - "V.I.P. (My Father is Mick Jagger)"
.
Find something Austin related that you want to share? Photos, screen shots, articles, news? Email us at [email protected].
Want more RoA? Be our friend on Facebook. Add our RSS feed! [what's that?]. Start your morning with Republic of Austin in your InBox. Or read us 24-7 on Twitter!
Related posts:
Related posts brought to you by Yet Another Related Posts Plugin.