Zack Hadley-Lead Singer of Austin Indie Band Frantic Clam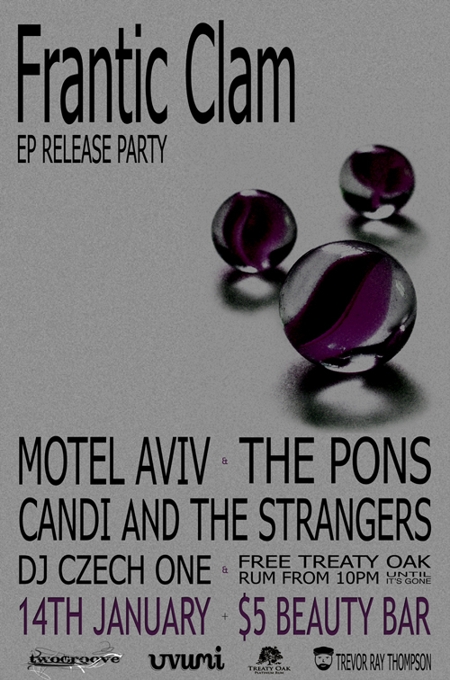 There's a party going on tonight at Beauty Bar that you don't want to miss. Up-and-coming Austin indie rock band Frantic Clam is releasing Lolita, an EP with a couple tracks off their forth coming album. Joining them is MoTel Aviv, The Pons, and Candi and the Strangers. When you add free drinks, you know it's gonna be hot.
Earlier this week, we met up with Zack Hadley, lead singer/guitarist/songwriter of Frantic Clam. When you hear his music, his falsetto-esque voice sounds big and glam. In real life, however, Zack comes off as shy and introspective. After a little coaxing, we got Zack to start talking.
He's been in the army. He's served in Iraq. After his vehicle got hit with 6 bombs, he suffered severe injuries and brain swelling. When he got back to Texas, his wife had split. No wonder he's introspective.
When listening to his music, you can pick up a variety of different sounds: Vocals are a little like the Scissors Sisters, the wall of guitars is a little bit like My Bloody Valentine, and it's all tied up with a Pixies, 90′s-alt/pop feel. It will be interesting to see how their style evolves over time.
LISTEN:
Sasha Grey by Frantic Clam:

Audio clip: Adobe Flash Player (version 9 or above) is required to play this audio clip. Download the latest version here. You also need to have JavaScript enabled in your browser.
WATCH: In the video, below, Zack tells Chris about his musical influences and what it was like working with Erik Wooford (produced The Octopus Project, Black Angels).
EXPERIENCE: "Frantic Clam EP Release Party" (01.14.10); Beauty Bar (617 E. 7th); Doors 9P; FREE from 9-10P, $3 w/RSVP or $5 w/o, 21+ FREE TREATY OAK from 10P-?
No related posts.
Related posts brought to you by Yet Another Related Posts Plugin.