TRUE or FALSE: Austin's Deep Eddy Pool once included a diving donkey show.
While Labor Day isn't the actual end of summer, it is sort of the unofficial end. School has started, the days are getting shorter, and, you might want to check with RoA fashion reporter Linsey Krauss, but I'm pretty sure you're no longer allowed to wear white or something. So, in an attempt to hold on to summer, here are some fun facts on one of Austin's most historic summer stops: Deep Eddy Pool!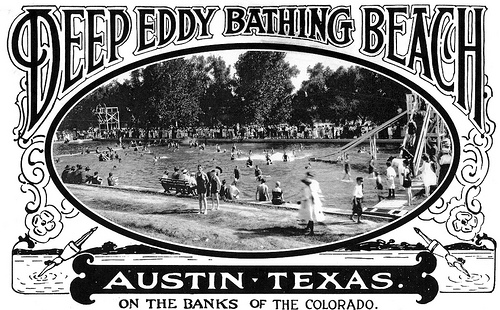 Deep Eddy's start as a summer destination began decades before its operation as a concrete-enclosed public pool. For many years, in fact, Deep Eddy was a popular swimming hole spot in the midst of the Colorado River. Steep river banks and a big boulder in a particular section of the Colorado River that ran through Austin created a curiously deep, but brief eddy that was great for dipping into on a hot summer's day.
In 1915, a prominent and wealthy Austin businessman, A.J. Eilers, bought Deep Eddy from the Johnson family, who had settled in the area some 60 years earlier.
The original Deep Eddy was much  more than simply a public swimming pool. It was, in fact, built and advertised as a full-on resort. The original pool included many uniquely crazy attractions, such as spring boards, horizontal bars, and diving ramps several stories high. Billed as a resort, it also featured the occasional musician, a Ferris Wheel and several circus style acts, such as a mule and rider (Lorena's Diving Hose)  who would, just for giggles, entertain spectators by taking a 50-foot leap into the chilly waters.
It's interesting (and a bit scary) that a time existed in our world where humans were entertained by watching a donkey take a death plunge into a swimming pool, but then again we do live in a city where people pay to watch a chicken poop on a bingo board.
During Eilers ownership, the area commercially (d)evolved. The boulder that created the true "eddy" was literally blown up in the 1920s, and a long process of removing the vast amounts of Cottonwood trees in the area (a process that continues today) began. Despite these changes, and a great amount of success with the Deep Eddy Resort, the Great Depression struck the Eiler family, and Deep Eddy was sold to the City of Austin in 1935 for $10,000 (About $160,000 today). He wanted to give Deep Eddy to the city, but  his financial situation at the time made it virtually impossible.
A 1935 interview with Eilers details his wishes:
I wanted the city to have Deep Eddy in preference to seeing some private concern operate it, because I wanted to see it developed as a municipal park and thus continue the resort for the benefit of Austin citizenship

- A.J Eilers
"Bath House at Deep Eddy." Austin American-Statesman, 17 November 1935.
Only days after the City of Austin purchased Deep Eddy, the Great Flood of 1935 occurred, and much of the resort construction and the cities investment was washed away. A reconstruction process began that transformed Deep Eddy Public Pool more into the location modern Austinites would recognize today.
One of the staples of the post-flood Deep Eddy area was the  bathhouse, opened in 1936. After use for several years, the bathhouse closed to the public and remained virtually forgotten, until a restoration project in 2005 and completed in 2007 reopened it to the public.
Deep Eddy is frequently billed as the oldest swimming pool in Texas. While that's true as a practical matter, the present-day facility probably doesn't resemble too much of the original Deep Eddy Resort, and certainly not the original swimming hole on the Colorado River. Nevertheless, the historic significance of Deep Eddy is that it's attractive in the same way now as it was then: cheap, family fun, deep in the heart of Texas.
—
What's your favorite Deep Eddy memory?
What other Austin landmarks do you wish would be restored like the Deep Eddy bathhouse?
Would you pay to see a modern day "Lorena's Diving Horse"?
Related posts:
Related posts brought to you by Yet Another Related Posts Plugin.