UNCONFIRMED RUMOR: City of Austin to host 'Do Something'-a city-wide reality show on VH1 starring Jillian Michaels.
Reality TV permeates every part of modern culture. Whether it's looking into the private lives of elitist real housewives, getting dirty doing jobs with the working class, finding the next top icon or designing fashion/art/furniture, Reality TV helps validate what is and what isn't cool. After an unsuccessful foray into our own view of the Real World in the early 2000′s, Austin's hopes of launching a Reality TV franchise were thwarted, and our coolness lost…until now!
Check out what a reader sent in this morning. Looks like we're back in bidness, baby!!
Yup, that's right. After winning the popular vote, Austin is gonna be on VH1!! Since most of VH1′s programming is just blocks of reality shows, I'm pretty certain this is another one.  The name of the show is "Do Something."
Have you guys heard of this show?
Did we win because people think we are a bunch of slackers? (via the movie Slacker)
As you can see in the screen shot, it's got something to do with bicycles. And with a name like "Do Something," it's probably going to involve challenging us to do things like build houses or lose weight like on the Biggest Loser.
Will the show be hosted by Biggest Loser's Jillian Michaels?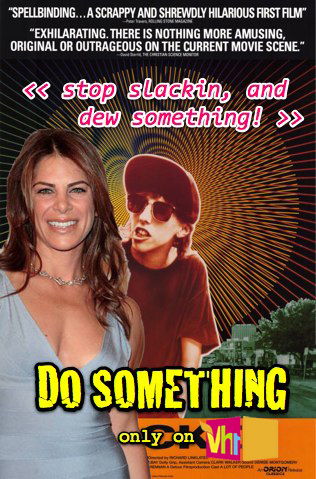 Will they try to find iconic images of the city to use as backdrops?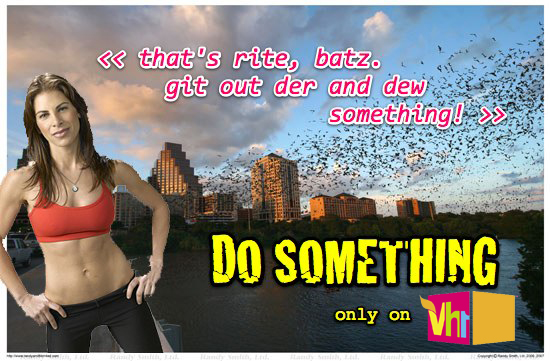 To attract a wider audience, will they use some of Austin's more mainstream events?
Will they force us to do challenges at recreational spots around the city?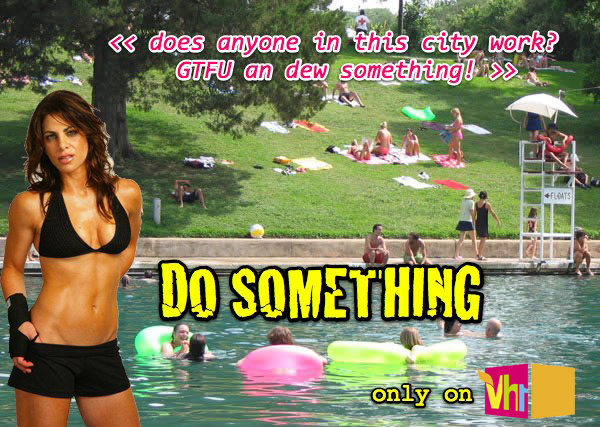 It also looks like there might be some sort of blogging element involved. Check out this email we received from VH1′s PR team:
My name is [REDACTED] here on behalf of VH1's 2010 Do Something Awards.  I thought you and your online audience might be interested to know that Austin, TX has been nominated under the 2010 Do Something Awards: City category!

The DoSomething Awards honor those who are making a difference in the world. VH1 and DoSomething have nominated Austin because of the city's commitment to using eco-friendly transportation—primarily biking. There are an additional four cities in the running to win under the same category.

We would love to have you spread the word.  In fact, the blogger who refers the most readers to vote will win something too.

Top 5 bloggers will each receive a $500 gift card
Top Winner will receive a trip to the 2011 Do Something Awards (in addition to the $500 gift card!)

If you would like to enter the bloggers competition, and sponsor your city to win, let me know and we will send you the unique URL your readers can use to vote!
Does this mean they're gonna do physical challenges with Austin's top bloggers?
Have you received your release forms yet? I'm still looking for mine. Can't wait to be a star!!
Looks like the city is already setting up:
Are you gonna watch the show?
Which has more realistic Reality TV: VH1 or Bravo?
Should the City of Austin have held out until Bravo offered us a show?
Is "Slacker" the best movie made in Austin of all time?
Will Austin finally regain its cool?
.
Find something Austin related that you want to share? Photos, screen shots, articles, news? Email us at [email protected].
Like what you see? Be our friend on Facebook. Add our RSS feed! [what's that?]. Start your morning with Republic of Austin in your InBox. Or read us 24-7 on Twitter!
Related posts:
Related posts brought to you by Yet Another Related Posts Plugin.