Top 3 Mama DOs and Daddy DON'Ts: A quick reference guide.
I was standing in line at Target & heard a cute little voice behind me say, "I'm so glad I'm not the only one." I turned around & saw a hot, tiny (vertically), huge (horizontally) pregnant girl. She glanced down at her bodacious cleavage with a smirk & then at mine.
"I don't know why anyone would cover these up!" I said.
So, first on the Top 3 Mama DOs list is: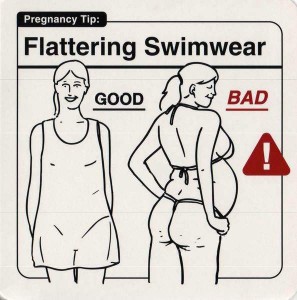 1. CLEAVAGE!
Look, girls, you've been wanting more up-top for how long and now you have it… why, oh why, would you hide them now?!? You don't like the stares or your man's drooling? Comes with the territory. Give the gazers a wink & hand your man a handkerchief. You're a WOMAN now more than ever. For some reason, the maternity stores stock their shelves with up-to-the-throat shirts. There are ways of saucing up your maternity wardrobe despite this. One idea, think low-cut tanks (or nothing) under cute button-ups fastened low enough to let the girls breathe.
2.YOGA!
What's better than a room full of pregnant women to make you feel normal & to normalize all the crazy shit your body & mind are going through? I signed up for the Unlimited Pass at YOGA YOGA early in my pregnancy & can honestly say it's the best investment of this adventure so far. It keeps me mobile, sane, energized & has made my back even stronger than it was before Baby G rented out my belly. At the beginning of every class everyone introduces herself, says how far along she is & tells the class about any pains, stress, annoyances, discomforts, etc that she's going through. Gotta tell ya, when you feel like the only person on the planet whose feet are capable of growing TWO SIZES in a few months, it is beyond comforting to hear 3 other girls say the same thing is happening to them. YOGA!
3. COMFORTABLE SHOES!
Nothing, and I mean NOTHING, is uglier than a girl limping down the street in high heels. Clutching & clawing at her beau's arm like he has the cure to leprosy. You see it all the time downtown on Saturday nights. Now, imagine that girl has a giant protruding belly AND she just fell face-first on the pavement. Luckily, her cow-like reflexes allowed her knees & hands to catch her, but it was ugly to watch & even even uglier to see her terrified face as she tried to get up. Here's an embarrassing story for you… I wore a pair of sexy, strappy black heels to the Austin Fashion Week launch party. I was in so much pain that I got dizzy & had to sit most of the night. As if that wasn't bad enough, when I got home I realized my feet had swollen so much that I had actually busted out of the shoes!!! YES! My feet had exploded through the straps like The Incredible Hulk of fat feet. Put the heels away. Go get yourself some super cute flats with room to grow. Shove some insoles in & watch the non-prego girls stomp around like zombies at the end of the night… yes, you may actually make it to the end of the night (to make fun of them) IF you wear comfy shoes.
Top 3 Daddy DON'Ts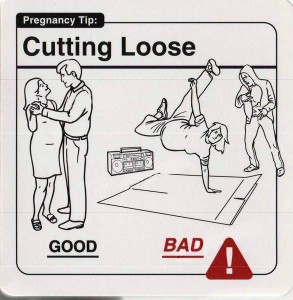 1. DON'T expect mommy to bend over.
WHAT?.. Wait, let me explain. Somewhere around month 6 her body will no longer allow her to move as spritely as she did pre-baby or in previous months. What we found is that we had to split household to-do's in a whole new way. I started to take on all responsibilities that were waist-level and down. Example: when doing dishes I empty or load the bottom rack. I put dishes away that go in the bottom cabinets. I basically do anything that would require her to bend over too far. We split nearly all of our responsibilities normally, so this just required a re-distribution of tasks.
2. DON'T skip out on the ob-gyn visits!
I don't mean you should be IN the office for the whole examination. That'd be a bit creepy. What they will do is bring you in after all the stuff you don't need to see is finished. That's when you can connect with doctor. Ok, maybe your schedule doesn't allow for it but it's super important to go if you like to be knowledgable, and in more control of your delivery. What I mean is that this is the one time you get to know the doctor that will be delivering your child. It's the perfect time to ask questions, learn, and build a rapport with your doc. Who knows what you're delivery will be like, could be easy or it might not be. Very important for your doctor to know you pretty well. It's also good moral support for mommy. She will feel better having you there. Promise.
3. DON'T feel guilty if you burn out, even a little.
I've hit some rough patches where I couldn't take another spoonful of baby chat. If you let it, it can get to be ALL you talk about or think about, but it won't be like that all the time. For example, the baby registry was a rough patch because of the level of "importance" we placed on it all. Just remember, yeah it's important, but people have been having babies for, well, ever. You can make it as complicated as you like. We learned that we might lose our sanity if we got too serious about it. If you get get pulled under by the baby rip-tide of showers, doctor appointments, diaper training, clothes shopping, nursery planning… just take a day or two off. Let her do the same. Your baby will love you, even if you can't decide if their room should be blue, yellow or pink. It's supposed to be fun, after all.
Oh, and one last little point…
BONUS: DON'T forget: You did this to her. Take care of her. She's doing all the hard work.
What are your top 3 mama do's?
What are your top 3 daddy don'ts?
.
Want more RoA? Be our friend on Facebook. Add our RSS feed! [what's that?]. Start your morning with Republic of Austin in your InBox. Or read us 24-7 on Twitter!
Related posts:
Related posts brought to you by Yet Another Related Posts Plugin.