Baby Freestyle–Sonograms are cooler than you think featuring ACTION-packed sonos of Baby G!
Dani
Today is Baby G's 6-month in-womb birthday, so we wanted to give you our two most major gushy baby-crazy experiences:
First sonogram - first time we got to see Baby G in the jiggle blob on the screen!
Second sonogram - first time Baby G looks like a human & sounds like one too… we got to hear HIS heartbeat!  That's right, Baby G is a BOY!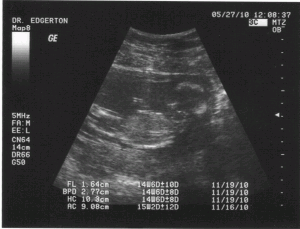 I'm going to let Papa Bear take the bulk of this one.  He likes to geek out on ultrasound technology & what it all means in terms of development & how large Baby G's… *ahem*… feet are going to be.
Adam
I clearly remember, pre-baby, when people would show me their sonogram pics.  It was always like opening socks from your grandma on christmas; knowing it was supposed to mean something but feeling underwhelmed and, frankly, bored.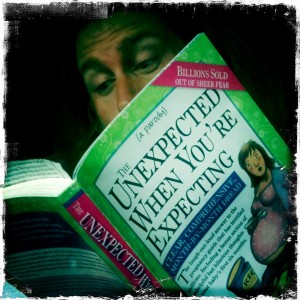 Well, the thing I never realized is that the baby is actually moving in there.  Leave it to a production guy to ask the doctor: hey can we get a quicktime?
Indeed you can!  They didn't make it very clear that this was an option but if you ask they'll likely tell you to bring in a DVD+RW, the PLUS being crucial.  With the video the mind has a much easier time interpolating these baby cross-sections to form a more complete picture of what the baby looks like.  No one has shown you an ultrasound movie have they?  Well today is your lucky day.  I edited the video down to 4 or 5 things to show ya.  Get the popcorn and turn down the lights.  It's baby tahm:
Ok, so, I am not going to walk you through all the gory details as the ultrasound lasted just under 20 minutes, but I will point out the highlights that you probably didn't know, and that were super cool for us:
By the end of the first trimester baby has basically developed all their pieces and parts. From there everything just gets bigger.  Although gender is determined at conception there's no telltale signs of boy or girl parts until the second trimester.  Since this ultrasound was from our second trimester we were able to find out sex, and guess what?… it's a little man.  Sweeeeeet.
They can make all sorts of measurements like the cranium, spine, brain, tibia, etc, and come up with the age of baby. Pretty amazing.  That also helps determine the delivery date down to the day.  They also make sure all of these organs are developing correctly by measuring size and location.
The wildest thing is seeing the little heartbeat going crazy. Then they let you listen.  That's sort of a big moment for parents-to-be.
At the end of the appointment they do have a very cool thing they do to show you the baby's face, basically a 3D render. Though it doesn't look like much it is pretty awesome to see after looking at just cross sections.  By our next ultrasound the baby will have a more developed face, which is good, cause you need one of those.
What was it like when you saw your baby the first time via sonogram?
Rock-n-roll sonogram of Baby G
.
Like what you see? Be our friend on Facebook. Add our RSS feed! [what's that?]. Start your morning with Republic of Austin in your InBox. Or read us 24-7 on Twitter!
Related posts:
Baby, Freestyle: Paying for pregnancy in Texas is effing nutz. Our baby crusaders Danielle and Adam just found out they...
7 reasons why Dallas is actually tons cooler than Austin. After a trip to Dallas, Chris realizes that Austin isn't...
Related posts brought to you by Yet Another Related Posts Plugin.