The Babymoon-One last mommy-daddy getaway before the shit storm.
Welp, T minus two months till launch. From what we can guess we're going to be a little wrapped up in baby city for a while. If you've read our previous blog posts you'll know that Danielle and I aren't really into "slowing down" just because we're starting a family. In fact, it's really the opposite. What better reason to be MORE active and TRAVEL. We LOOOOVE traveling. We've spent most of our relationship plotting and planning getaways, camping trips, Mexican escapes or Parisian escapades.
We do realize that a little guy is going to make traveling, well, different. So, we decided on taking a "babymoon," third cousin twice removed of the honeymoon. One last little hoorah on our own before we dig into the first steps of parenthood.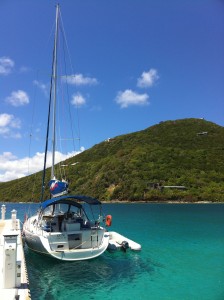 So, where did we go? Well, I grew up sailing and am comfy at the helm of a sailing yacht (aren't you?)… even moreso with an icey Red Stripe in my hand. She's a sun-worshipping water-baby. SO it made perfect sense to finally charter a sailboat and sail around the British Virgin Islands for 10 days. Sounds lush, and maybe it is, but we DID go in the off season, and not needing to hire a captain kept costs lower.
Now, I understand that some women really do get sick all the time during their pregnancy. Some women have seriously difficult pregnancies. No pregnancy is EASY, but I think, and Danielle will attest to this as well, that a lot of women use pregnancy as a "get out of jail free" card and decide to stop doing stuff. Danielle's pregnancy has been good but she's had a lot of pain she's had to deal with, and plenty of challenges. But she's never let that slow her down and never used it as an excuse to simply shut down. She's been great about staying active. So our point is: It's important to challenge yourself while still listening to your body. You need to take care of yourself, but that means two things: Take care of your body, and take care of you. It's GOOD to take a break before all this happens! Our doctor, in fact, was all for us taking off for some much needed pre-decompression.
For the guys: It's going to be a while before you can carelessly suck on beers or fruity rum drinks all day, or treat your hot mamma to a quiet dinner someplace, far away from the home, which is about to become a literal shit-storm. This is also your time to remember that you're not just "about to have a kid." You're an awesome guy that isn't defined by "fatherhood" alone, but an awesome guy that is into (insert favorite activity here) who is about to share that with a little version of yourself. But enjoy it for YOU once more.
So, and my point is, you really deserve to treat yourself and your partner to a super awesome get-away before your baby arrives. You're as excited as we are to meet your new addition, but don't lose sight of the fact that your relationship is bound to change in a lot of ways… and you'll never have this moment to share again! Sailing may not be for everyone 'cause hey,… not everyone has a handsome skipper baby daddy. But DO take your baby IN your belly and go do something awesome that you're not soon to forget. Remember: Happy mommy = happy baby.
Did you and your special someone go on a babymooon?
Is this really the last hurrah?
Related posts:
Meet the parents-Introducing Danielle and Adam, our new non-traditional Mommy and Daddy bloggers! Meet our new bloggers: Danielle Thomas and Adam Garner, a...
Are these 5 pregnancy taboos worth breaking? From chopping your kids salami to blood cord corking, Danielle...
Baby, Freestyle: Paying for pregnancy in Texas is effing nutz. Our baby crusaders Danielle and Adam just found out they...
Related posts brought to you by Yet Another Related Posts Plugin.