Big Ass 'Thank you' Blingee plus special welcome to Austin Chronicle Readers
Hey y'all:
First off: HOLY EFFING SMOKES!! We won TWO Austin Chronicle Best of Austin 2010 awards. Roary did a back flip and puked, he was so excited-or maybe it was the four loko he's been drinking all morning (Don't judge, he's on vacay).
But seriously, thank y'all so much for voting RoA Best Local Blog and me Best Austin Blogger. I couldn't do it without my kick-a team of bloggers. This award is as much for them as it is for me.
And to all our readers: YOU GUYS EFFIN ROCK!! On the real, mad love

Here's your "Best of Austin 2010″ Limited Edition blingee. I felt that nothing said "Holy ish we won" and "Thank y'all so effing much" like a dolphin, a pirate parrots and a double rainbow. Check it: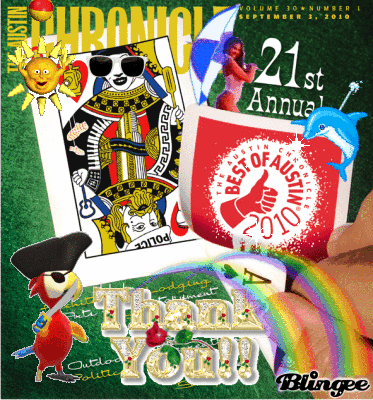 Ok, so all you newbies reading the site for the first time: Hello! Thanks for stopping by. You're probably wondering what the hell this site is all about.
Here's the short "About Us" (you can read the long version here):
We love Austin.
We're all in our 20′s and 30′s.
We like lots of photos, videos, writing on pictures, and blingees.
We're part of the militant wing of the "Keep Austin Weird" set.
Don't ever take our Armadillo blogger Roary seriously. He's always effed up on pot, four loko and Lone Star.
But we're not just a blog. In fact, most of the interaction happens on other sites:
The blog is where we post original photos, videos and stories about life in Austin.
Our Twitter is kinda like, well, it's Twitter–we share our posts, other people's posts and events. Although we are moving more towards Facebook.
The Republic of Austin Facebook page is fully interactive. We share articles from our favorite Austin bloggers, drop a couple of our daily Austin party and event picks, and chat about things that Austin folk love.
We recently launched a tumblr to share photos and things from our favorite Austin tumblrs. We're n00bs, so be gentle.
Take a look around. You can see our music videos here and our other videos here. If you're into blingees, too, you might like the Rick Perry/Twilight Blingee or our last celebratory I Love You blingee.
And did I mention that we are looking for more writers, some ad sales folks and an intern or two? More details here.
Oh yeah, if you find anything Austin-related or have something you want to share, Photos, screen shots, articles, news? Email us at [email protected].
<3 + V + \m/
Chris apollo
Related posts:
Related posts brought to you by Yet Another Related Posts Plugin.