How to give your favorite Austin food trailer $10,000 in one simple step.
Man, Austin's food trailers are blowing up. It feels like every bike ride leads to the discovery of some new mobile gourmet something or other-and that's awesome because it highlights two of my favorite things about Austin: our amazing food and our entrepreneurial spirit. And if you're an outdoor-loving, hard-to-stay-seated-in-one-place kinda person like me, food trailers are perfect!
Over the last month, Austin-area food trailers have been featured by the Travel Channel's Anthony Bourdain and the Food Network. Not that I'm surprised, Austin has some pretty kick-a food trailers in this city. And now we can help our favorites get more recognition and CA$H MONEY!
Yup, the Food Network is rocking the Great Food Truck Race. Netizens around the country nominated their favorite food trailers for the contest, and now it's time to vote. The winning trailer gets $10,000 and the chance to be on the Food Network's show "The Great Food Truck Race."
There are 19 Austin-area food trailers in the competition. Some of my favorites included on the roster are Gourdoughs, Odd Duck, Mighty Cone, Torchy's Tacos, Cutie Pies, Counter Culture and mmmpanadas. And don't worry if you feel bad about playing favorites. You get 10 votes a day, which makes it easy to spread the love to all your faves. Voting ends on September 9th, so you get like a hundred votes between now and then.
Right now a trailer in Oklahoma is winning. OKLA-EFFING-HOMA?!! And Austin isn't even in the Top 10!! ARE YOU KIDDING ME PEOPLE? Get out and rock the effing vote. Let's give this prize to a deserving AUSTIN food trailer-or maybe Marfa's Food Shark (which is, incidentally, in the top 10).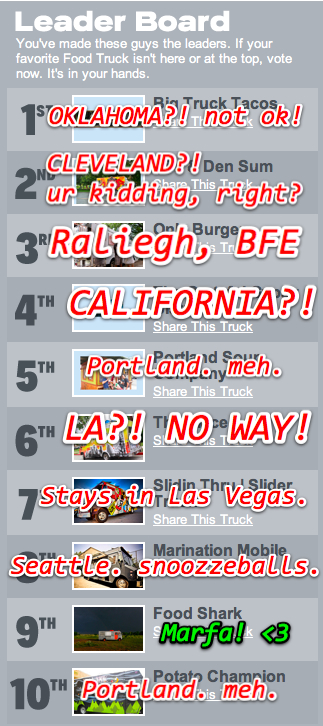 And if civic pride doesn't getcha, then maybe this will: Every vote you cast enters you to win a trip to the New York Wine and Food Festival.
Get to voting people. It's daily, so set an alarm. Make a calendar event. Let's give an Austinite $10,000.
Here's the full list of Austin trailers from the Great Food Truck Race
OneTaco
Colibri Cuisine
Flip Happy Crepes
Holy Cacao
Hey Cupcake!
Counter Culture
Takorea (In real life, I think they are dunzo)
Mighty Cone
Odd Duck Farm to Trailer
La Boite
Torchy's Tacos
The Shed BBQ's Rolling Joint
Franklin Barbecue (?)
Gourdough's Big Fat Donuts
The Jalopy Rotisserie and Press
mmmpanadas
Cutie Pies
Austin Daily Press
Chilantro BBQ
Who should I spend my 10 daily votes on?
.
Find something Austin related that you want to share? Photos, screen shots, articles, news? Email us at [email protected].
Like what you see? Be our friend on Facebook. Add our RSS feed! [what's that?]. Start your morning with Republic of Austin in your InBox. Or read us 24-7 on Twitter!
Related posts:
Related posts brought to you by Yet Another Related Posts Plugin.