Portraits of Austin Bloggers from the July 2010 Austin Bleetup
Last week, the RoA team headed over to Trio for the July 2010 Austin Bleetup (that's 'blogger meetup' for you non-boggy types). While there, we had a great time hobnobbing with some of our favorite local bloggers at sunset out on the lawn behind the Four Seasons. It was my first time back there, and I have to say that it was really nice. Wish I'd manned up and kicked some of the lazies out of the ginormous hammocks, but alas, I decided to just let sleeping dogs, um, swing?
Not sure if it was the wine, the sun, the rain or the twittery giddiness of bloggers in general, but Cory Ryan's photobooth got a little crazy. Case in point: A photoshoot with me and Tolly. She was wearing a blonde Fabio wig and she'd strapped me into a coconut bra. See what I mean? [You can see all the craziness of Cory's photobooth here.]
[Keep up with our daily event picks on

our Facebook page

]
The portraits I took, on the other hand, were a little more subdued. Straying away from my usual overhead-angled "Dutch Shot," they're all close-up, direct portraits. Hope you like

[See the full set of photos of Austin Bloggers on our flickr page.]
BTW, this is by no means everyone we loved at the event-just the ones we got to shoot before the batteries ran out.
Much love to Tolly over at Austin Eavesdropper for organizing the whole thing!
Portraits of some of Austin Top Bloggers-and other cool folks
Click here to see more portraits of our favorite bloggers at July 2010 Bleetup—->
Amber Deitrich from champy-drinking event blog Amber Demure
Tyler Groover from emerging music blog TwoGroove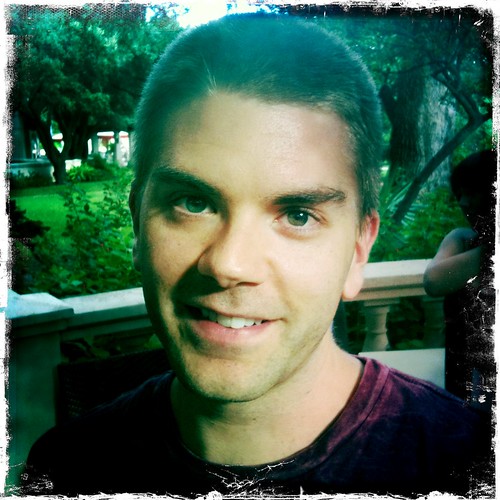 Our lovely mommy-to-be blogger, Danielle Thomas
Our daddy-to-be blogger, Adam
Amanda from Austin Convention and Visitor's Bureau
Our style blogger, Linsey
Our green living blogger, Ari
Super Gowalla user, Kerissa from Worn White
Frank Rivera from KXAN
Andrew, Twitter/Gowalla super user @theresafuknknit
.
Find something Austin related that you want to share? Photos, screen shots, articles, news? Email us at [email protected].
Like what you see? Be our friend on Facebook. Add our RSS feed! [what's that?]. Start your morning with Republic of Austin in your InBox. Or read us 24-7 on Twitter!
Related posts:
Related posts brought to you by Yet Another Related Posts Plugin.