Machete-wielding Danny Trejo attacks a coconut on Austin's East Side. [EXCLUSIVE VIDEO]
I recently had the pleasure of drinking coconut juice on the East Side with Machete star Danny Trejo.  I've gotta say that I was surprised at how he wasn't at all the mean, tough guy he is on screen.  In fact, I almost didn't recognize him when the muscles in his face aren't expressing that monstrous mug we've all come to love.
You know the one: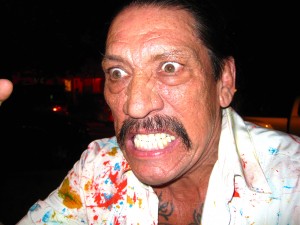 I found him to be hilarious, caring, sweet, and a really swell guy.  He's concerned about the gulf, he's insightful, he took a moment to hug and take photos with East Side neighbors, and he's hysterical.
A Few Fun Danny Trejo Facts and Quotes:
Did you know that Trejo should have been a Texan?  He confessed to me that his uncle was an adamant, proud Texan that felt Texas should secede from the union.  He wanted all Trejo's to be born in Texas so they would all be citizens of the Republic.  Somehow they were unaware that Danny's mother was pregos and she gave birth to him in East LA.
"John Malkovich asked me what the spanish word for 'rape' was.  I said, 'amor.'  There is no word for rape in spanish."  (Please don't write hate mail to either me or Danny; He and Republic of Austin are fully aware that rape is not "amor".  This was a silly joke said on the set of the film "Con Air" during that horrifying rape scene.  Everyone needed a laugh after all the drama.)
"I heard they're trying to hide the oil on the gulf by sinking it.  That's fucked up man.  I hope the oil industry sinks."
"I'm Mexican, of course I'm possessive.  With all four of my wives, I just had to give them the look and they'd say 'I'm not doin' nothin!'"
While Danny was filming Predators in Hawaii he'd spend his spare time fishing.  He'd scrape for bate and fish off the balcony.  "Well if I caught anything, I'd just give it to the people."
"I look like a leader next to anyone."
"My 22 year old son is making a brilliant film.  When I was 22 I was in the penitentiary making pussies cry."
He loves doing Indie films and helping out film students every now and then, in spite of the fact that his agent thinks he should be more exclusive.  Nice guy.
His phone was a humble analog cell phone, not a smart phone.  Loved that.
When he signed my machete, he dotted the "i" in Ari with a heart by himself
You can catch Danny as a machete-wielding hitman in Robert Rodriguez's new film, Machete. It debuts TONIGHT at the Paramount. If you didn't get tickets, you can look for Danny at the after party at Austin Studios or wait until the film goes to wide release on September 3rd.
Want a little Danny in your life RIGHT NOW? Check out this video of me getting Danny to cut open a coconut for me with my machete. He calls me a dominatrix!!
Danny Trejo, a machete and a coconut…
Are you excited about the opening of Machete?
How do you like dem coconuts?
.
Find something Austin related that you want to share? Photos, screen shots, articles, news? Email us at [email protected].
Want more RoA? Be our friend on Facebook. Add our RSS feed! [what's that?]. Start your morning with Republic of Austin in your InBox. Or read us 24-7 on Twitter!
Related posts:
Related posts brought to you by Yet Another Related Posts Plugin.