Chicken attacks penguin in a furry fight on SoCo! [VIDEO]
Today is First Thursday on South Congress-and what in my InBox this morn should appear, but a funny viral video about a fight on SoCo with folks in mascot gear. Yup, a reader sent in a new video from Austin director Marko Slavnic. And I have to say, I kinda like it.
The video, shot on SoCo, involves two mascots (one a chicken, the other a penguin) fighting to get customers into neighboring sandwich shops.  The mascots come to fisticuffs that lead to a surprise unmasking. It's a cute video-and seeing how the facade of New Bohemia was converted into the two sandwich shots is a def bonus! Check it out:
Chicken Vs Penguin by  Marko Slavnic
And while you're down on South Congress this evening, head over to Jo's Coffee, where our friends from South Side Sanctuary and Sneak Attack will be hawking their wears and kicks. There will also be a live performance from frenzy-inducing Austin band Soul Mind. Oh yeah, and a bouncy castle!!!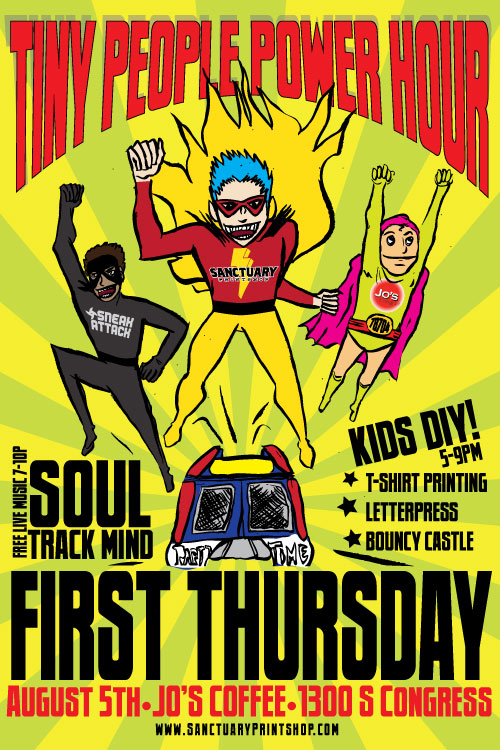 .
Find something Austin-related that you want to share? Photos, screen shots, articles, news? Email us at [email protected].
Want more RoA? Be our friend on Facebook. Add our RSS feed! [what's that?]. Start your morning with Republic of Austin in your InBox. Or read us 24-7 on Twitter!
Related posts:
TREND WATCH: Are art cars losing ground to the hoarder car in the fight to keep Austin weird? Roary exposes a new trend sweeping North Austin: the hoarder...
Can you find a good vintage summer purse in Austin's SoCo district? Ari and Linsey hit SoCo in search of the perfect...
Take an enchanted hike with Austin chanteuse Celeste Griffin from blues-folk band Monarchs. [MUSIC + VIDEO] Chris goes on a hike with Austin chanteuse Celeste Griffin...
Related posts brought to you by Yet Another Related Posts Plugin.