Hitting the Gypsy Picnic Food Festival? Try our Five Stop Fifteen-dollar Trailer Tour!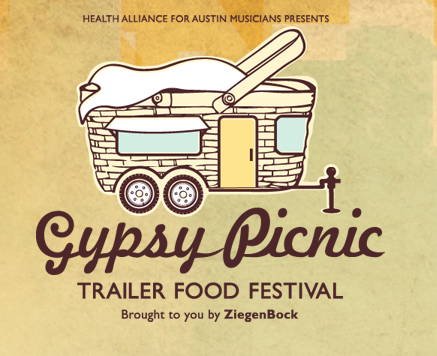 When it comes to Austin's growing food trailer culture, one of the biggest challenges is making a decision about where to eat. Depending on where you live or work, it can be easy to overlook some of the latest rolling fare.
This weekend at Auditorium Shores, the Gypsy Picnic Trailer Food Festival gathers the best trailers in one location and takes the pain out of having to decide. Grab the dogs, bring the kids and put on your eatin' dress because from 11am-8pm you will have the chance to sample from over 30 food trailers all in one location. Admission is free and every trailer has at least one item to sample for $3 or less.
With that I give you the 5 Stop $15 Trailer Tour featuring the top 5 ways to sample your way to bliss, try something new and not spend more than $15. Some of these items I have enjoyed before, while others I decided I must try after cross referencing other blog posts and Yelp reviews. Check back next week to see how my festival experience went down.
The Gypsy Picnic 5 Stop $15 Trailer Tour
Stop 1. The Peached Tortilla: Banh Mi Taco ($3)
Vietnamese braised pork belly, pickled daikon and carrot salad, sriracha mayo and cilantro on your choice of a flour or corn tortilla (If only they were serving it on their Hawaiian Sweet Bread as a slider).
Stop 2. Cutie Pies: Betty Lou's Award Winning Buttermilk Pie ($3)
I don't know who Betty Lou is but I don't doubt her melt in your mouth Buttermilk Pie has won many awards. You will certainly find me in line for this one.
Stop 3. The Mighty Cone: Chicken, Avocado or Shrimp Cone - ($3) -
When I think of trailer food, The Mighty Cone is the first thing that comes to mind. I usually live off of this staple at ACL and see no reason to leave it off the list (especially if you haven't tried it). Breaded chicken, avocado or shrimp wrapped in a tortilla and topped with mango-jalapeño slaw and ancho sauce served in a paper cone. Vegetarians can opt for the avocado which I can attest is very tasty.
Stop 4. Kate's Southern Comfort: Crawfish Pie ($3)
Kate says she serves up Southern hospitality in all of her dishes and I plan on sampling the Crawfish Pie. A flaky pastry filled with spicy crawfish etoufee sounds like cajun goodness to me.
Stop 5. The Jalopy, Rotisserie and Press: The Original Rotisserie Chicken Sandwich ($3)
The owner Nic slow cooks the rotisserie chicken in all the menu items overnight to give it a high quality flavor. This rotisserie chicken sandwich with demi and onion marmalade is the original but one of many rotisserie based creations on their menu.
Still hungry? Top off your experience with one of these:
Bonus. Man Bites Dog: My Big Fat Greek Dog ($5)
This not your after school hot dog. Their motto is "more meat, better buns and bigger ideas" and this one does not disappoint.  How can you go wrong with Merguez lamb sausage, tzatziki, tomatoes, onions, olives and feta on a fresh bun?
Bonus. Gourdough's Big Fat Donuts:

Flying Pig ($6)
A $6 donut you may ask? It is not just a regular donut; it is a big, fat, fresh donut covered with bacon and a delicious maple syrup icing that everyone should try once in their life.
Hope this helps you map your day! If you haven't already, check out the Gypsy Picnic website, which might look a little familiar if you are an ACL fan. The same way you pick bands, you can go in and design your custom food menu and then compare them with your friends. Speaking of bands, the festival will feature live music throughout the day from Noise Revival Orchestra, English Teeth, Ruby Jane, Gary Clark Jr, J. Roddy Walston and the Business and Junior Brown.  See you there!
EXPERIENCE: "Gypsy Picnic  Trailer Food Festival"

(Saturday, 11.06.10); Auditorium Shores; 11A-8P; FREE Facebook Page
What are you looking to try?
Any of your favorites at the festival?
How are you gonna map out your day?
.
Want more RoA? Be our friend on Facebook. Add our RSS feed! [what's that?]. Start your morning with Republic of Austin in your InBox. Or read us 24-7 on Twitter!
Related posts:
Related posts brought to you by Yet Another Related Posts Plugin.