David Garza plays 'Minority Boys Got $' to a Chicano heritage mural. [MUSIC VIDEO]
Our "Voyeur Video" series is a lot like porn for music lovers. Shot in one take at locations around the city, the videos are intimate and not like traditional live performances. Enjoy!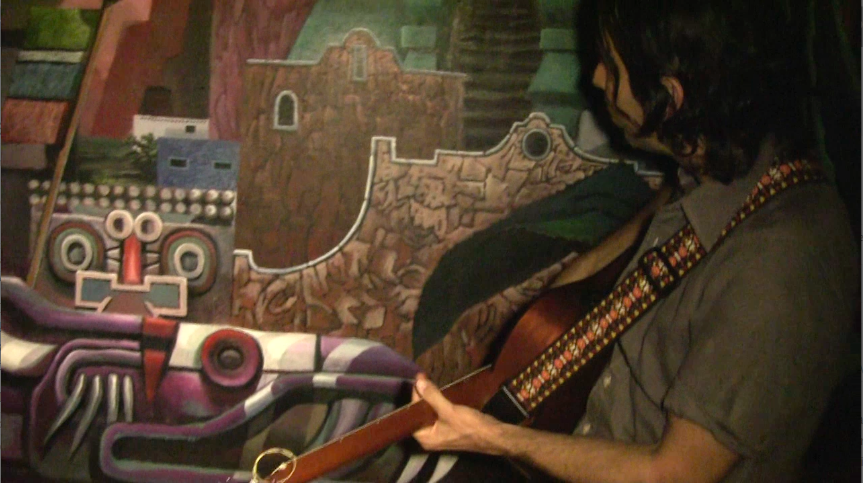 David Garza (pronounced like the Spanish: dah-VEED) has been a force in music for 20-something years. Even if they've never seen him perform, Austinites know who he is, and for good reason: The dude is a musical genius.
For the shoot, I met David at the legendary Cactus Cafe in the University of Texas Union.  He was setting up for his performance later that evening. After chatting for a bit, we decided to walk around the Union to find a good place to shoot the video.
As an undergrad, I'd trudged zombie-like through the UT Union to study for classes or take a tai chi course. Being there with David was different; each room was a mystery, a chamber of history or a fantastical, magical space filled with grandeur. He kept telling me "You've gotta check out this room, it's got such a presence," and I'm pretty sure he could feel the energy of the students and stories that have walked those halls for the last few hundred years.
The more time I spent with David, the more I started to see him like an old tribal trickster. When we walked by the Chicano Culture Room, there was a mischievous spark. "Let's go in," he said. It turned out to be the perfect place.
Tucked away on one of the top floors in the Union, it's pretty easy to miss the Chicano Culture Room. With life-sucking fluorescent lights and light blue industrial carpeting, it could be any other room. What made it magical, however, was the giant mural on the wall. After seeing the Aztec serpents, the conquistadores, the guns and the cacti, our decision was made for us. Destiny had brought us to that place.
In the video, you'll see David playing "Minority Boys Got Cash" to the mural in the dark with just the light from the camera spotlighting him. It was pretty intense to shoot. Right after we'd finished we got asked to leave by the building manager. In the video, listen to the door slamming after one of the building peeps had peeked in.
David's got a lot coming up. From now through August, you can see him every Monday night at the Cactus Cafe. His annual summer album will be coming out in June. Oh, and he's gonna be playing the 2010 Pachanga Latino Music Festival this weekend. [Check out our Top 5 non-traditional Latino bands you don't want to miss at Pachanga Fest 2010]
David Garza "Minority Boys Got $"
Like what you see? Add our RSS feed! [what's that?]. Or start your morning with Republic of Austin in your InBox! Or read us 24-7 on Twitter!
Related posts:
Related posts brought to you by Yet Another Related Posts Plugin.