Kat Edmonson sings 'Lucky' at sunset. [MUSIC VIDEO]
Our "Voyeur Video" series is a lot like porn for music lovers. Shot in one take at locations around the city, the videos are intimate and not like traditional live performances. Enjoy!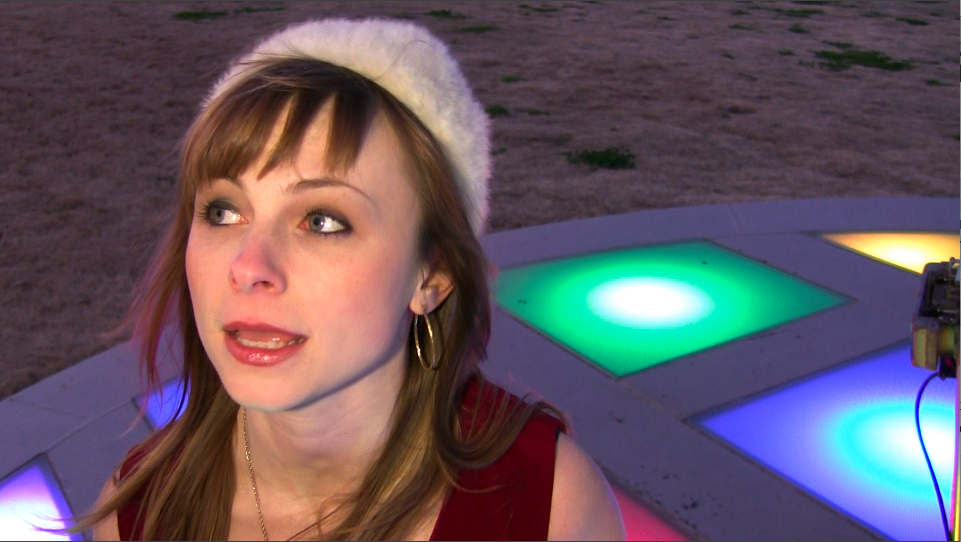 Not to sound like a serial killer, but I wish I could carry a little Kat Edmonson in my backpack and have her sing when I wanted to feel pure joy. There's something about her voice that makes me feel like life is magical. In fact, that's exactly the word I'd use to describe the shoot with Kat, magical.
I met Kat and her accompanying Vibraphone player Laura Scarborough at the Long Center. News 8 was also filming their music video series there, and I don't think they liked the idea of competition.  Every time we tried to start shooting, they'd bust out with a sound check, or a band would start playing. Since daylight was quickly running out, I was beginning to get frustrated.
Radiating charm, Kat walked up to the production team and asked if we could have 4 minutes to shoot. They agreed. We shot, and the result is one of the most amazing pieces of work I've ever produced.
As you'll see in the video, the lights at the long center turned to a happy rainbow. The sunset, reflecting off the Austin skyline, was at the right level. And Kat was singing about life being a dream. It was a dream, and I cried as we shot this video. Amazing moment.
Kat was a nominee for Best Female Musician at our Austin music awards show the Roaries. You can purchase her album and this single for download on Amazon
.
Kat Edmonson "Lucky"
Like what you see? Add our RSS feed! [what's that?]. Or start your morning with Republic of Austin in your InBox! Or read us 24-7 on Twitter!
Related posts:
Related posts brought to you by Yet Another Related Posts Plugin.