Andrew Runciman's dad issues heartfelt plea; memorial ride Saturday to honor young cyclist.
To say it's been an emotional week would be an understatement: Every time I ride my bike, I can't but be reminded of Andrew Runciman's tragic passing over the weekend. Ghost Bikes seem to be a little more noticeable. And since Andrew was heartlessly hit from behind by an SUV, whenever I hear a car rolling up behind me, the hairs on my neck stand up.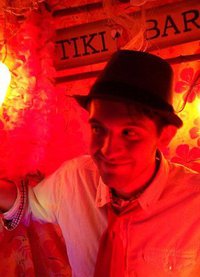 Our post on Andrew's passing and the discussion of cyclist-driver relations it spawned got a larger response than I could have ever imagined. With over 1300 hundred shares on Facebook and more than 10,000 views, this post is our biggest non-SXSW post ever. To me, that means this city not only bonds together in times of tragedy, but is also hungry to discuss-as a community-the paths we must go down to prevent further tragedies like this one from happening.
The conversation in the comments for that post are pretty extensive. With all the discussion on helmets or amount of space to use in a lane, you may have missed a comment from Andrew's dad. What he has to say is pretty important, take a look:
April 27, 2011

I am Andrew's dad. I can't tell you the pain we are going through. Andrew was a special human being. We home schooled him through primary grades and he went to a liberal arts high school. He had vast interests in ancient history, Latin, art, math, music, graphics arts and of course computer programming. The world has lost an incredible human being.

He just moved to Austin in September and did not have the money to move his bike or his helmet. Just weeks ago he had enough money to buy a bike but he did not have a helmet yet, but I don't think a helmet would have helped. He was hit with such force he was probably dead at the scene except for modern medicine and mechanical ventilation. I think a helmet would have made it worse. He would have ended up as a vegetable or a quadriplegic.

Austin, we need to catch the person that did this?

And we need to change the structure of transportation in this country. Andrew and I traveled to Europe and we saw the bike lanes separated from motorized traffic. We both wondered why can't this be done in the USA. Bike lanes don't work. You must have a separate roadway for bikes. When will we ever learn in this country.

My wife and my daughter will live on but we will never be the same again without the presence of Andrew.
Just to reiterate: We need to find this motorist. Anyone who can hit a human being from behind with a 4000-pound car and then leave them is a despicable character. It's heartless murder and needs to be punished.
If you have ANY information, please call APD Vehicular Homicide Unit Detectives at (512) 974-8164.
Also, as we move into a world with high gas prices and environmentally-impacting transportation habits, we need to welcome and embrace alternative means of travel. We need to watch out for the smaller guys on the roads: Cars look after cyclists. Cyclists look after pedestrians. And our city needs to start promoting education so that these growing pains don't lead to future tragedy.
</rant>
To honor Andrew and raise awareness of bicyclists as humans, there will be a social ride of gigantic proportions on Saturday that everyone should try to attend.
Andrew Runciman's Memorial Ride and Ghost Bike Dedication (Facebook Event)
Last weekend, on Saturday Night, Andrew Runciman, a great guy by all accounts, a local cyclist and a frequenter of our Thursday rides was killed in a hit and run incident on South Lamar Blvd. The driver has yet to be found.

This Saturday, April 30th at 6:30 pm, we will ride in his memory and attend a ghost bike dedication by his family and friends.

I want to urge ALL of you to come. When something this tragic happens it's important that we show support to the family, friends and each other. This could be ANYONE OF US who rides. Situations like this require that we come together not only to grieve and show respect but to make the general public aware that bike riders are human beings and that a mere momentary lack of attention can change many lives dramatically and instantly. If you come on our rides or not. If you ride bikes around the city or not. It is VERY VERY important that you take a couple of hours out of your Saturday evening and join us.

If you can't ride with us, I invite you to attend the ghost bike dedication in Andrew's memory. The schedule of events is as follows:

Pfluger Pedestrian Bridge

6pm- volunteer ride leader meeting (we need tons of help, please try to make it)
6:30- riders arrive at bridge
7pm- ride leaves bridge headed to the ghost bike dedication
7:30ish- ride arrives at 3506 South Lamar (in front of Red's Porch) for a brief ghost bike dedication service by family and friends
8pm- ride heads back to bridge where where it ends at around 8:30.

WHERE AND WHEN:
6pm at the Pfluger Pedestrian Bridge (map: http://tinyurl.com/3z6tzlb) for the memorial ride.
7:30pm at3506 South Lamar for the ghost bike dedication.

WHAT: A memorial ride and ghost bike dedication.

HOW: Social Cycling Austin rides AS traffic and NOT AGAINST it. We stop at red lights, yield the right of way and let cars pass as best we can. We don't block intersections. We are cool to both our fellow riders and the other traffic on the road. Listen up to those volunteers who are helping to lead the ride. They are some nice folks and have you best interest in mind.

BRING: LIGHTS LIGHT LIGHTS!!!, LIGHTS and your bike.

I hope to see a bunch of you on the bridge tomorrow night. Please be careful out there.

Keith
[UPDATE: Brett Hurt, Founder and CEO of Andrew's employer Bazzaarvoice, called all Austin software CEOs (about 120 CEOs) to join the ride, including their employees that are into cycling. Thanks, Brett.]
Ride safely, y'all. Be kind to each other. I don't want us to have to install another one of these any time soon:
.
Find something Austin-related that you want to share? Photos, screen shots, articles, news? Email us at [email protected].
Want more RoA? Be our friend on Facebook. Add our RSS feed! [what's that?]. Start your morning with Republic of Austin in your InBox. Or read us 24-7 on Twitter!
Related posts: