Will you choo-choo-choose the Austin Urban Rail Project?
I don't know if you've noticed or not, but Austin traffic has been lovely lately. At 4:30 everyday, streets are flooded with a brilliant fleet of autos. The sounds of horns and motors soothe your spirit with their melodies. To the left, to the right, behind and in front, you're not alone! And everyone is peacefully happy together. No anger. The world is still and just as it should be.
Just Kidding!
Ok, ok so our traffic situation is actually, quite unremarkable. It's enough to drive you mad. So what's the plan? The Urban Rail Project!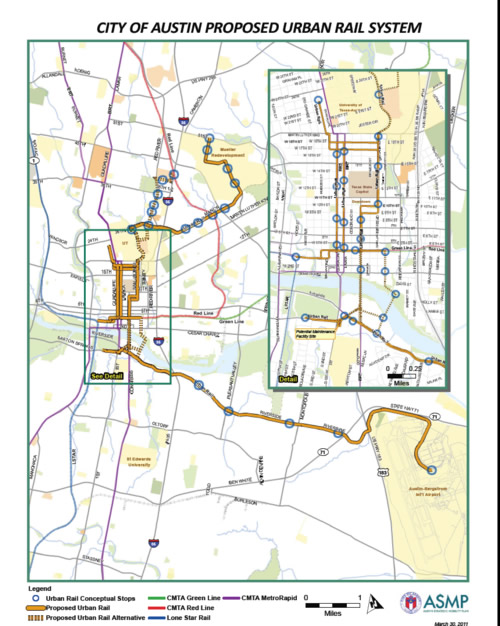 Austin is proposing to install a streetcar-ish rail on existing streets, connecting the Mueller, central Biz district, Capitol, Airport, and UT through all kinds of land which may or may not affect you and the environment in a positive way.
What about South Austin?
This proposed plan will:
cover 16.5 miles, connects five urban areas
cost $1.3 billion to construct
run on current roadways or in right of way lanes
be constructed over a variety of land including parks and recreation, civic, residential and commercial.
[Check out Downtown Austin Blog, M1EK's Bake-sale of Bile, or Austin Contrarian for discussion of Austin Urban Rail Project]
Will this railway displace cars and bikers? Considering the epic ineffectiveness of the MetroRail, I've gotta say, we could have a disaster on our hands. If this new rail doesn't benefit those who would trade in their car for a rail ride, then what will the city do when/if traffic congestion worsens exponentially?
That's where you come in. YOU, dear citizen will be voting on this next year. Tell the city what you think!
How beneficial do you think this plan will be in tackling traffic congestion?
Will it discourage driving?
Will it increase biking?
Will it invade residential areas and parks OR connect them?
How will it affect the environment?
Do you think it should connect South Austin?
Let's talk about it kids! Tell the city what you think! Tomorrow, Friday, April 29th, is the last day to weigh in!!
Related posts: