4 steps to revamping found furniture into curbside treasures.
My personal philosophy on furnishing a home is that second-hand adds character that something new could never achieve. Lucky we live in Austin where trends of recycling and recreating are elements stitched into our culture. Here, a garbage can is art waiting to happen. Just look at the Cathedral of Junk and the discarded piano project as examples. It's a Concrete Rain forest- that is a city that quickly recycles and refurbishes waste. Just like the rain forest floor.
I own loads of pieces I picked up off a dumpster or curb, al now revamped and in my casita. I love telling my Austin friends that I found my coffee table on the street. They glow with green envy. Whereas out of towners blankly stare and force a smile that screams "WHAAAAT!?!?!? IT'S NOT FROM POTTERY BARN??? OH GOD, I GOTTA GET OUT OF THIS HOUSE. WHY DO I TALK TO ARI? SHE'S SO…. POOR."
I recently found a dresser that was in need of some love and thought I'd share the steps I took to redo it, in case you have an item you've been wanting to work on. Whether you live in Austin or Nantucket, anyone can be creative and anyone can make something great out of something old.
And ladies, don't be afraid to tackle these kinds of projects. I just purchased a sander and operated it without any help. Yea, I got some concerned looks at the Home Depot, and my roomie was shocked to see me sanding away in the back yard, but I got the job done. She said, "It's just weird seeing a girl with a sander."
Pish posh! Every woman should have a tool collection-or wear high heels in the garden.
So, I found this dresser abandoned in a parking lot and thought I could fix it up:
Sand the old paint off and smooth out the surface. I found this step to be really cathartic. There's something comforting about taking something old, ironing out all of its scars and blemishes, and turning it into something smooth and new.
Put yourself into the piece. I love love love gold. I chose gold and an ivory color for this piece. Choose colors that really speak to you.Also, don't scrimp on your brush, it makes all the difference.
I'd suggest heading to Uncommon Objects on South Congress to look for hardware or cool pieces to add to your project.
Ta Da! Who needs Pottery Barn when you've got Austin's curbs? In just 4 hours something old and unwanted was transformed int something new and pretty-at least, I'd like to think so.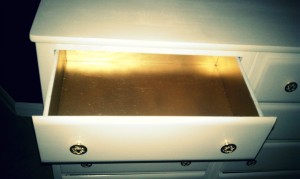 .
Find something Austin-related that you want to share? Photos, screen shots, articles, news? Email us at[email protected].
Want more RoA? Be our friend on Facebook. Add our RSS feed! [what's that?]. Start your morning with Republic of Austin in your InBox. Or read us 24-7 on Twitter!
Related posts: