Did this Missed Connection see a ghost at the Scoot Inn last Saturday?
Uh-oh! This lil dillo may be fearless, but I've seen so many horror movies that ghosts scare the eff out of me. That's why when I hear that there may be spirits at my favorite night spots, I get a lil creeped out.
Check out this Craig's List Missed Connection a reader sent in. Kinda scared The Scoot Inn may be haunted: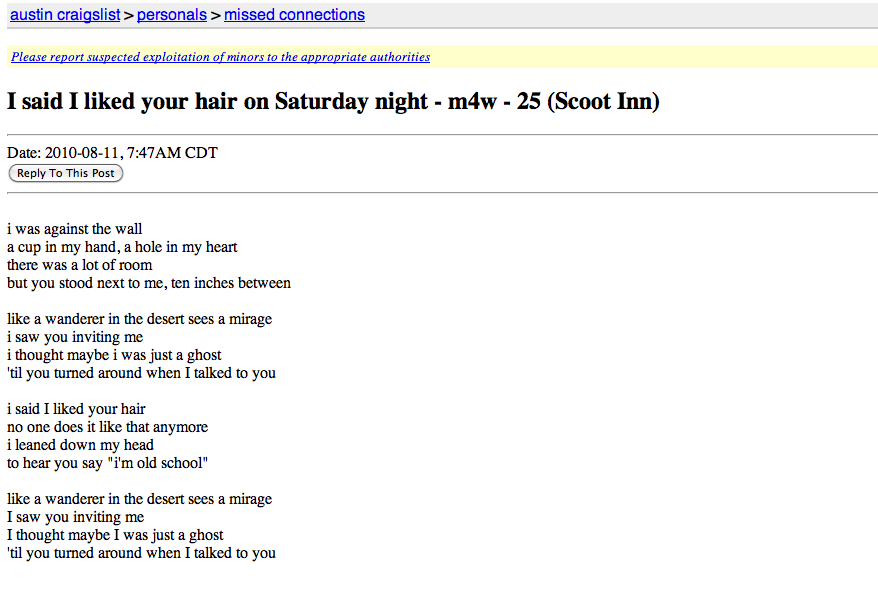 First off, ghost or no, this bro seemed to be really into this betty. Too bad he didn't get her number. And since we like to do our public service here at RoA, we've decided to help him out.
Did y'all see any girls on the East Side that were rocking any of these vintage (via 'old school') haircuts?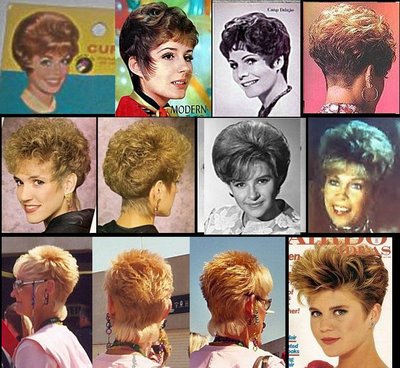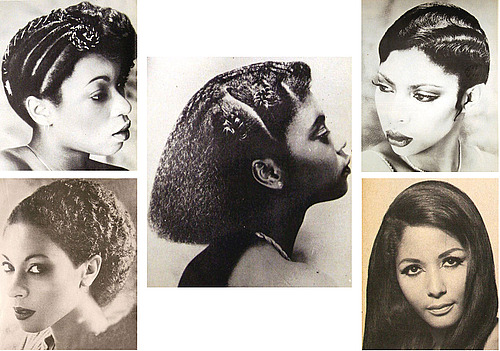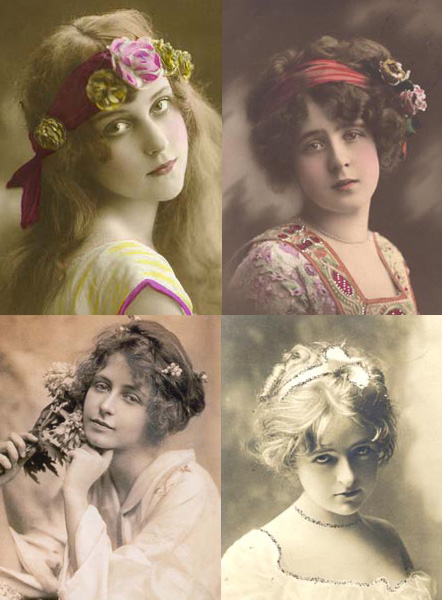 If you or another PYT were wearing a vintage hairstyle and ran into a potential ghost-and if you thought he was cute-please respond to this Craigs List ad IMMEDIATELY!
OK, now that we've gotten all the charity work out of the way, let's get into the heart of the matter: IS THE SCOOT HAUNTED?! This dude thinks he's seen a mirage-or maybe he's a ghost. That's some mind-bending 6th Sense ish. But is it possible?
Well, the Scoot is the oldest continuously running bar in Texas. Built in 1871, the bar has seen a lot of Austin's history. And who knows, maybe someone DIED in there! From the Scoot Inn's site:
In the olden days weary pioneers would roll their wagons into the Scoot "drive in" for a jug of beer, rations and perhaps some ice when available. Many nights, pioneers, Luddites, Flat-Heads, drunks, dullards, rough-necks, ranch hands, outlaws, bandits and ladies of easy leisure as well as men in stove-pipe hats, sombreros and derbies filled the barroom with tales of their travels throughout the wilds of the Lone Star State.
We looked at a few pics from past Scoot shows to see if there is evidence of any sort of supernatural activity. What we found will amaze you. Using special image enhancing technology from the International Institute for Spectra Investigations, we were able to find TONS of images that will prove beyond a doubt that the Scoot Inn is indeed haunted.
Be warned: These images are not for the light-hearted and may cause nightmares.
Ghosts at Austin's Scoot Inn: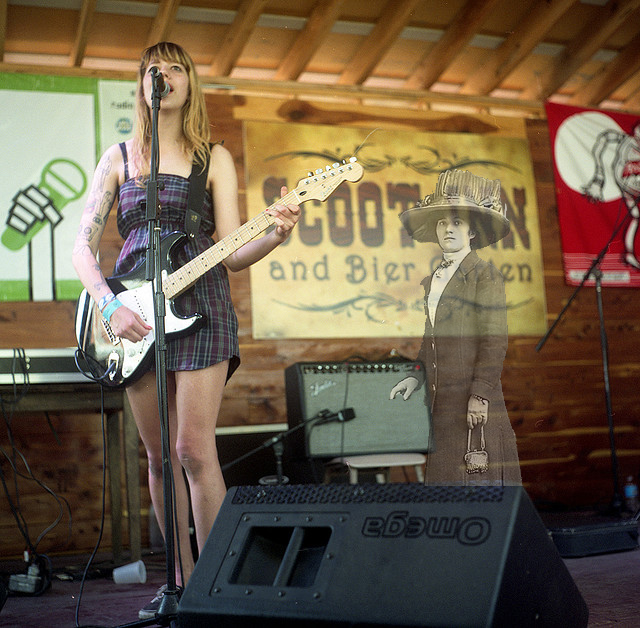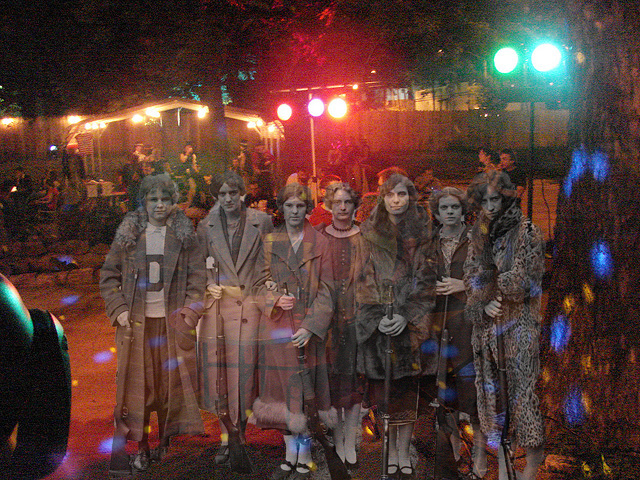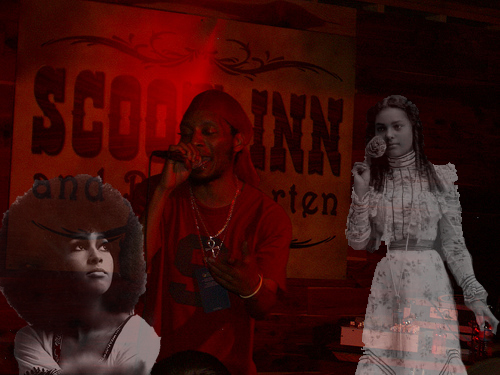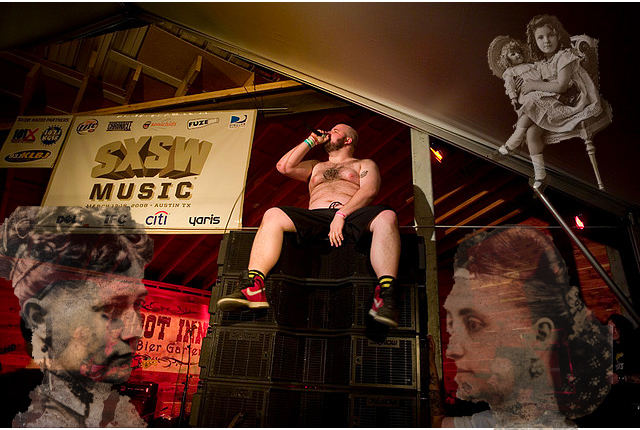 And this might be the most horrifying of them all:
Have you seen a ghost at the Scoot Inn?
Do ghosts have to get their hand stamped at shows?
Is bad hair a deal breaker?
Are 1930′s hairstyles becoming increasingly more popular?
Will any of us ever find true love?
.
Find something Austin-related that you want to share? Photos, screen shots, articles, news? Email us at [email protected].
Want more RoA? Be our friend on Facebook. Add our RSS feed! [what's that?]. Start your morning with Republic of Austin in your InBox. Or read us 24-7 on Twitter!
Related posts:
Be careful, Ladies: This Mad Classy missed connection can smell you. This missed connection contains smells, keys, morning stretches, dubstep and...
Austin Procrastinators Guide to Saturday April 17th 2010 Roary tells you what's good in Austin for Saturday April...
Related posts brought to you by Yet Another Related Posts Plugin.