Be careful, Ladies: This Mad Classy missed connection can smell you.
We've all been there: A QT catches your eye across the dance floor. You move in a little closer, shuffling your way through the crowd. Flash of laser through the smoke. Your body pulses to the rhythm. The QT looks at you. You look at her. You're about to say something-but your keys get in the way, you miss that connection and end up on a space travel expedition.
That's kinda what happened to the dude in this mad primal missed connection a reader sent us. Check it: [Click to enlarge]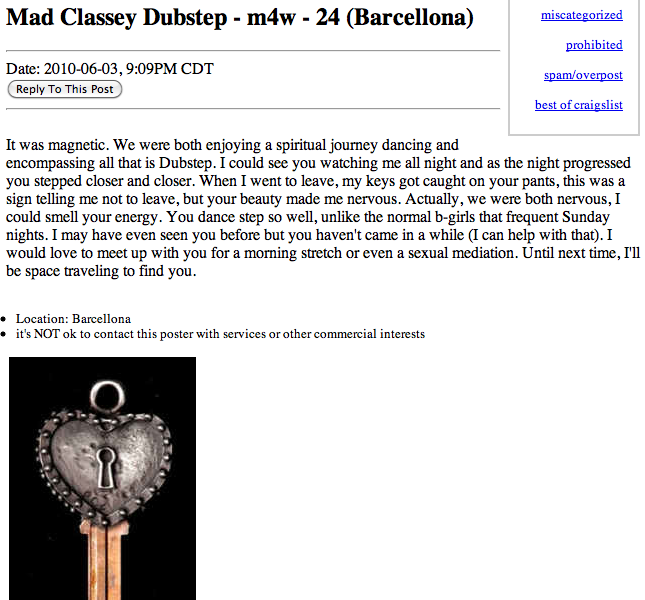 This missed connection kinda reminds me of that scene from Silence of the Lambs. No, not the penis-tuck-mirror scene. This one. It also reminds me of this super-tribal Armand Van Helden dance track from the 90′s:
Does dubstep lead to a more acute sense of smell?
Which club in Austin has the smelliest customers?
Do you ever get that 'not so fresh' feeling?
Is Barcelona really a rocket ship [via space travel]?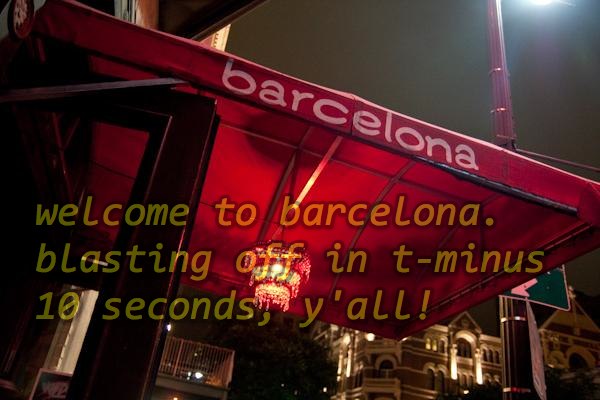 If you haven't been to Mad Classy at Barcelona, you need to go. It's every Sunday. There's also a special Mad Classy DUB-STEP party every 3rd Tuesday (THAT'S TONIGHT at Malaia!!). Roary award winner Sharkweek can def put you in a dub-induced trance, and we promise the girls really aren't smelly. Just don't let your keys get in the way of meeting that QT!
Have you ever been cock blocked by your own keys?
Do you think wearing your keys on mountain climbing hooks is 'cool'?
What's your favorite 'morning stretch' exercise: Yoga, Tai Chi or a swim in Barton Springs?
.
Find something Austin-related you've gotta share? Photos, screen shots, articles, news? Email us at [email protected].
Like what you see? Be our friend on Facebook. Add our RSS feed! [what's that?]. Start your morning with Republic of Austin in your InBox. Or read us 24-7 on Twitter!
No related posts.
Related posts brought to you by Yet Another Related Posts Plugin.