10 reasons why Lost in Austin-Austin's own Jersey Shore-will punch you in the face.
Oh there is outrage. Recently, the producers of MTV's smash hit Jersey Shore announced casting for local version Lost in Austin, and the interwebz felt the fury only Austin pride can dish out.
Here's what they're looking for:
Do you rule the bar scene, rope in the hottest of the hot, drink anyone under the table? We want to hear from you!

Is everything really bigger in Texas? Prove it. Time to go big, because going home isn't an option.

Let's show the country how Texans do it. Are you ready to get Lost in Austin?
Sounds, um, totally fetch, bro.
It isn't like this is our first rodeo. We've already had a reality tv show invade Austin, unleashing a horde of drunken messes on 6th Street.
Plain and simple: We don't like our city being presented this way. Sure, we're totally ok with Anthony Bourdain profiling our Austin food trailers or the Friday Night Lights kids; but breathe word of a potential Real Housewives of Austin, Texas, and everyone gets up in arms.
This lil dillo doesn't think it's that big of a problem. Austinites can welcome anyone to the party, even if they support Affliction t-shirts worn unironically-as long as they stay confined to dirty 6th.
So bust out your abs, poofs and orange skin: Without further ado, here are the top 10 reasons Lost in Austin will hitcha like a punch to the face.
Top 10 reasons an Austin Jersey Shore knockoff will be a smash hit:
If the shore we're talking about is Hippie Hollow, how could a show be more scandalous?
We'll have indie coverage of any and all fights in Austin involving the cast, suitable for mocking on television or the comfort of your home computer.
Some of Austin's sassiest nightlife illuminati are already prodigious at coming up with catchphrases: "Ri$e n Grind!!! $$$$$$"
We don't measure cool by the size of your biceps but by the circumference of your glasses. And our girls sport some huge ones. (INNUENDO! IN YOUR ENDO!)
Roger Huerta proved that Austin knows what to do when a dude hits a lady.
Unlike Jersey, our ironic t-shirt stores aren't made for your dirty 45-year old uncle Carl.
Ours tans are earned at music festivals, not on LED beds.
Screw kamikazes. We get tanked on kombucha.
Snooki's poof < Governor Good Hair. 'nuff said.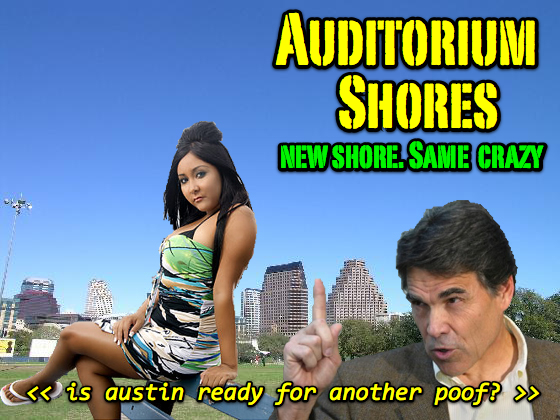 Related posts: