In memory of young cyclist killed-14 tips to help cyclists and drivers coexist.
Over the weekend, a cyclist was struck from behind by an SUV while riding on South Lamar. Witnesses say the driver sped off, heartlessly leaving the cyclist, 24-year old Andrew Runciman, on the side of the road. Immediately after the accident, Andrew was taken to Brackenridge and was pronounced dead.
A friend who worked with Andrew at BazaarVoice told me the news right before I geared up for my evening bike commute from work. When I got home, I checked bike blog ATXBS to see if Jason had any news on the hit-and-run. Here's what he posted:
Update: The following information from the Blotter was forwarded to me by a friend of the deceased, who was riding along with him at the time:

FROM THE AUSTIN POLICE DEPARTMENT:
On Saturday, April 23, 2011, at 11:44 p.m., Austin Police Officers responded to a serious injury crash in the 3500 Block of S. Lamar Boulevard.

A preliminary investigation shows that the victim was riding his bicycle southbound on S. Lamar Blvd when a dark colored SUV, also traveling southbound, struck his bicycle and then left the scene. The victim is reported to have been traveling in the far right lane of S. Lamar Blvd.

He was transported to University Medical Center at Brackenridge where he was pronounced deceased on Sunday, April 24, 2011 as a result of his injuries.

Anyone with information regarding this incident is asked to call APD Vehicular Homicide Unit Detectives at (512) 974-8164. This case remains under investigation. This is the 17th fatality of 2011. At this time in 2010, there were 16 traffic fatalities

Dear god. I have no words.

—————————————

I haven't seen any real news on this one yet but I just got my second report of this incident from someone who knows a bit about it, and this time around it included a name:

Not sure if you heard about this, been looking all over Google today, with nothing. This young gentleman http://andrewrunciman.com/ was the victim of a hit and run on South Lamar on Saturday/Sunday of this past weekend. He is no longer with us.

Thank you for the heads-up Greg. My thoughts go out to Andrew's family and friends, and my anger is with whoever could hit a human being with their car and drive away.

Be safe out there ya'll, and wear your helmets. Ride in peace, Andrew.
Many of y'all may know that my mode of transportation has been bicycle-only for the last 10 years. The whole ride home I was lost in thought, wondering what could have been changed to keep this young man from dying: Was the driver drunk? Was Andrew wearing a helmet? Was there a bike lane on that section of Lamar?
Following the link to Andrew's webpage and blog really shook me up even more. In his own words:
Andrew Runciman enjoys lots of things. Most of these things are quite generic. For instance, Andrew enjoys music (that's rare), photography (who would have guessed?), beer (goodness, me I feel so ordinary in comparison), and video games (who IS this guy?).

He does, however, partake in some activities the general populous is a little less familiar with. These include (but are in no way limited to) bicycling, kayaking, canoeing, and exploring (hipster). He's a pretty wonderful cook, specializing in Indian and Thai delicacies. He's not too bad at Italian either. He has a pretty overwhelmingly tasteful collection of vinyls and a very underwhelming record player.
It breaks my effing heart when any bicyclist passes. But reading this plea from one of Andrew's friends on Reddit and then looking at Andrew's Facebook page pushed me over the edge.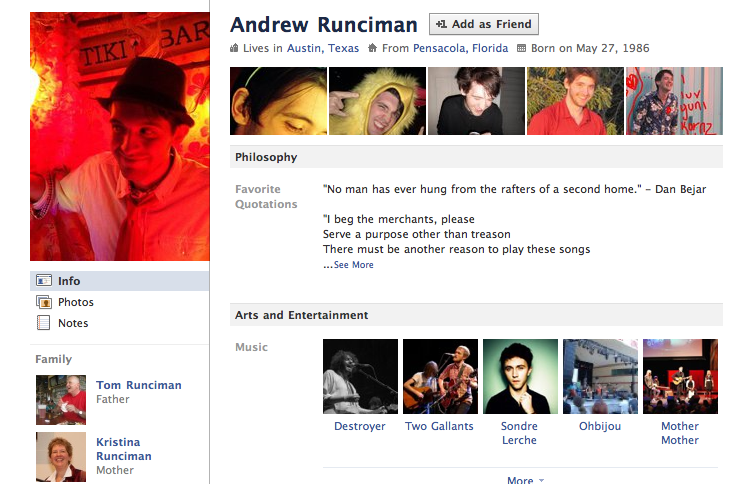 Andrew would have turned 25 next month. He and I have mutual friends. That accident could have happend to me or any one of them.
[UPDATE:Andrew Runciman's dad issues heartfelt plea; memorial ride Saturday to honor young cyclist.]
It's easy to get pissed. It's easy to be scared and stop cycling. But it's just as easy to spread knowledge. So, in honor of Andrew and all the other cyclists who've died, here are 14 tips for drivers and cyclists. Hopefully it will lead to increased understanding and fewer of these tragic passings.
8 tips for Cyclists:
Wear a helmet. I know it looks lame or messes up your hair-but that's a lot sexier than a cracked skull. Believe me, wearing a helmet has saved my ass many a time.
Take over the full lane when riding with traffic. It's easy to be timid, but riding in the middle of the lane helps cars assess how to handle you. If you're too far near the curb, drivers aren't sure what to do, or they might accidentally clip you. Riding in the middle forces cars to use the neighboring lane to pass you. Plus, you have the legal right to use the full lane, so ride proud!
Follow traffic rules. In San Francisco, I watched a car accidentally hit a cyclist because he honestly didn't see the bike zooming through the intersection. But it's not just about safety. When drivers see you respect the traffic laws, they respect cyclists even more.
Use lights or reflectors. You may be able to see the cars, but they can't always see you. I know bike lights can be expensive, but it's nothing compared to the cost of your life.
Stay calm. I admit, ten years ago I used to be a pretty aggro cyclist. I've yelled and spit on more drivers than I'd care to mention. But one day I realized that all the energy I was spending on getting angry was actually contributing to the problem. Yes, there are times when the driver deserves a yellin, but most of the time drivers are just unaware of cyclists or don't know how to handle us. If we let things roll and approach it from a place of peace, we can actually build understanding.
Wave and smile. Over the last 10 years, I've learned that a smile and a wave is the best way to spread the love between bicyclists and drivers. And waving at other cyclists also helps strengthen our own community. Try it. It's infectious!
Use the bike map. Even though I've riden in Berlin, San Francisco, and New York, I still get intimidated by a few Austin streets, so I find alternate routes using the Austin bike map [PDF]. These routes and lanes were chosen not just based on safety and traffic flow, but also ease of ride. Once you get to know the routes, you can plan accordingly-or just use Google's new Bike routing feature on Google Maps!
Go to bike socials and rides. When you're first starting out, it's easy to be intimidated by urban cycling. Joining a social ride is a great way to build confidence and skills while in the safety of a big group. We've got a ton of different types of bike rides that span a variety of different ages, genders and skill levels. The Thursday Night Social Ride is the largest, but there are others.
6 tips for Drivers:
Be mindful of what you are operating. The average car weighs around 4000 pounds. The average bicycle weighs 30 pounds. All that metal on your car also helps protect you. Bicyclists are completely exposed. That's a pretty dangerous ratio, especially when you factor gas and speed into the equation.
Meet and exceed the 3-foot passing rule. In Austin, cars and light-weight trucks must give cyclists, pedestrians, and other vulnerable road users a 3-foot cushion when they pass [PDF]. The rule is 6 feet for regular trucks. That means entering the next lane completely before passing. But 3-feet isn't that much distance, so try to give more.
Take a deep breath. I know riding behind a cyclist can be annoying, but they can't go any faster. No amount horn honking will make them physically able to pedal faster-especially going up a hill. Treat it like a slow-moving car or a bus: Instead of getting pissed, take a deep breath and enjoy the moment. Besides, nothing will make you later to work than an accident.
Don't ride a cyclist's ass. Cars have brakes that respond instantaneously. Bikes do not. That means when we are going down a hill, riding in fast traffic or biking in the rain, we can't just stop. If you're riding our ass, we may get smashed.
Put the phone down. Calling or texting while driving distracts you. When you are distracted, you might not see that skinny hipster on the fixie.
Go to bike socials and rides. Nothing will give you more respect for cycling than going to a bike social. It's a great way to meet people AND you'll understand what it's like to try to pedal and look out for cars. The Thursday Night Social Ride is the largest, but there are others.
None of these tips are meant to point fingers or place blame; instead, I hope they increase the peace and strengthen understanding within our community. It's also not meant to incite fear. Remember: There are more car-on-car accidents than there are car-on-bike accidents.
Life is short, y'all. Be kind to each other.
Andrew, you and your family are in my thoughts and prayers. Rest in peace, brother.
What tips would you share with other cyclists?
What tips would you share with drivers?
.
Find something Austin-related that you want to share? Photos, screen shots, articles, news? Email us at[email protected].
Want more RoA? Be our friend on Facebook. Add our RSS feed! [what's that?]. Start your morning with Republic of Austin in your InBox. Or read us 24-7 on Twitter!
Related posts: