"Chasing A Memory: How My Mom's Death Has Affected My Spending Habits"
In my last post we discussed how many of my current poor spending habits took root because my childhood experiences made money seem endless; no limits were set.  There is another, more recent event in my life that has also influenced my relationship with money: my mom's death.
My mom's life and memories were robbed by Alzheimer's.  Not the typical image of an Alzheimer's victim, she began showing symptoms when she was only 50 years old due to the genetic early-onset type of Alzheimer's.  Fast and emotionally painful, the progression took her life when she was only 62.
When she died, my family mourned in the only way we knew how: shopping.  In two sorrow-filled days at the mall, we blew our income tax refund and my husband's bonus.
Tacked to the bulletin board in my dad's house is a list that my mom wrote when she was in the very early stages of the disease.  It's a list of dreams, goals, and aspirations for herself and her family.  They were, sadly, never fulfilled in her lifetime.
Now, I'm worried that in 15 years or so, my memory will begin fading.  That list reminds me to live each day to its fullest and cherish every moment with my family and my friends.  I know that financial freedom will come one day, but it will not come by denying my husband and kids an amazing life with their mom.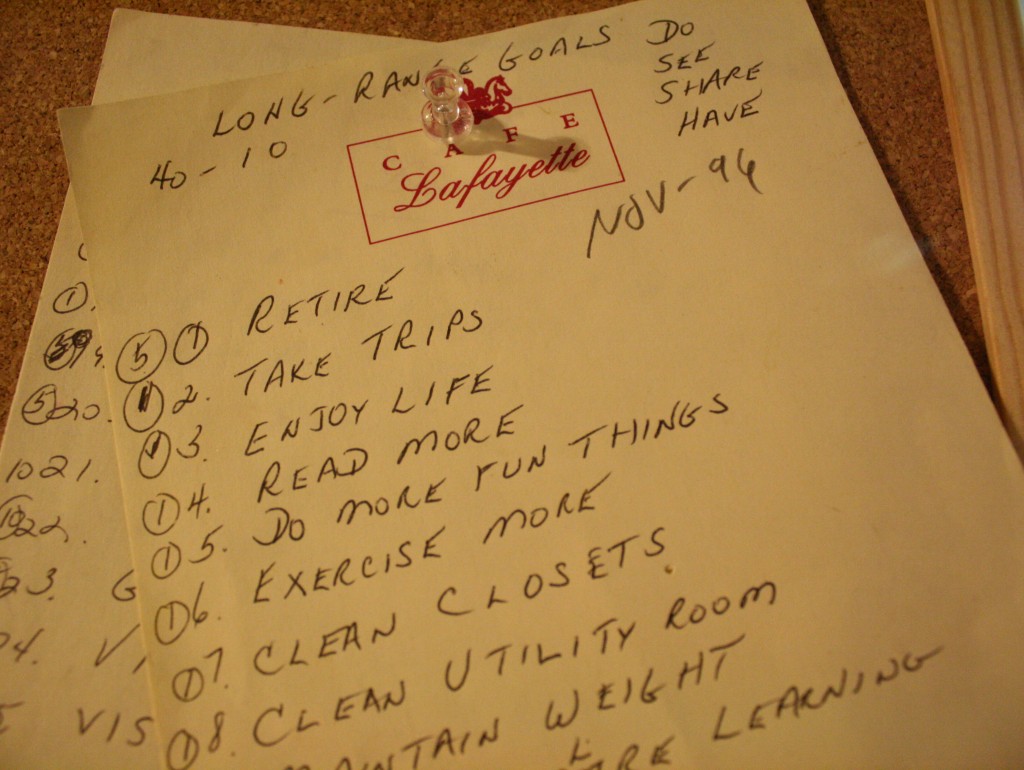 Because my mother had her life and memories cut short so young, I feel like I have a short time left to accomplish my life's dreams. When you have those fears, paying off debt doesn't really become a priority.  It could be 10 years before I'm out of debt, and I'm not sure I can wait that long to start experiencing life.  It's almost like I feel I have to create memories with my kids now so that they can remember for me if or when I start to forget.
At the same time, I also know I can't  jeopardize the financial security of my family for a good time.  To  keep my kids from paying for MY financial mistakes, I have to try and find a balance between creating an exciting, adventurous life for my family while being financially responsible.
COMMENT: What would you do?  Save for the future or enjoy life now?  Is it possible to do both?
FOLLOW: Like what you see? Add our RSS feed! [what's that?]. Or start your morning with Republic of Austin in your InBox! Or read us 24-7 on Twitter!
No related posts.
Related posts brought to you by Yet Another Related Posts Plugin.