AFF 2010 Preview: Alison Macor, writer of "Chainsaws, Slackers and Spykids: 30 Years of Filmmaking in Austin, Texas"
Boy, it's a good time to be a fan of festivals and fairs in Austin, Texas!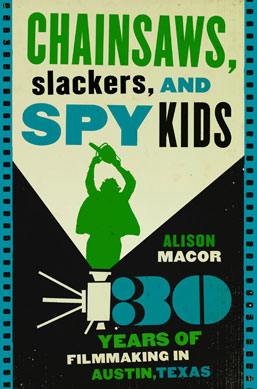 Up this week is the Austin Film Festival, which kicks off today through next Thursday, October 28th.
Our friends at Slackerwood have already covered the best reasons to grab a film pass, and while you're gearing up for a week of awesome movie screenings, we figured we'd get in on the party.
This past Sunday at the Texas Book Festival, we had the pleasure of talking with author Alison Macor, author of Chainsaws, Slackers and Spykids: 30 Years of Filmmaking in Austin, Texas. A former film critic for both the Austin Chronicle and the Austin American-Statesman, she's seen the film industry boom in the city over the last 30 years. In her book, Alison traces the roots of this movement from the "it takes a village" production of The Texas Chainsaw Massacre to the Hollywood-like production of Spy Kids.
In our interview, Alison shares a little more about her love of Austin film and tells us her favorite Austin movie.
If you're heading to the Austin Film Festival in the next few days, be sure to smuggle yourself in to two panels that Alison will be moderating:
Saturday, 10/23, 10:45 am
LUNA Panel: Telling Women's Stories through Film
Driskill Hotel, Maximilian Room
Women filmmakers who choose to tell women's stories through film. This panel is sponsored by LUNA.
Maggie Biggar, Diane Drake, Jennifer Salt
Sunday, 10/24, 11:30 am
Writing for Kids
Driskill Hotel, Hogg Room
Whether writing for young children, teens, or the whole family, conceiving a quality script is a challenge. It has to be (somewhat) innocent, topical, entertaining and interesting. Writing for teens or the whole family can also be a great and lucrative way to start – or re-start – your career.
Tim McCanlies, Rita Hsiao, Pamela Ribon
What's YOUR favorite Austin movie?
.
Find something Austin-related that you want to share? Photos, screen shots, articles, news? Email us at [email protected].
Want more RoA? Be our friend on Facebook. Add our RSS feed! [what's that?]. Start your morning with Republic of Austin in your InBox. Or read us 24-7 on Twitter!
Related posts:
Related posts brought to you by Yet Another Related Posts Plugin.