7 ways tonight's Pixel Pop party will blow your mind.
Man, it's already MIDDLE JULY!?! This summer has practically surfed by. And while last year was the Summer of Free, this summer is more about big parties packing lots of pop. Case in point: Tonight's Pixel Pop party at the Mohawk.
I've been super excited about this party ever since I heard about it back in early June. Electric Promotions and From the Mind of Adi have joined Team Fabrication to design a party that uses the Mohawk to its fullest. With a gaggle of kick-a local bands/DJ's, local fashion AND art, I think my head might explode-or POP!
7 reasons you don't want to miss the Pixel Pop party at the Mohawk:
[Keep up with our daily events picks on our Facebook page].
7. Build your own superhero cuffs
Tonight, the Wondercraft will have a booth full of make and take projects, like build your superhero cuffs. Since many superheroes wear cuffs, who will be your inspiration?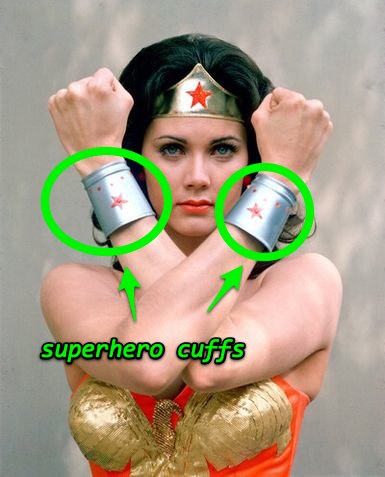 6. Comic Book-inspired fashion show from Team Fabrication
It's kinda hard to describe what Team Fabrication does. I know they are kick-a DJs. And apparently they design clothes, too. Tonight, they will be unveiling a comic book-inspired fashion collection.
Hmmm…Comic books are known for some outlandish costumes.
Will it look like this:
5. Austin comic book illustrator  Chad Townsend
Team Fabrication is also doing some collaborative art with Austin illustrator Chad Townsend.
Check out a couple of this dude's sketches. Wonder if the outfits will look like this:
4. Get down with Austin's The Happen-In's
Our style blogger Linsey LOVES The Happen-In's. They kinda remind me of G-Love & Special Sauce. Their song "Do It" seems to be all over KUT. Austin Eavesdropper has a much better description than I can fit in this little space.
But here's a video from a live performance at the Roller Derby:
3. Electric Promotion's Candace Carlisle
There's something magical about Candace Carlise. Whether it's combining crafting, fashion, music and art, her parties always have multiple layers that seem to weave their way into one well-thought common theme. And when it all hits you, you're like "Wow!"
Oh yeah, and the first time I met Candace in person, she was dressed up like Rainbow Bright:
2. Trip out with Austin's Candi & the Strangers
I. Love. This. Band. Hands down, Candi & the Strangers is one of Austin's most musically matur dance bands.  More coming soon…until then, look at what I've previously written or check out this video:
1. Tickets support HAAM (Health Alliance for Austin Musicians)
Proceeds from the door go to HAAM. One of my favorite charities in the city, HAAM helps Austin musicians get access to affordable healthcare. As someone without insurance who had to go to the Emergency Room last week, I know firsthand what it's like to debate whether to stay at home and suffer, or risk going in debt.
All of our Austin musicians give so much to us. Give a little tonight. Rock out. And POP!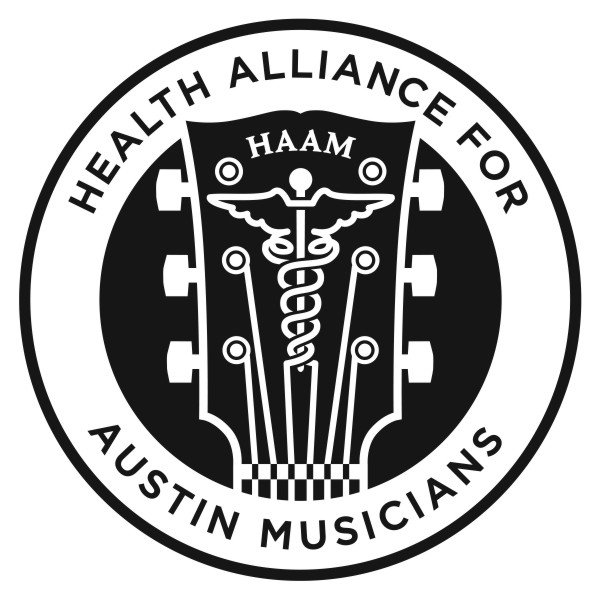 Yeah, so there's all that AND MORE tonight. In case you're curious, here's the and more:
Keeping the melodic pep of the event at an all time high will be the music of Candi and The Strangers and The Happen-Ins on the outside stage, with The Bubbles bringing down the curtain, inside. Plus, DJ sets by uLOVEi throughout the night. On the scene and in excellent super hero form will be the talented photo-booth rockstars Trevor Ray Thompson & Annie Ray. Providing not one, but two comic book themed photo-booths to document the evening's epic undertaking.

So, come out and enjoy $3 drink specials from Tito's Handmade Vodka, tasty sweets from Blue Note Bakery & be one of the very first to try out the new beverage from those amazing gents atTreaty Oak Rum: Graham's Texas Tea! With fun giveaways throughout the night from a variety of amazing local sponsors, like Austin Visual Arts Association, Yelp, Birds Barbershop, Sublime Stitching, 302 Designs, *annemarie*, Jinxedaposed Clothing, Austin Aztex, TXRD Lonestar Rollergirls, Lipsting Media & more…
So, see ya there?
EXPERIENCE: Pixel Pop (07.16.2010); Mohawk (912 Red River, 78701); 9.30P-2A; $5 21+/$7 for minors Facebook Event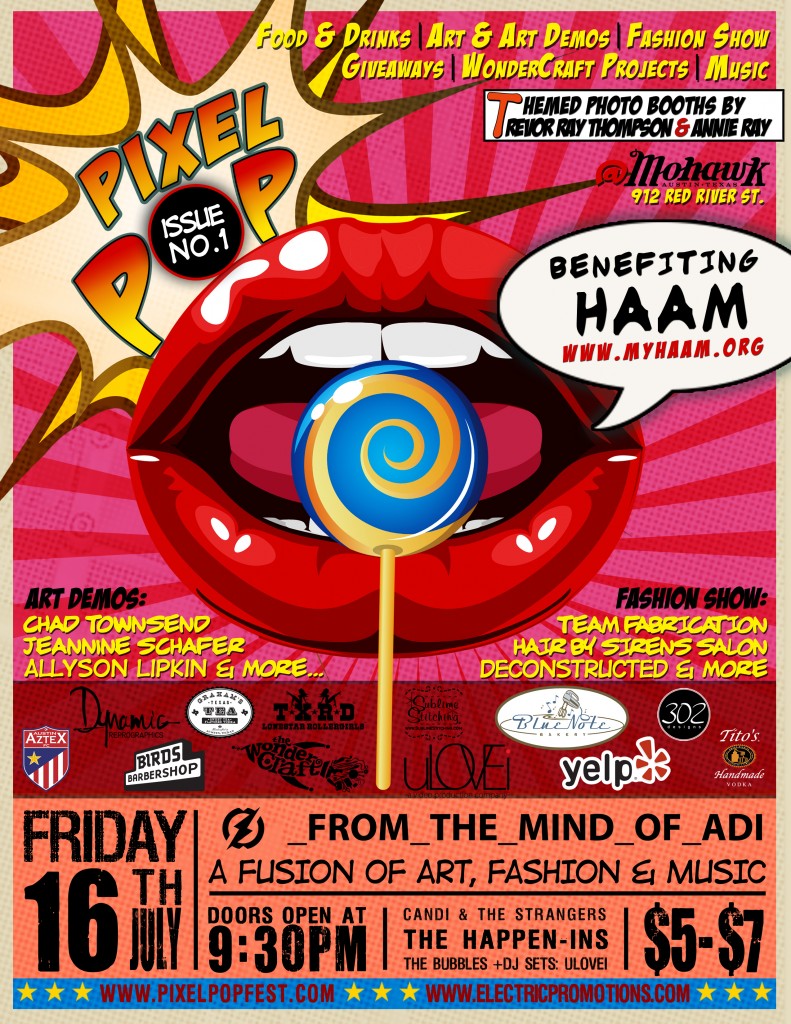 Related posts:
Related posts brought to you by Yet Another Related Posts Plugin.