At Republic of Austin, we want YOU to be a part of what we do. That's why we make it easy for you to send us story tips, event flyers/invites, photos around town or whatevs. And NOW you have THREE more ways to reach us: via snail mail, phone call or text message.
To commemorate this special occasion, we've created TWO special graphics: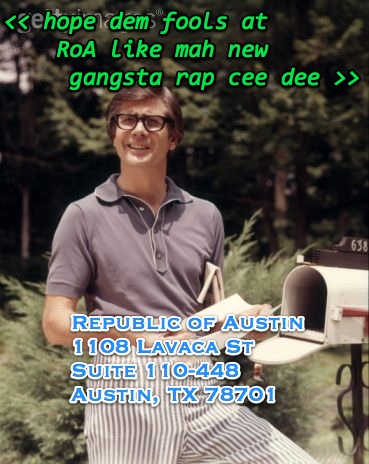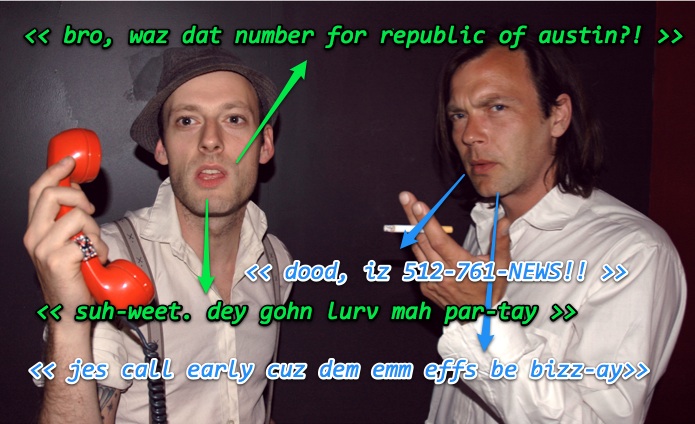 Yup, yup. Wanna pitch us a story idea? Have an event you'd like promoted? Want us to listen to your band's CD? Maybe you just want to send us some love? Now you've got FIVE ways to get in touch with us. Just be sure you tell us how to get back to you.
Oh: Please be patient; we are a small staff. We love when you follow-up, tho

Email Republic of Austin:
[email protected].
We L-O-V-E Facebook Event Invitations and web-ready flyers. Send 'em if you got 'em!

Send us Snail Mail:
Republic of Austin
1108 Lavaca St
Suite 110-448
Austin, TX 78701
Phone or Text Republic of Austin:
512-761-NEWS (512-761-6397)
Call or text us! But day of show might be too late

Form Submission:
Check the form on our Contact Page.
Yeah, so NO excuses! Send us your ish!
.
Want more RoA? Be our friend on Facebook. Add our RSS feed! [what's that?]. Start your morning with Republic of Austin in your InBox. Or read us 24-7 on Twitter!
Related posts:
Related posts brought to you by Yet Another Related Posts Plugin.