"ACL Fest 2009 Video Recap: October 3rd, 2009: Sights, Sounds and People Day 2″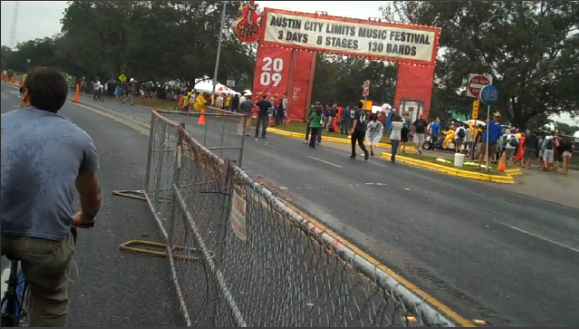 Waking up for day 2 of ACL Fest 2009 was the complete opposite of Day 1. [CLICK: ACL Fest 2009 Day 1 Recap] It was gray, cold and raining. Well, raining is a bit of an understatement; it was damn-near flash flood warning weather.  Still, we saddled up on our bikes and rode out to Zilker park for a full day of music, including performances by !!!, Grizzly Bear, Bon Iver, Mos Def and Ghostland Observatory.
We got there as dance punk band !!! was going on stage.  They put on a great show, but probably would have been really good in the evening-you know, best time for a dance act.
Grizzly Bear sounded amazing.  I was a little worried that they would be a studio-only act, but they really rocked it.  Plus, the drizzle added a nice ambiance.  I think we found the only people in the crowd dancing.  Watch the video to see their special Grizzly Bear dance.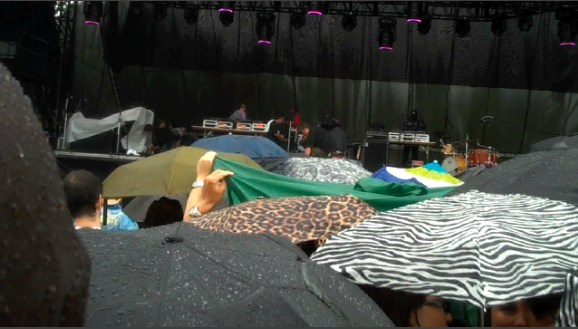 Bon Iver was really good, but we ducked out early to secure a good spot for Mos Def.  While waiting, it started really pouring.  In the video, you can actually see streams of water coming off one of the break dancer's feet as he does a head spin.  It was worth it, however, cause Mos put on a great show, including a cover of "All I Need" by Radiohead. [WATCH: Full performance of Mos Def's Cover of Radiohead's "All I Need" at ACL Fest 2009]
Ghostland Observatory had the most fanatic fans.  Smashed in front, we waited in the cold rain to see them.  They were also BY FAR the band with the most out there show. With glow sticks and laser beams, I'm not sure anyone could out do them. They even brought out the UT Longhorn Marching Band. [WATCH: Full performance of Ghostland Observatory's "The Band Plays On" with UT Longhorn Band at ACL Fest 2009]
COMMENT: What were some of your favorite highlights of Day 2? Which band did you love? Hate? Let us know in the comments!
WATCH: The five-minute video of sights, sounds and people of ACL 2009 Day 2:
Highlights of live performances by !!!, Grizzly Bear, Bon Iver, Mos Def and Ghostland Observatory
The Grizzly Bear dance!
Glow sticks!
Twins!
Head spins!
UT LONGHORN MARCHING BAND!!!!
Does Chris get anyone to sing Grizzly Bear's "Two Weeks"?
No related posts.
Related posts brought to you by Yet Another Related Posts Plugin.