HELM celebrates 1 yr anniversary with a Truck Show and some kick ass men's boots.
My love for HELM's homemade men's boots started last spring when my guy friend literally sprinted out of Stag (1423 South Congress) in a pair of their fancy lace-up Samuel boots (yes, he wore them out of the store) and he hasn't shut up about them since.  Fast-forward to a couple week's ago and I meet the beautiful Sarah Bingaman, wife to HELM founder Joshua.
So all that to say it is obviously fate or the beautifully, hand-crafted, old-world charm of HELM that has me super excited about the upcoming Trunk Sale this Wednesday, October 6 celebrating their first year of success.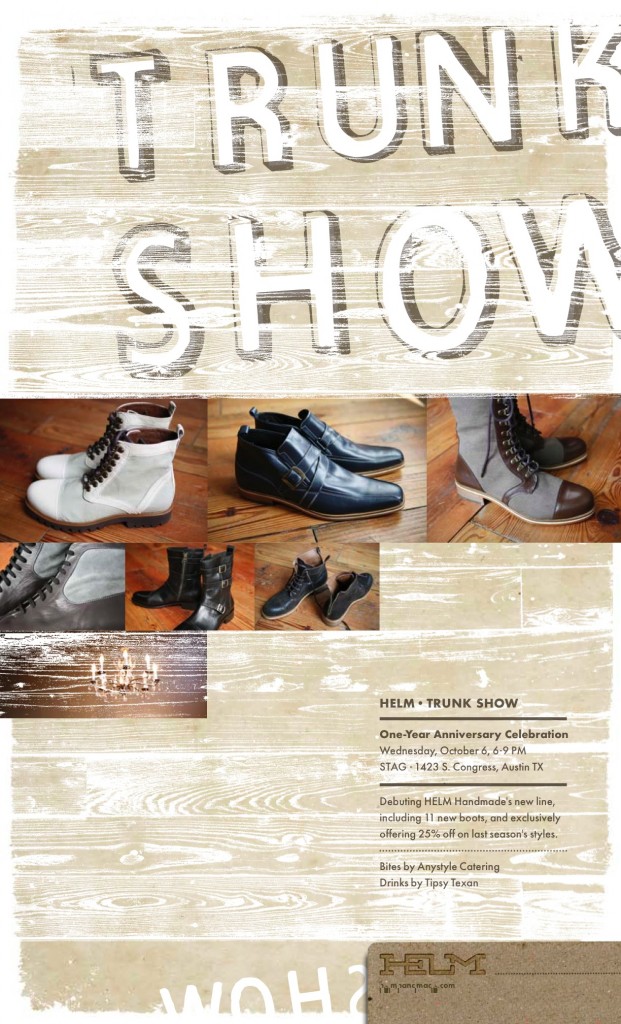 For those of you who aren't already in love with HELM, their products are handmade by one of the best untapped handmade shoe companies in the world and are the elegant result of design touches from around the globe - designed in Austin, handmade in Istanbul, with leather from Holland and Australia, and soles from Italy and France. Just sounds yummy, right? Yes please!
For the perfect Fall staple, stop by the trunk show this Wednesday to get a first look at the new  line, including 11 new boots and 25% off last season's styles - I'll be there!
What is your favorite HELM style?
Are you planning to go to the trunk show?
How does it feel to walk around in art?
Related posts:
Related posts brought to you by Yet Another Related Posts Plugin.