Governor Rick Perry makes surprise appearance at Austin Gay Pride! [PICTURE]
Had such a kick-a time with all the ghey bros downtown this weekend. They really know how to party. Turns out they're people who are 'just like us' but love other dudes. Guess we're all just 'human after all'-er, you know what I mean.
Thought it was kind of cool that Governor Perry came out to support the 'alternative lifestyle.' Didn't see his wife around. Guess he really is a tea bagger.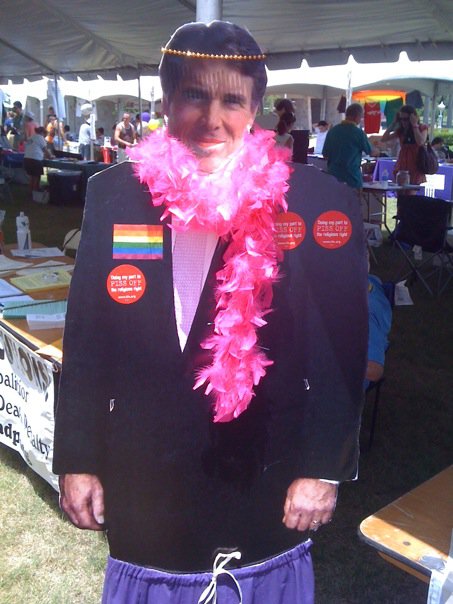 Do you think Governor Perry's gay pride appearance will cost him the 2012 presidential bid?
Will purple shorts over suit pants be the next Republican fashion trend?
Is it true that tax payers are funding a special pool (boy) at Rick Perry's private residency?
Do you think Governor Perry is more of a 'top' or a 'bottom'?
Does this photo explain why Rick Perry is so hard on Mexicans/Latinos?
Do you think he danced around and sang "I'm so pretty" [via West Side Story]?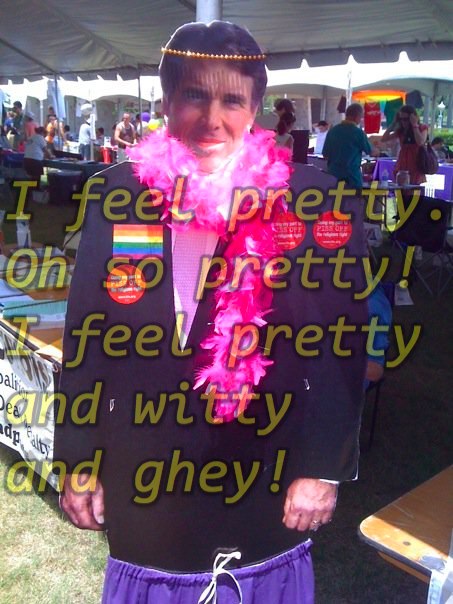 Felt so much love this weekend. At one point, I was so 'caught up in the moment' that I put on a feather boa and some beads! Met so many gays that were actually 'pretty cool dudes.'
Wonder why people can't just 'be whoever they want to be' without having to worry about what society thinks. Kinda feel like everyone would be happier if they stopped putting on masks and started being their true selves.
If you were gay, would you tell your bros?
Why do you think people have a hard time 'coming out'?
Did you know that Ricky Martin was gay before he came out?
Do you think celebrities who are gay should be outed or should they just come out on their own?
Did y'all see any other celebs at Austin Gay Pride?
Be our friend on Facebook. Add our RSS feed! [what's that?]. Start your morning with Republic of Austin in your InBox. Or read us 24-7 on Twitter!
Related posts:
Austin is totes ghey (this wknd only!) - Procrastinators Guide to Official Austin Gay Pride 2010 and Queer Bomb Parties. With 2 groups this yr, Gay Pride 2010 can be...
Crazy costumes, techno trannies, shirtless dudes and more at the Queer Bomb afterparty during Austin Gay Pride Weekend 2010 [PICTURES] Crazy costumes, trashy trannies, shirtless dudes and more!...
Related posts brought to you by Yet Another Related Posts Plugin.