Austinite's ACL Fest 2010 Picks: Andy Uhler from KUT's Texas Music Matters
With so many stages and bands, ACL Fest can be overwhelming.  That's why we've asked some of our favorite musicians, music bloggers, venue owners and other folks related to the Austin music scene for their ACL Fest 2010 Picks.  Each day this week, we'll be featuring their ACL 2010 selections on our ACL Fest 2010 page.  Sure you could wait for one of those mainstream DJs or certified music critics to spoon feed you their picks–but would that be as fun?
Y'all know how I feel about Austin radio: For the most part, there's not enough local music and way too much fluff. The exception, for me, is KUT. Although they're NPR's local affiliate, KUT isn't classical music and jazz. In fact, their current top plays includes Arcade Fire, Michael Franti & Spearhead, The Black Keys, Ra Ra Riot and Best Coast in the top 25. And they play more Austin-area and Texas musicians in a week than KGSR plays in a month.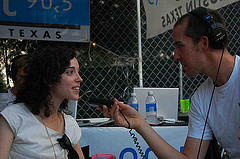 Nowhere does KUT's commitment to Texas music shine more than on Texas Music Matters. Founded in 2005, Texas Music Matters covers everything from Texas music history to comprehensive music news from around the state. They also do a kick-a job of introducing their readers to tons of Texas bands.
One of the guys behind Texas Music Matters is Andy Uhler. For almost a decade, Andy has been adding his insight and unique view of music as a senior producer. He also co-produced NPR's coverage of Bonnaroo Music Festival.
So without further ado, here are Andy Uhler's recs for ACL Fest 2010. The most well-balanced of all our picks this year, his list should appeal to the seasoned music connoisseur. You can see his full ACL Fest 2010 schedule here.
First off, I should tell you that my festival attendance theory is sort of a mix between on one hand wanting to check out new bands that I've either only heard on an album or heard a lot about and haven't seen them live, and on the other hand wanting to check out a band that I've seen before but that won't disappoint.

Friday, October 8th:

The Sword

For me, Friday seems like a list of ACL Festival veterans.  Amos Lee has been here before.  Seems like it isn't an ACL Fest without a sighting of The Black Keys.  And this is still a homecoming for Spoon.  Sure, you'll notice on my custom schedule that I'm still going to see Spoon (though I've probably seen them 10+ times – part of the "not going to disappoint doctrine") - but the band I'm most excited about seeing on Friday is The Sword.  I feel like I've been following their trajectory for a while now (and heard a bunch of the tunes on the albums) and still have yet to see them live.  I've heard what a high energy, electric show these dudes put on and I can't wait to see if it lives up to the hype.

Other acts I want to check out:

Sahara Smith: Wimberley native, really great voice and an impressive debut CD
Girls: Saw them at SX open up for Grizzly Bear at Central Pres.  They were good, but would like to see them in a rowdier setting.
Spoon: Why not?

Saturday, October 9th:

LCD Soundsystem

So, at this year's Bonnaroo Festival I didn't get to see James Murphy and his band perform songs from their latest, This Is Happening.  (And just a point of reference, this was my first Bonnaroo experience – completely different from any ACL Fest I've ever attended… an RV park right next to the festival grounds, muddy folks dancing to whatever music was within earshot…wait a minute…)  NPR was streaming live from the event and I was supposed to be the "early guy" on Sunday's broadcast.  Clearly festival organizers were not thinking about my delicate sleep pattern when they scheduled LCD to perform from 2:30am – 4:00am (and I heard it likely went on later than that). So, I skipped it.  Partly because I knew I'd get the chance to see them at this year's ACL Fest.  Can't wait.  (Quick note – I did stay up late on the first night…but that was to see GWAR, which was totally worth the morning grogginess).

Other acts I want to check out:

Balmorhea: Great local chamber pop – anxious to see how this translates outside at 11 in the morning.
Lucero: Heard so much about how great this band is live but haven't checked them out (part of the "heard a lot about and haven't seen them live" doctrine, obviously).
M.I.A.: Saw her a few years back at ACL.  Was kind of disappointing.  Hope she makes it happen this year.

Sunday, October 10th:

Ted Leo and the Pharmacists

Sunday's here.  You probably checked out an aftershow last night.  Maybe you got in to one of the ACL tapings.  You probably had a few too many beers.  So, to ask you to get out to the festival grounds to check out Shearwater at 11:45am might be asking too much.  They'll certainly put on a great show, so if you've got it in you, you should definitely check them out.  Make sure, however, to get there before 12:30pm to see Ted Leo and the Pharmacists.  They are reportedly breaking up, or Ted is sick of the business, or something (can anybody actually understand the posts on Ted's website?).  That being said, Ted + Rx continually put on one of the most energetic, infectious live performances out there.  It's a bit of a shame that they're performing so early on Sunday because a bunch of people will skip out on this, but if you're one of the smart (read: less hung-over) ones to check this show out, you won't be disappointed.

Other acts I want to check out:

Shearwater: It'll be interesting to see what this local act has in store for a big ol' festival performance, given that so much of their album work is quiet and intricate.
Portugal. the Man: (see Lucero)
The National: I never miss a chance to see these guys from Brooklyn-via-Ohio.  They're music is smart, brooding, and will work so much better this year, playing at sundown (they played during the afternoon a few years back – not really a National-setting)
Related posts:
Related posts brought to you by Yet Another Related Posts Plugin.