Saying goodbye to KGSR. Is Austin radio dying?
I'll just put it out there: I'm not a KGSR listener. Their music is too light for me, and I don't drive a car. I do, however, respect what they do for the Austin music scene. Their "Unplugged at the Grove" series on Thursday nights at Shady Grove and their concerts in Republic Square park are summertime staples that have made it one of Austin's most beloved stations.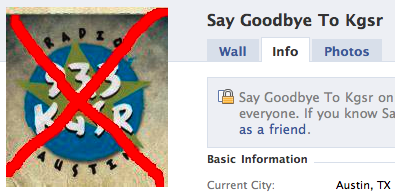 Imagine my surprise when I logged into my Facebook account yesterday to discover the white-bread station was embroiled in controversy. Nope, the station manager wasn't tagged in inappropriate photos. Instead, Facebook suggested I become friends with "Say Goodbye to KGSR."
My first thought was: "Oh snap, KGSR is going off the air! What will the waitstaff at Shady Grove do on Thursday nights?" But then I took a deep breath and clicked around the profile.  It turns out, KGSR is not going anywhere; they've watered down their programming and a lot of people aren't very happy. After a couple of emails with peeps in the Austin radio industry, I got the skinny, and surprise, it all boils down to ratings.
Austin radio ratings are about to change.
A company called Arbitron determines the ratings. Since the dawn of time, people in Arbitron's sample have kept journals chronicling the stations they listen to throughout the day. Arbitron then tallies the information and determines the ratings.
Last year, Arbitron began rolling out a device called a Portable People Meter, a kind of pager-like device that listens for digital signatures embedded in broadcasts.  Since the PPM is always on, it tracks what people are actually listening to. It turns out that people who previously filled the full day with one station actually channel surf.

Austin gets PPMs later this year. Because they've seen how the new ratings affect other cities, KGSR is watering down their programing by cutting local music and adding more pulp in an effort to attract those channel surfers. In so doing, they've also alienated a chunk of their fan base. In fact, another Facebook fan page called "I want the old KGSR back…NOW!!!!!" has more fans than either the official KGSR Page or the fan page for KGSR's Local Music Show Lone Star State of Mind.
Why KGSR's change pisses me off.
Couple of things about the KGSR format change piss me off. First off, appealing to the lowest common denominator as marketing strategy doesn't always work.  A better strategy: Differentiation and innovation.
The second problem is indicative of a larger problem in Austin radio: For a city that prides itself as being the Live Music Capital of the World, the radio stations do next to nothing to support Austin bands and musicians. Back in the early days of radio, local stations would break local artists: Think Elvis in Memphis, the Motown artists on Detroit radio stations, or even Biggie on New Yorks's Hot 97. If our own radio stations don't play local artists, how can we expect them to ever break outside of Austin?
Can Austin radio be saved?
Maybe KGSR's move from bland to blander will open the doorway for other radio stations to stand out.  KUT 90.5 has been increasing their play and coverage of Austin musicians. Maybe pissed off KGSR listeners will flock there. Or maybe MIX 94.7 will dominate the adult contemporary space by increasing their local music selections and adding a little edgier content, like this Internet station they launched last week that streams a selection of SXSW picks.
And 101x: I love you. I grew up with you, but PLAY MORE LOCAL MUSIC!! That would truly be alternative.

COMMENT: Is Austin radio dying? Can it be saved? What do you listen to?
No related posts.
Related posts brought to you by Yet Another Related Posts Plugin.