At ACL Fest you danced in Zilker Park, but did you know that DINOSAURS have, too?
High fives, everybody. We successfully managed to make it through an entire weekend of uncoordinated white people dancing without breaking the earth! Woohoo! I'm referring, of course, to this past weekend's outstanding Austin City Limits festival at Zilker Park. And while we're all recovering from the three day binge on music and, um, vitamin water, event workers are busy disassembling the ACL Festival and putting Zilker Park back together to its more common appearance.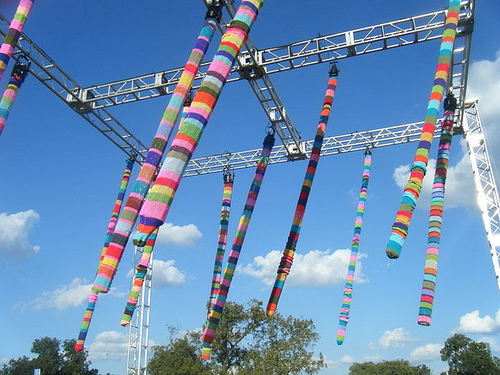 Zilker Park, of course, has its own identity separate from the Festival, which it hosts every fall, and one worth celebrating all on its own.
The land on which Zilker Park now exists was originally donated to the Austin Public School District in 1918 by a man named Andrew Jackson Zilker. Zilker was a wealthy politician and businessman in the Austin area who profited from his cunning work in dealing ice during hot summer days. To this day, and probably for the rest of history, Andrew Zilker will likely be one of the only men who has become rich in Austin from selling ice cubes.
"We felt it would be a wrongful thing for this beauty spot to be owned by any individual and that it ought to belong to all the people of Austin."

- Zilker on the donation of grounds for a public park.
Later in 1918, the school district sold the land to the city for a $100,000 endowment. Austin spent the next two decades working on turning the grounds into a park, eventually opening in the midst of the Great Depression in the 1930s. In 1932, the city of Austin wished to expand the park from the 35 acres it bought in 1918 to almost 370. The extra acreage would better house an old military school on the grounds, as well as aid future park development. Zilker agreed to sell the plot for the favorable fee of $200,000 dollars, and upon approval, Zilker Park began to take shape as it is seen today.
Over the last few decades, Zilker Park has become an undisputed gem of the Austin park system, and even nationally. Consider:
Zilker Park plays host to various festivals and events throughout the year, including the 82-year-running Zilker Kite festival, and the Austin Sunshine Camp, which serves nearly 1,000 of Austin's underprivileged youth runs in Zilker Park every summer.
Perhaps the most popular park in the world, Central Park, hosts 23,274 people per acre per year, compared to Zilker Park's 2,061 people per acre per year. Despite being half the size of Central Park, Zilker is ten times as spacious.
The Nature Center has over a hundred dinosaur tracks, some that are estimated to be up to 100 million years old.
Pre-Dating Andrew Zilker's involvement in the park, much of the land was unused. However, a small section of Zilker Park that is now occupied by soccer fields was at one point a plantation whose primary crop was spinach.
Zilker Park is a place for people to get down with their bad selves to some live music, fly a googly-eyed purple lizard balloon with thousands of friends, or just enjoy a nice bike ride or picnic. It's a special place to Austinites, whether you're 1-day old or 100 million-years old. Let's do our part to keep it a beautiful place to visit.
Our lovely editor Chris is doing his by beautifying Zilker Park with his presence alone: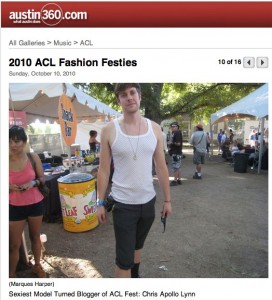 "Sexiest Model Turned Blogger?" Oh, Chris. In a grave somewhere in America, a former ice-cube salesman is blushing.
—
What is your favorite park in Austin?
How can Austin improve Zilker Park?
If you could host a festival at Zilker Park, what would it be?
.
Find something Austin-related that you want to share? Photos, screen shots, articles, news? Email us at [email protected].
Want more RoA? Be our friend on Facebook. Add our RSS feed! [what's that?]. Start your morning with Republic of Austin in your InBox. Or read us 24-7 on Twitter!
Related posts:
Related posts brought to you by Yet Another Related Posts Plugin.