ACL Fest 2010 Interview: Brooklyn-based psychedelic electronic rock band Bear in Heaven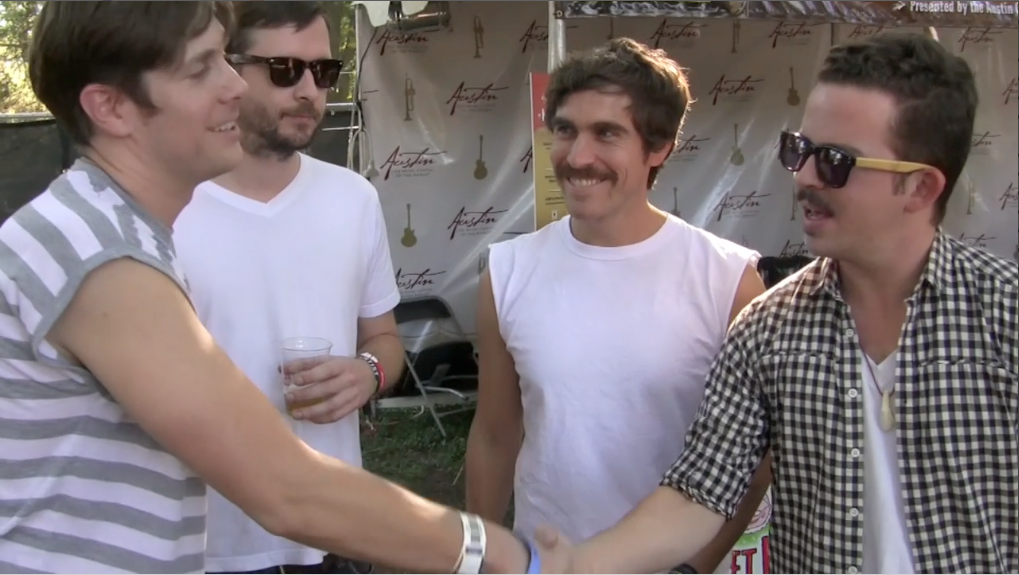 Brooklyn's Bear in Heaven take ambient electronic music and blow it out with a little bit of psychedelic rock-kinda like if My Bloody Valentine had popped a Xanax and drank a couple cases of PBR when they recorded their classic when they recorded their classic album Loveless. There's also a hint of Jefferson Airplane on adderall. And although some tracks may have a strong European sound reminiscent of Berlin's Shitkatapult record label or classic Neue Deutsche Welle band Deutsch-Amerikanische Freundschaft, there's still a strong American sentimentality and angst that exists in their layers of sound.
Their latest album Beast Rest Forth Mouthhas grown on me over the last year since its release. The tracks feel like a swirl of reds, blacks and metals. There's also something in the vocals that hits some deep, untapped place in my soul, and I catch myself singing along to the music in a way that I haven't felt since sitting in my room listening to Depeche Mode's Black Celebration in the dark. It's definitely a love album in a twisted, goth way.
Here are a couple of my favorite tracks off of Bear in Heaven's Beast Rest Forth Mouth:
Lovesick Teenager reminds me of the slow, psychedelic build and heavenly vocals of a Pink Floyd song. And is that a driving industrial beat?
You Do You has a dreaminess washed in waves feeling with some dreamy keyboards swirling overhead. Kinda like a dude just discovered his lover was cheating on him, but he's optimistic that it's just a rumor.
With haunting vocals over tribal drums, Beast in Peace echoes the best of 60s psychedelia.
Starting with a couple of guitar chords and a drum, Deafening Love becomes increasingly more overwhelming, crescendoing into an aural tornado of dizzying emotion. Something mechanical and metallic soars through a boiling red storm cloud, cutting at your heart like a passionate teen lust song. Kinda feels like one of Jane's Addiciton's more ambient songs
LISTEN:

Bear in Heaven - "Deafening Love"

Audio clip: Adobe Flash Player (version 9 or above) is required to play this audio clip. Download the latest version here. You also need to have JavaScript enabled in your browser.
The band has been pretty busy doing remixes. In fact, one of my favorite remixes of the summer is the Bear in Heaven remix of Crystal Castles "Celestica." Taking a somewhat trancey track, the band dropped a new drum track and made it feel like a metallic jungle.
We caught up with the band during ACL Fest 2010. In the video, they tell us about their steady rise over the last year, their "pots and pans" sound, the spoken word album they're currently writing and who they're remixing.
Bear in Heaven Interview at ACL Fest 2010
They had a great set at ACL. And although they rocked it out, the early afternoon Saturday set may  not have been the best slot for an electronic band. We'd love to see them at night or in a club. Hopefully they'll be back to Austin soon!
.
Want more RoA? Be our friend on Facebook. Add our RSS feed! [what's that?]. Start your morning with Republic of Austin in your InBox. Or read us 24-7 on Twitter!
Related posts:
Related posts brought to you by Yet Another Related Posts Plugin.